2020: The Year Pharma Rethinks Partnering
Published on Jan 8, 2020
Gilles Toulemonde, CEO & Co-founder at Inova Software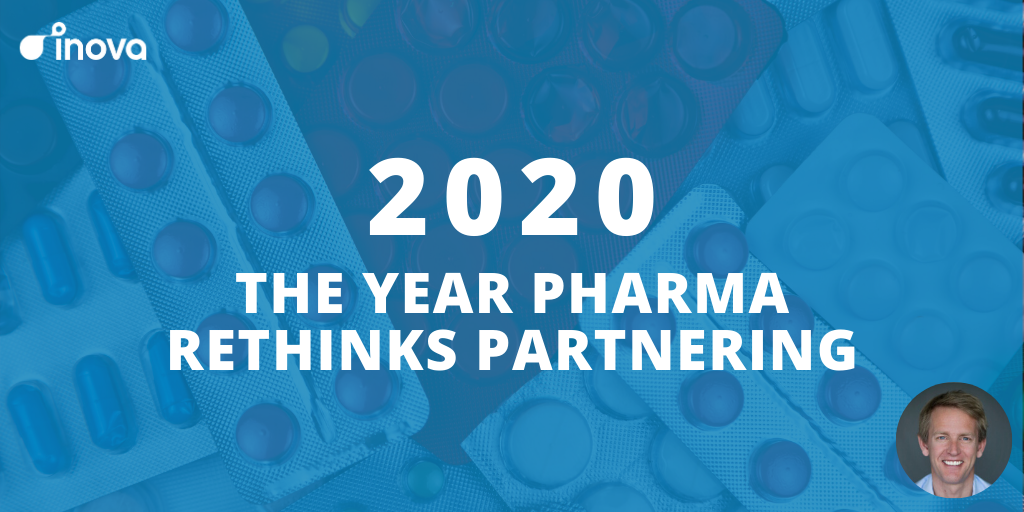 The first few days of a new year seem to encourage a certain type of speculation here on LinkedIn.
You've probably already seen your share of articles with headlines like '10 Things to Watch in 2020' or 'Five 2020 Trends You Can't Ignore', and if you're anything like me you've probably clicked on a couple.
Instead of a Top 10 list, I wanted to outline in a little more detail the one big trend that I believe will have impacts across partnering in the pharma industry. It is clear to me that 2020 will be the year where big pharma will fundamentally rethink the way they find, deal, and collaborate with partners.
Let me explain why.
The Pressure of Pricing
Competition and continued pressure from payers will likely play a more important role in reducing the price of medicines and therapies.
Consider a condition for which there is no effective treatment available. The first pharma company to market with a drug that improves outcomes for those patients will be able to demand a better price for their drug. This pressure encourages pharma companies to develop specialty drugs, often using novelty science, in order to establish a first-in-class therapy.
The race to develop specialty drugs with novelty science in pursuit of better pricing means pharma companies are chasing smaller and smaller markets. While there are several thousand rare diseases, almost by definition the number of patients that a therapy might address is limited.
A New Reality
For pharma companies chasing pricing returns this means entering a new partnering reality.
The limited patient base means that pharma companies need to take on more projects. In a world with pricing pressures and fewer blockbuster drugs, there are dozens or even hundreds of projects that might carve out a respectable return on investment if they are first to market and work as expected, or improve on existing approaches in an already-serviced market.
This in turn means pharma companies are seeking to partner with research groups and biotechs at an earlier stage than ever before. Waiting until an asset enters Phase II or Phase III to begin partnership negotiations is rare today, with more and more deals at Phase I or at the preclinical stage.
Partnering Reimagined
Yet finding these assets can be difficult and requires more engagement by a greater number of pharma employees on different teams. Of course, there are still scouts tasked with seeking out promising assets in relevant therapeutic areas, but there are many more who play a role. Business Development teams, Search & Evaluation teams, scientists from R&D, even the C-level executives have a part to play in identifying a new asset.
This is truly company-wide partnering, a new world where everyone is a scout and keeping their eyes wide open for an asset, a technology, or novel scientific approaches that might help elevate patient outcomes.
And it's here that I think the big challenge for pharma lies in 2020, and why it will be the year where the industry rethinks the way it finds, deals, and collaborates with partners. Indeed, it will be a year where leading firms reevaluate their partnering strategies.
It's my number one trend for the pharma industry for 2020, but I'm interested to know what you foresee, too. Tell me: what are some other trends that would make your own 2020 Top Ten?

---
This article was originally published on LinkedIn on January 8th, 2020 by Gilles Toulemonde, CEO & Co-founder at Inova.
Further reading
We recently finalized the deployment of our Business Development & Licensing product suite at on...
Read more