Biopharma's Year in Review: 2021's biggest deals & partnerships
Published on Dec 14, 2021

2021 was another record-breaking year in biopharma partnering, both in terms of deal size and activity. Here's a compilation of 2021's biggest deals, most active partners, and the regional deal totals and top therapeutic areas. This project is a collaboration between Inova and DealForma (data from 1 January 2021 – 3 December 2021).
Click on a month to reveal the largest partnership and M&A deals.
Reveal all months
Hide all months
January
BeiGene x Novartis
BeiGene
Novartis
$650M
$2.2B

Approved Tislelizumab for cancer in North America, EU, UK, Norway, Switzerland, Iceland,
Liechtenstein, Russia, and Japan
Kymab Group x Sanofi
Kymab Group
Sanofi
$1.1B
$1.5B

Phase IIa KY1005 for moderate to severe atopic dermatitis
February
Vir Biotechnology x GSK
Vir Biotechnology
GSK
$345M
$845M

Phase II VIR-2482 expanding into influenza and other respiratory viruses (expanding 2020
deal)
GW Pharmaceuticals x Jazz Pharmaceuticals
GW Pharmaceuticals
Jazz Pharmaceuticals
$7.2B
$7.2B

Approved epidiolex and a portfolio in cancer and neurology
March
Debiopharm x Merck KGaA
Debiopharm
Merck KGaA
$227M
$1.1B

Phase III Xevinapant for head and neck cancer worldwide
Five Prime Therapeutics x Amgen
Five Prime Therapeutics
Amgen
$1.9B
$1.9B

Phase III Bemarituzumab anti-FGFR2b antibody for cancer
April
CRISPR Therapeutics x Vertex
CRISPR Therapeutics
Vertex
$900M
$1.1B

Phase II CTX001 for severe sickle cell diseases and transfusion-dependent beta-thalassemia
worldwide (expanding 2015 deal)
Tidal Therapeutics x Sanofi
Tidal Therapeutics
Sanofi
$160M
$470M

Preclinical nanoparticle delivery of mRNA for in vivo reprogramming of immune cells in
cancer and autoimmune
* All larger M&A deals were for diagnostics and SPAC deals
May
Agenus x Bristol Myers Squibb
Agenus
Bristol Myers Squibb
$200M
$1.6B

Preclinical AGEN-1777 and an undisclosed target as immuno-oncology therapies, including
non-small cell lung cancer worldwide
Strongbridge Biopharma x Xeris Pharmaceuticals

Strongbridge Biopharma
Xeris Pharmaceuticals
$267M
$427M

Approved endocrine therapies
June
iTeos Therapeutics x GlaxoSmithKline
iTeos Therapeutics
GlaxoSmithKline
$625M
$2.1B

Phase II EOS-448 for cancer worldwide
Constellation Pharmaceuticals x MorphoSys
Constellation Pharmaceuticals
MorphoSys
$1.7B
$1.7B

Phase III Pelabresib for myelofibrosis, and Phase II CPI-0209 for hematological and solid
tumors
July
Arvinas x Pfizer

Phase II ARV-471 PROTAC for ER+/HER2- locally advanced or metastatic breast cancer worldwide
Protomer Technologies x Eli Lilly
Protomer Technologies
Eli Lilly
$1B
$1B

Peptide and protein engineering platform for diabetes
August
RemeGen x Seagen
RemeGen
Seagen
$200M
$2.6B

Phase II HER2-targeted ADC, disitamab vedotin for several solid tumor types including
urothelial, gastric, and breast cancer worldwide excluding parts of Asia
Translate Bio x Sanofi
Translate Bio
Sanofi
$3.2B
$3.2B

Phase I/II MRT5005 inhalational mRNA for CF and Phase I MRT5500 mRNA vaccine for COVID-19
already partnered with Sanofi
September
REGENXBIO x AbbVie
REGENXBIO
AbbVie
$370M
$1.8B

Phase II RGX-314 for wet AMD, diabetic retinopathy, and other chronic retinal diseases
worldwide
Acceleron Pharma x Merck & Co.
Acceleron Pharma
Merck & Co.
$11.5B
$11.5B

Approved REBLOZYL erythroid maturation recombinant fusion protein in the US, EU, and Canada
and Phase III sotatercept fusion protein for PAH
October
Xencor x Janssen
Xencor
Janssen
$125M
$1.3B

Phase I Plamotamab and new XmAb bispecific antibodies for CD20-expressing hematologic
malignancies worldwide
Flexion Therapeutics x Pacira Pharmaceuticals

Flexion Therapeutics
Pacira Pharmaceuticals
$450M
$873M

Approved ZILRETTA non-opioid corticosteroid suspension injection for OA knee pain
November
OWKIN x Sanofi

Owkin's artificial intelligence and federated learning for applied to non-small cell lung
cancer, triple-negative breast cancer, mesothelioma, and multiple myeloma
Dicerna Pharmaceuticals x Novo Nordisk
Dicerna Pharmaceuticals
Novo Nordisk
$3.3B
$3.3B

Phase III Nedosiran RNAi for primary hyperoxaluria, Phase II RG6346 RNAi for chronic HBV,
and other programs in hepatic and cardiometabolic diseases
December
Ionis x AstraZeneca
Ionis
AstraZeneca
$200M
$3.6B

Phase II Antisense, eplontersen for transthyretin amyloidosis worldwide ex-Latin America
Source: DealForma Database
Most Active Dealmakers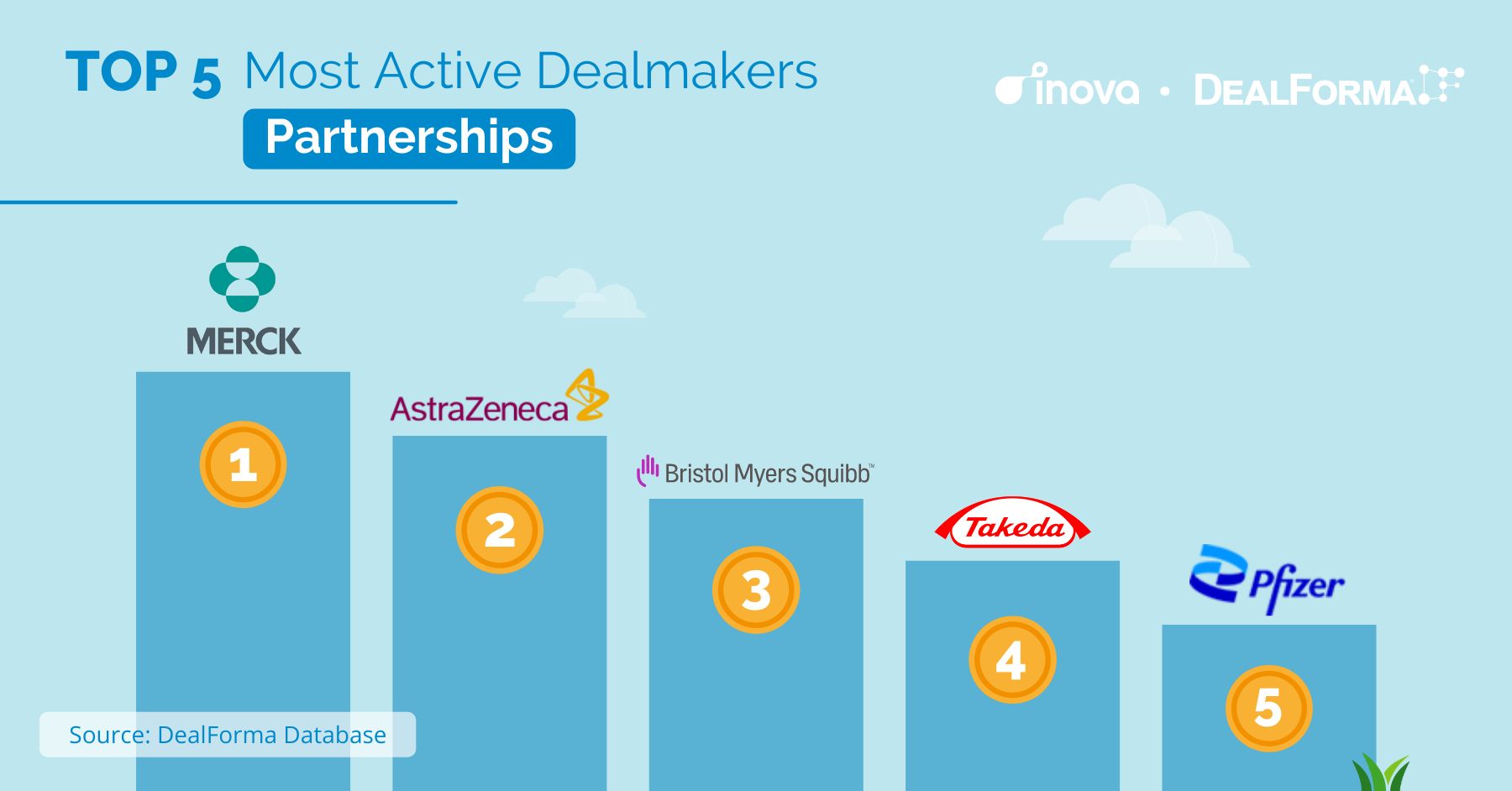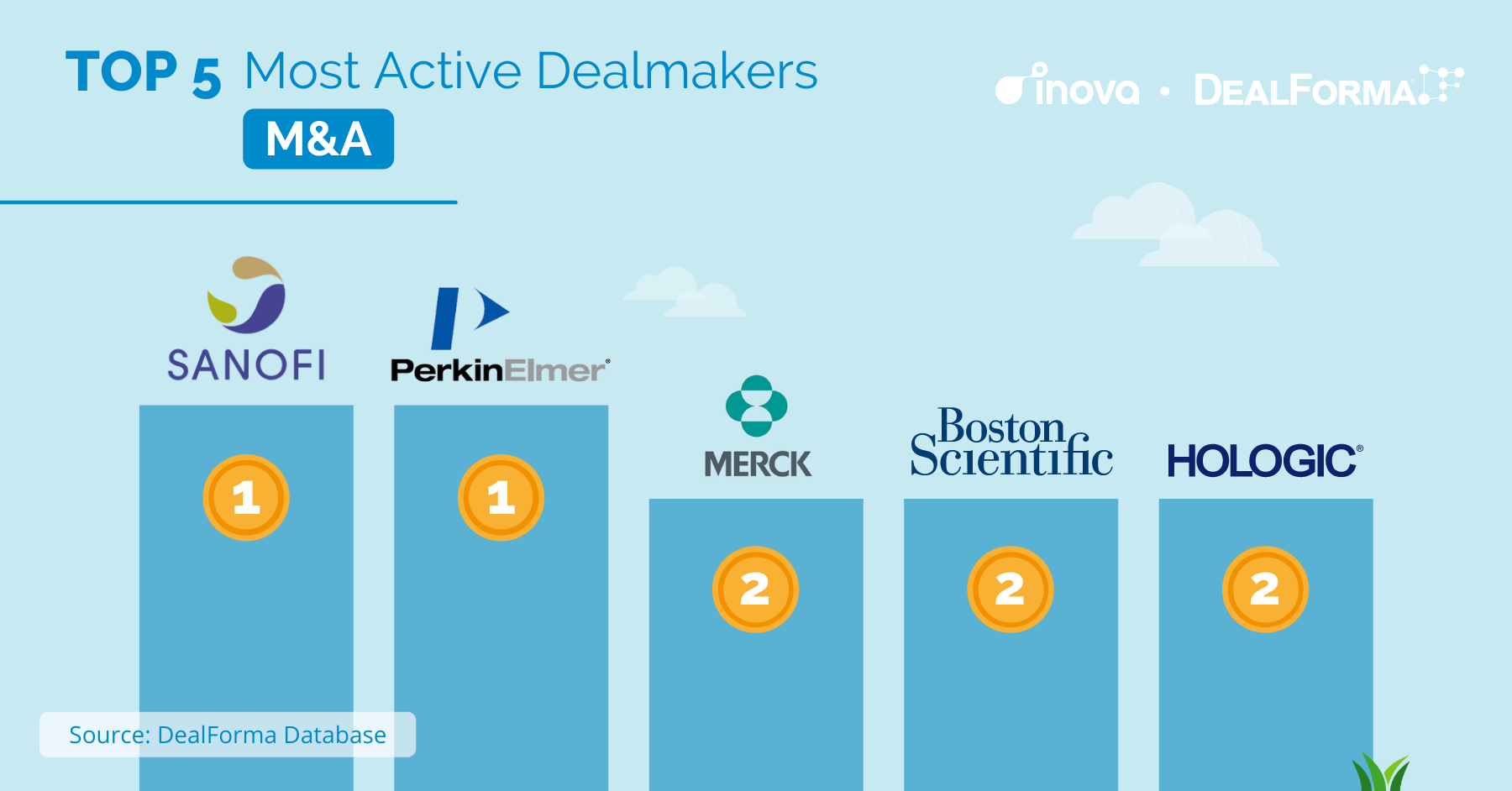 Merck & Co. signed the most deals this year with a total of 35 partnering deals, nearly double that of AstraZeneca, who signed 18 new partnerships. Rounding out the top five came Bristol Myers Squibb with 17 partnering deals, Takeda with 16, and Pfizer with 15.
The M&A top five is more crowded, with Sanofi and PerkinElmer tying for first place with five deals. Merck & Co, Boston Scientific and Hologic all came in second with four M&A deals this year.
Regional Deal Totals and Top Therapeutic Area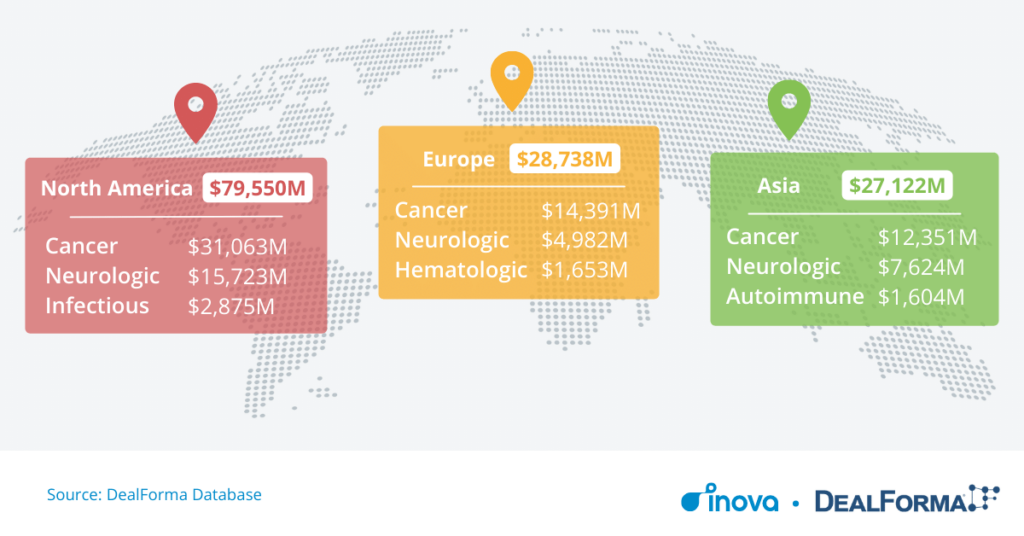 When it comes to regional deal totals and top therapeutic areas, North America comes out on top with the greatest amount of money flowing in ($79,550M in total deal value), followed by Europe ($28,738M) and Asia ($27,122M). As for top therapeutic areas, cancer and neurology appeared as the top two for all three regions. However, third place differed for each region, with infectious disease in North America, hematology in Europe, and autoimmune in Asia.
Webinar replay
Biopharma Dealmaking in 2022:
Trends & Forecasts
Get a more in-depth look at key biopharma dealmaking trends from 2021 and forecasts for 202 with Chris Dokomajilar, CEO at Dealforma, and Echo Zhang, Product Strategy Director at Inova.
Further reading
COVID-19 Virtual Partnering is a unique and free-to-attend virtual event taking place on 20 April...
Read more