A Behind the Scenes Look at Pierre Fabre's Private Partnering Event
Published on Jun 1, 2021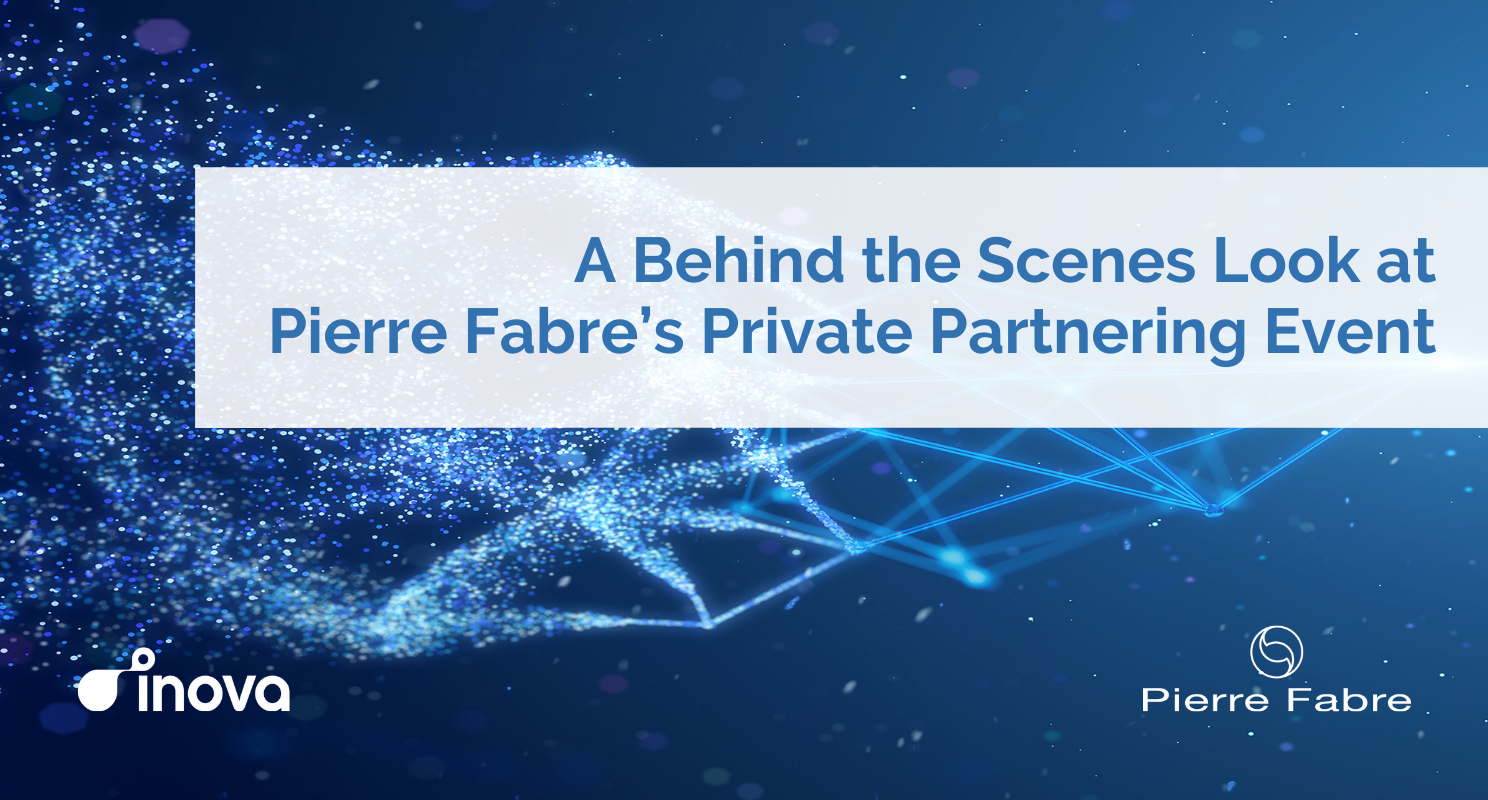 Necessity is the mother of invention. That saying has proven true throughout all areas of life during the Covid-19 pandemic – and life sciences partnering is no exception. As travel came to a screeching halt, partnering teams went digital: attending virtual partnering events, holding internal meetings online, and even touring partner sites through video calls.
One of Inova's clients, Pierre Fabre, took it a step further by teaming up with Inova to launch their own virtual Private Partnering event to find new partners and accelerate on-going discussions.
Launching a virtual Private Partnering event
What is a virtual Private Partnering event exactly? It's a series of virtual meetings between one company (in this case, Pierre Fabre) and a highly qualified group of participating companies. Pierre Fabre's event leveraged the One-on-One Partnering™platform developed by Inova and used at events such as BIO Digital and NLSDays.
To invite companies to their private event, Pierre Fabre reached out to their own network and launched LinkedIn communications to cast a wider net, resulting in a mix of both companies they knew and ones they didn't. Once a company joined as a participant, they could easily share asset information and set up a meeting with Pierre Fabre's Executive Management team. The One-on-One Partnering™ platform and Inova Event team handled logistics, such as scheduling meetings according to time zones, automatically including virtual meeting links, and sending calendar invitations, which freed up time for both hosts and attendees alike.
Driving new deals and opportunities
The virtual Private Partnering event was an undeniable success. In just three days, the Pierre Fabre team met with nearly 100 potential partners. After a thorough vetting of asset portfolios discussed with event attendees, Pierre Fabre identified a significant number of promising projects in oncology, dermatology, and rare diseases. The event also accelerated on-going discussions, resulting in a new signed deal in March 2021.
Uncovering new partners and accelerating partnerships
The benefits of such an event during a pandemic are clear: it enabled Pierre Fabre to find new partners and accelerate their partnering activities without the need for travel. However, virtual Private Partnering events offer important benefits that go beyond pandemic-proof partnering.
This event put Pierre Fabre front and center, providing excellent visibility as a prospective partner even for companies that did not participate. It offered another way for Pierre Fabre to get the word out about their areas of interest and types of partnerships they're looking for, as well as explain why they're the best partner for innovative biotechs.
Additionally, the event was cost efficient. Bringing in nearly 100 partnering meetings without any of the travel costs associated with in-person events. This also opened the doors to small biotechs that might not have the budget or bandwidth to travel.
Perhaps the biggest benefit is that it put key decisionmakers at Pierre Fabre in direct contact with biotechs. It's often impossible for Executive Team members to commit to a multiple day, in-person partnering event, but virtual partnering meetings can be worked into their day. Getting the right people in the room is one of the best ways to accelerate your partnering activities.
Changing the future of partnering
While I am as eager as anyone to get back to in-person meetings, there's no denying that a digital transformation is underway and virtual meetings are here for the duration. Virtual Private Partnering offers biopharma companies an easy, flexible way to accelerate their partnering activities, advancing on-going discussions, and capturing new opportunities that might otherwise slip under the radar.
Learn more
Learn more about Pierre Fabre's Private Partnering event or contact us for more details.
---
This article was originally published by Olivier Duchamp on LinkedIn.
Further reading
At Inova, we made the decision in 2013 to transition our partnering platform to a SaaS solution. Tod...
Read more