Biopharma Dealmaking Trends & Transformation 2021
Published on Jul 20, 2021
Written by Meghan Fleming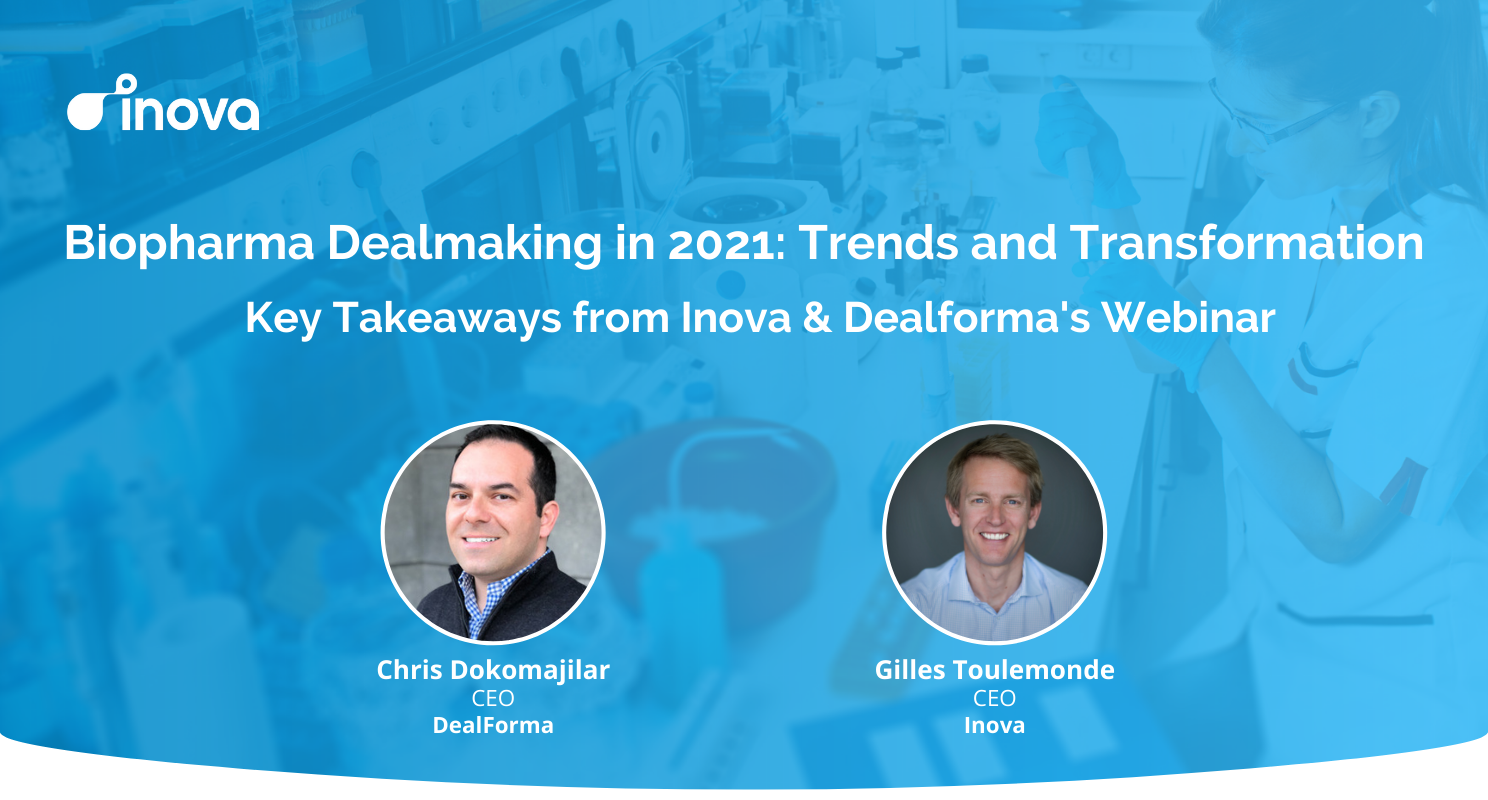 We recently brought the Inova Community together to take a dive into the trends shaping biopharma dealmaking and partnering in 2021. Chris Dokomajilar, CEO of DealForma, joined Inova CEO, Gilles Toulemonde, to discuss why dealmaking is becoming more expensive and competitive, and what that means for pharma and biotech partnerships.
Discover some of the key takeaways from their discussion below and catch the full replay of Biopharma Dealmaking 2021: Trends and Transformation here.
Takeaway 1: Deals are happening earlier
Dealmaking activity continues to be busy and the competition for the best partners and opportunities is fierce. Although the COVID-19 pandemic slowed many industries, biopharma partnering remained busy as the industry came together in search of new treatments, tests and vaccines. Figure 1 below shows that the increase in partnering activity has come in large part from an increase in R&D partnerships.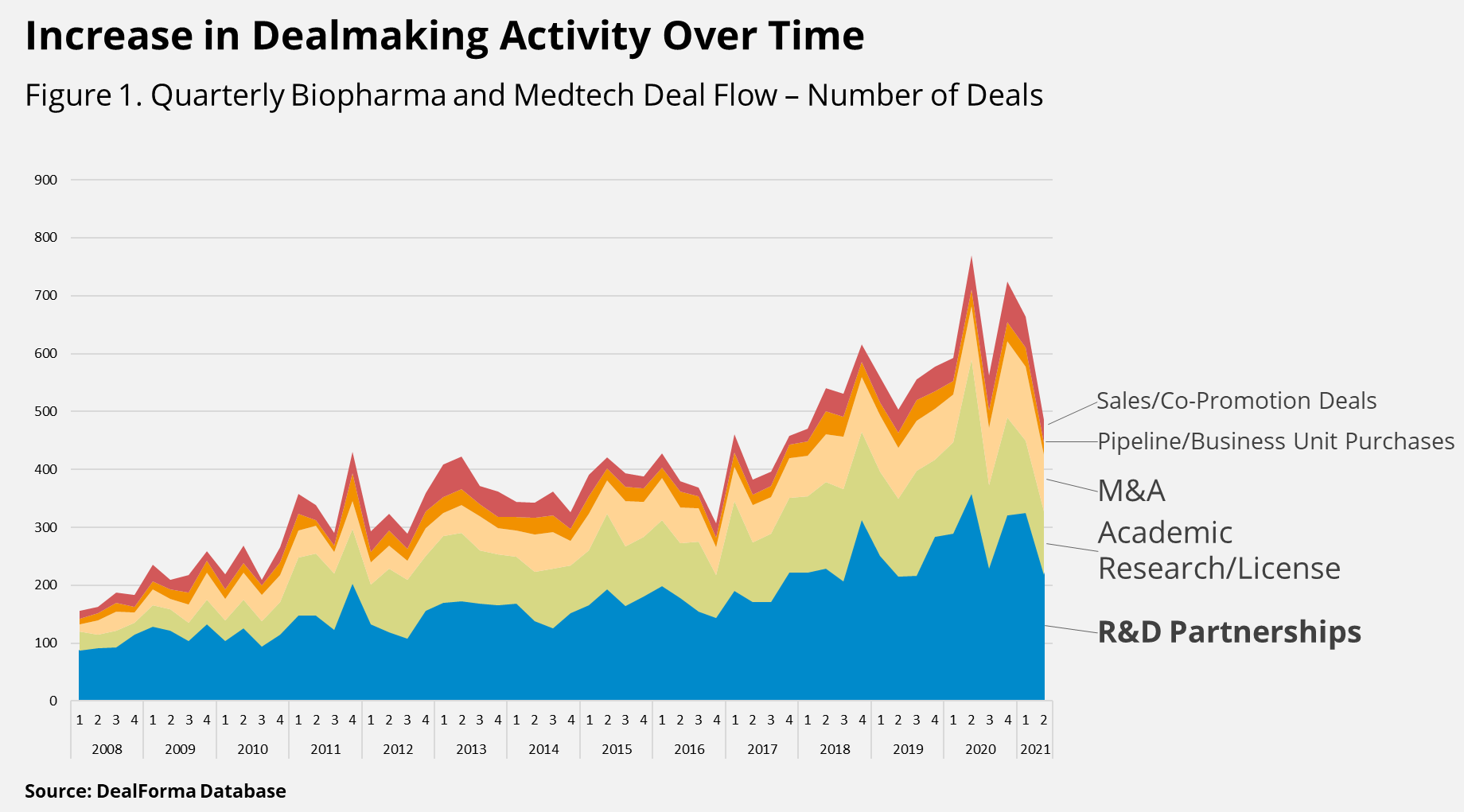 Pharma companies are now in-licensing earlier in the development process. While in 2008, only half of deals were in discovery or preclinical, by 2021, that number had jumped to 78% (Fig 2).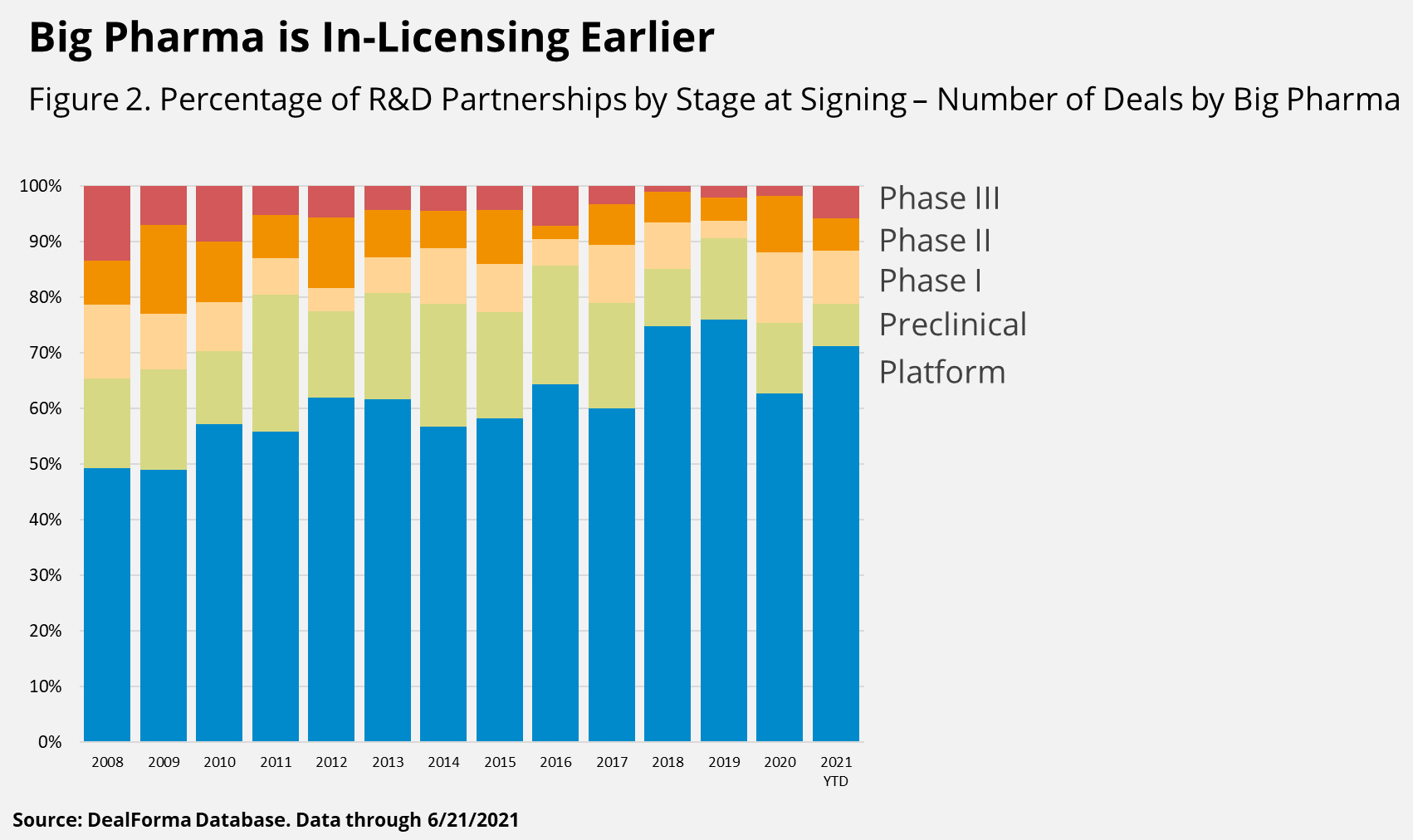 Now more than ever, the ability to efficiently sift through the thousands of potential early-stage partners, including stealth biotechs and new lab spinouts, is a competitive advantage for pharma companies. However, pharma companies are no longer only competing amongst themselves for the best partners – they're also competing against the capital flooding the market.
Takeaway 2: There's a lot of capital for biotechs
Gone are the days of biotechs relying on partners to fund their research. The market is saturated with funding, coming in the forms of Venture Capital (VC), Initial Public Offerings (IPOs) and Special Purpose Acquisition Companies (SPACs).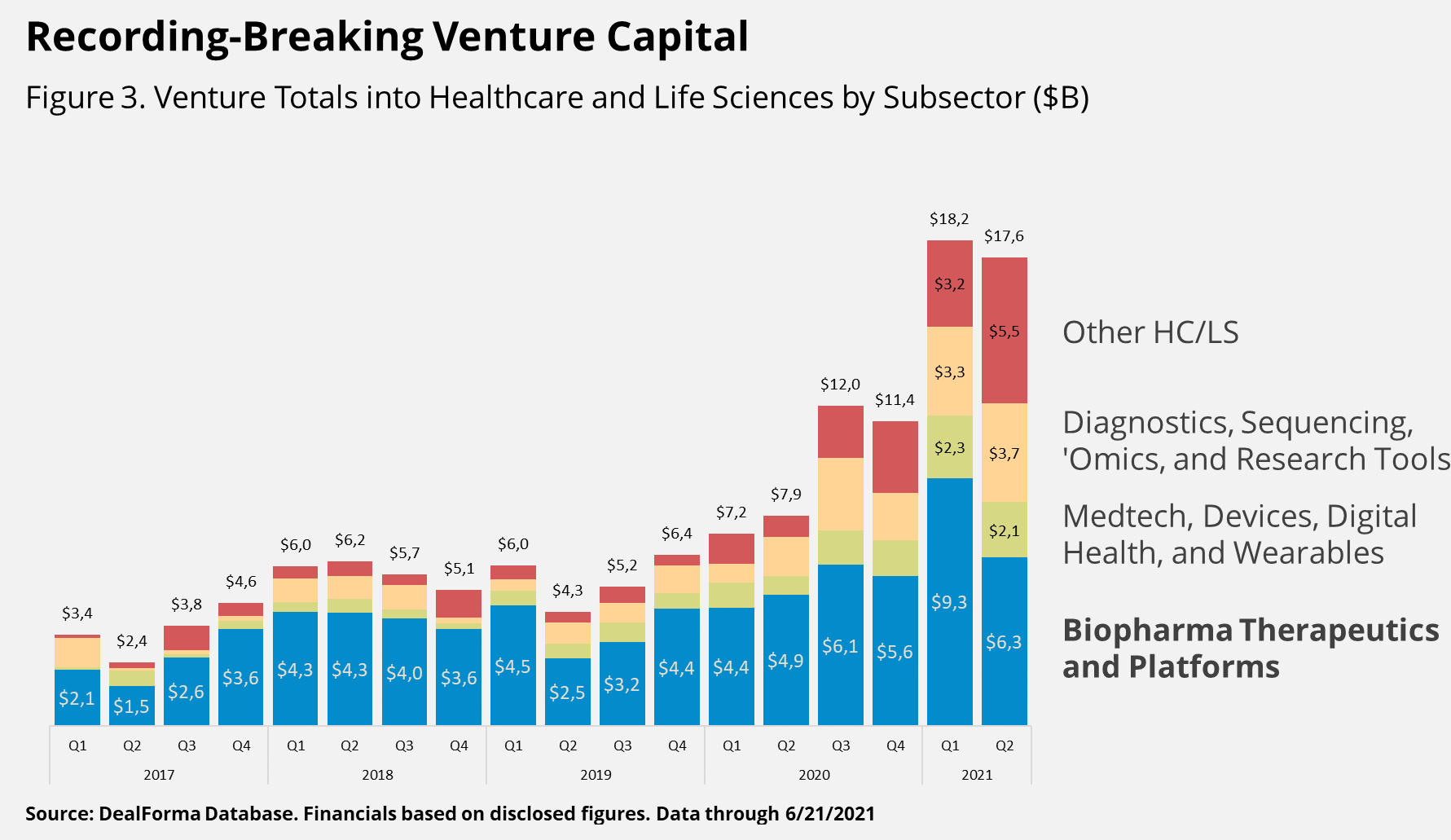 After a record-shattering Q1, VC investment continues to be hot – 2021 will blow even 2020's cash-rich year out of the water before Q3 is through (Fig 3). As with dealmaking, VC investment is moving to earlier stages of development. The chart below (Fig 4) shows that platform and preclinical companies are bringing in the greatest amount of funding.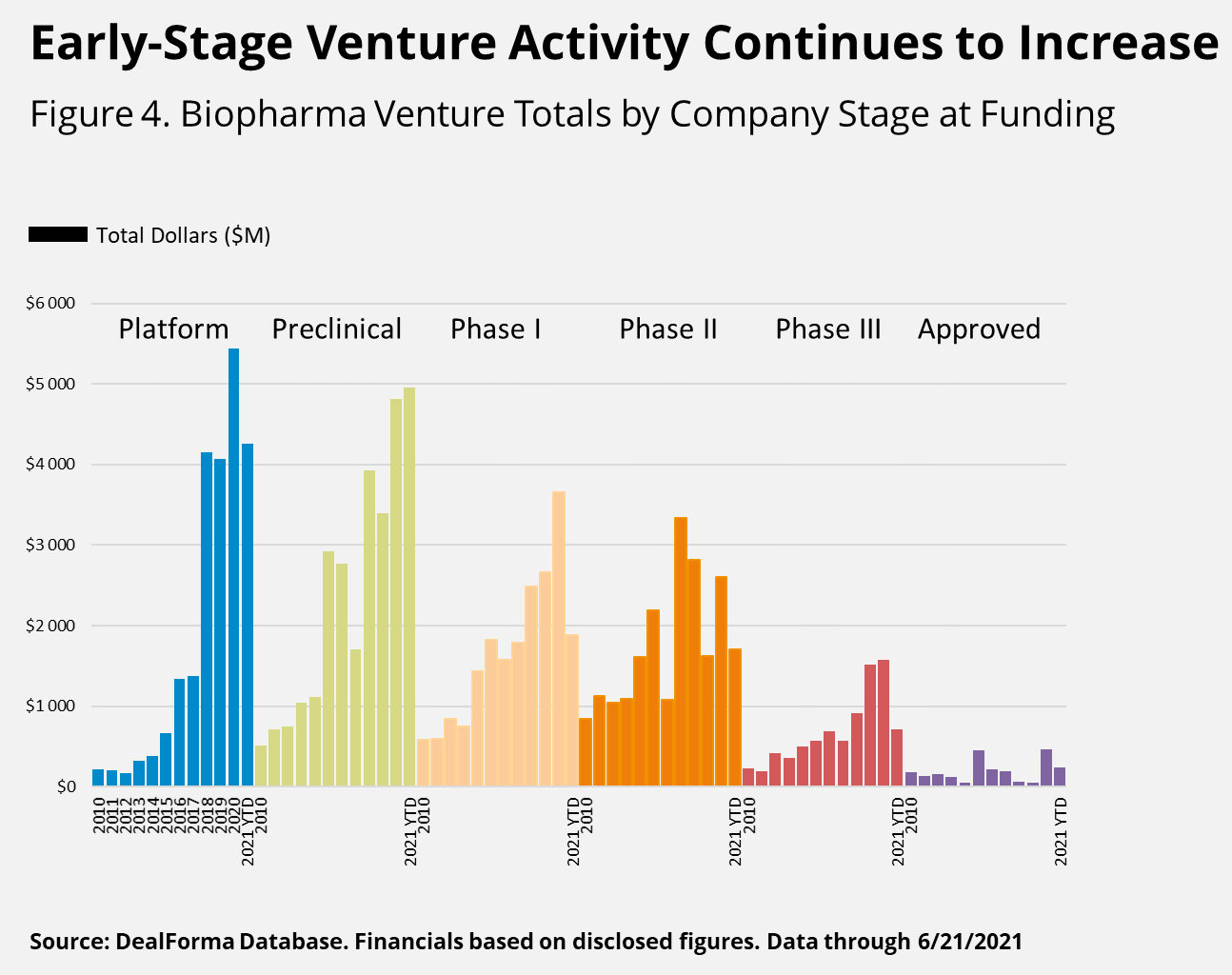 In addition to attracting venture capital, biotechs are also securing funding by going public. Once again, the trend is towards earlier stage development. The chart below (Fig 5) clearly demonstrates the success of companies still in the discovery or preclinical phases. For example, the discovery phase went from zero IPOs in 2017 to the highest average IPO out of all phases by 2020. In 2021, we've yet to see an IPO for a company with at least one asset on the market. The trend is clearly moving towards earlier phases of development.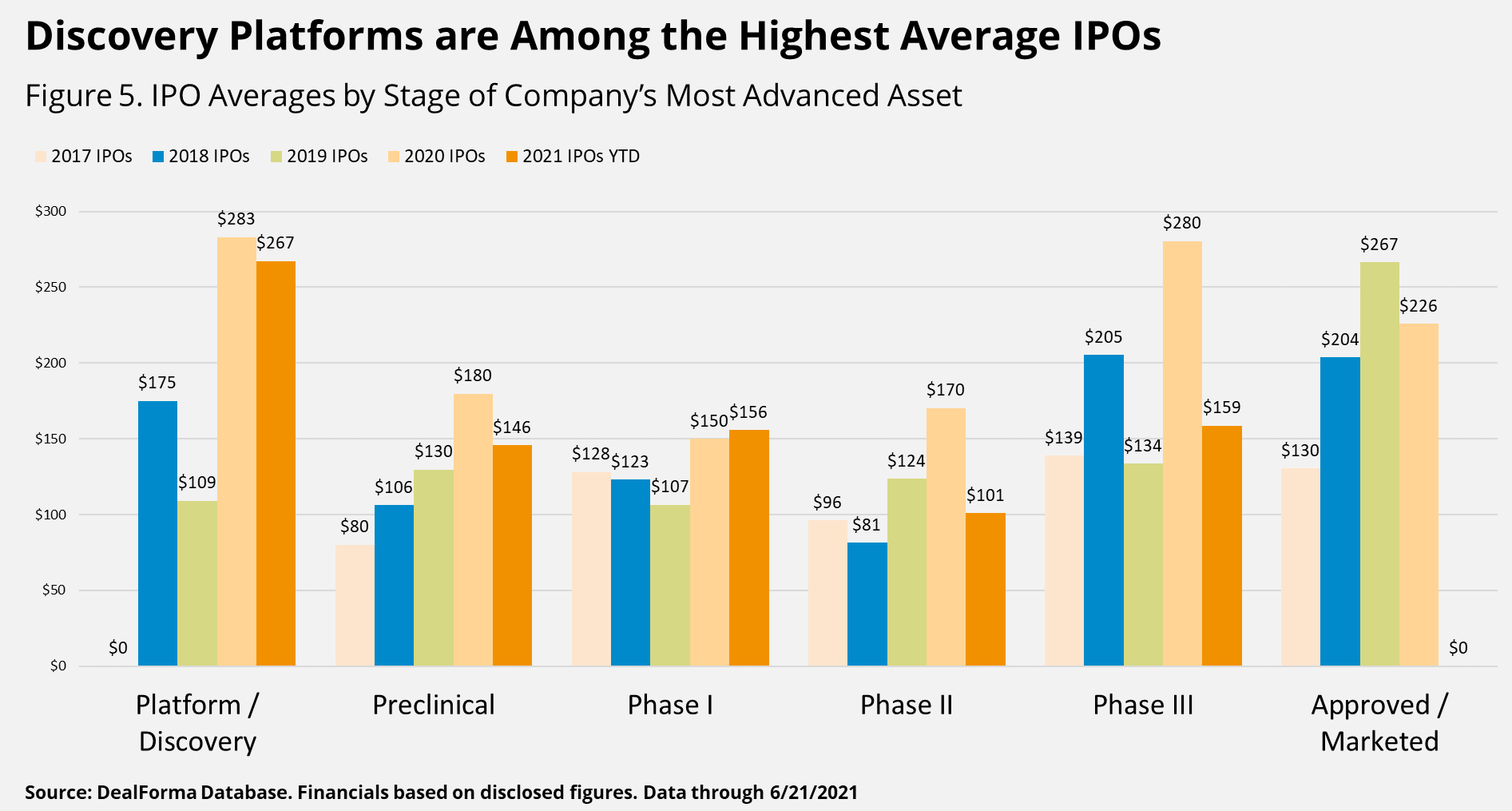 Perhaps the true disrupter of funding options for biotechs are SPACs. SPACs have burst onto the scene, exploding in popularity with 89 SPAC IPOs focused on Healthcare & Life Sciences raising $21 billion since January 2020 (Fig 6). Currently, there are 50 SPACs with $6 Billion to spend within their two-year regulatory constraint, meaning there's still plenty of money on the table for biotechs.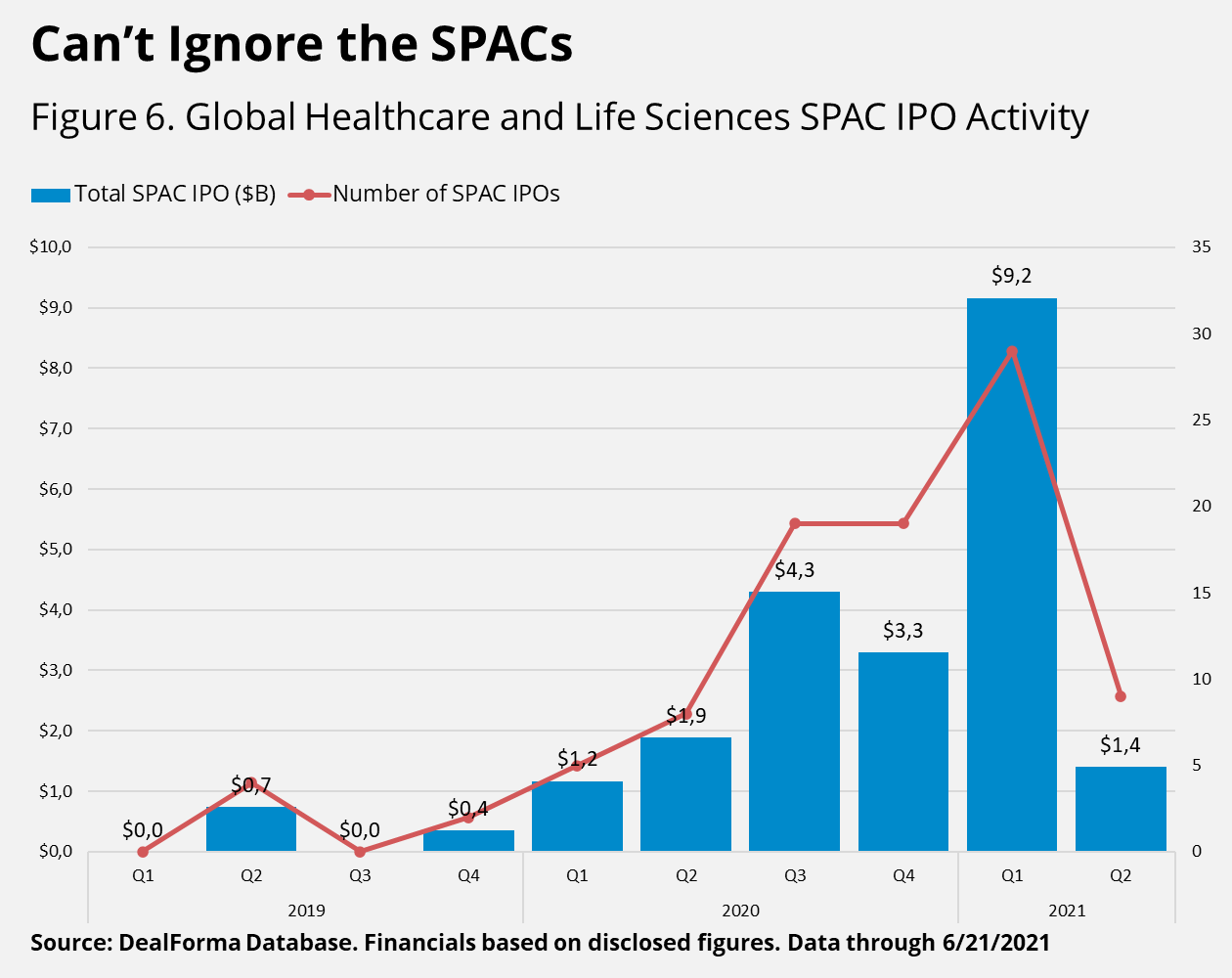 Takeaway 3: Partnering is under pressure
The simultaneous increase in partnering activity and funding options for biotechs has put biopharma partnering under pressure like never before. By targeting earlier stage opportunities, pharma companies have more to sift though. Worse, once they do find a great opportunity, the increase in funding and competition means that the best ones are difficult to secure. An efficient partnering process is now a key competitive advantage.
At Inova, we recently surveyed a representative group of our pharma clients to determine how long it took them to sign a deal and where in the partnering process they thought they could improve most (Fig 7).
On average, it took these firms more than six months to search, identify, and make first contact with a potential partner. Triaging those results and moving to a CDA took almost another two months. Due diligence was around five months, on average, and, assuming everything went well, it was less than three months from the end of due diligence, through negotiation and to the kick-off of the new partnership.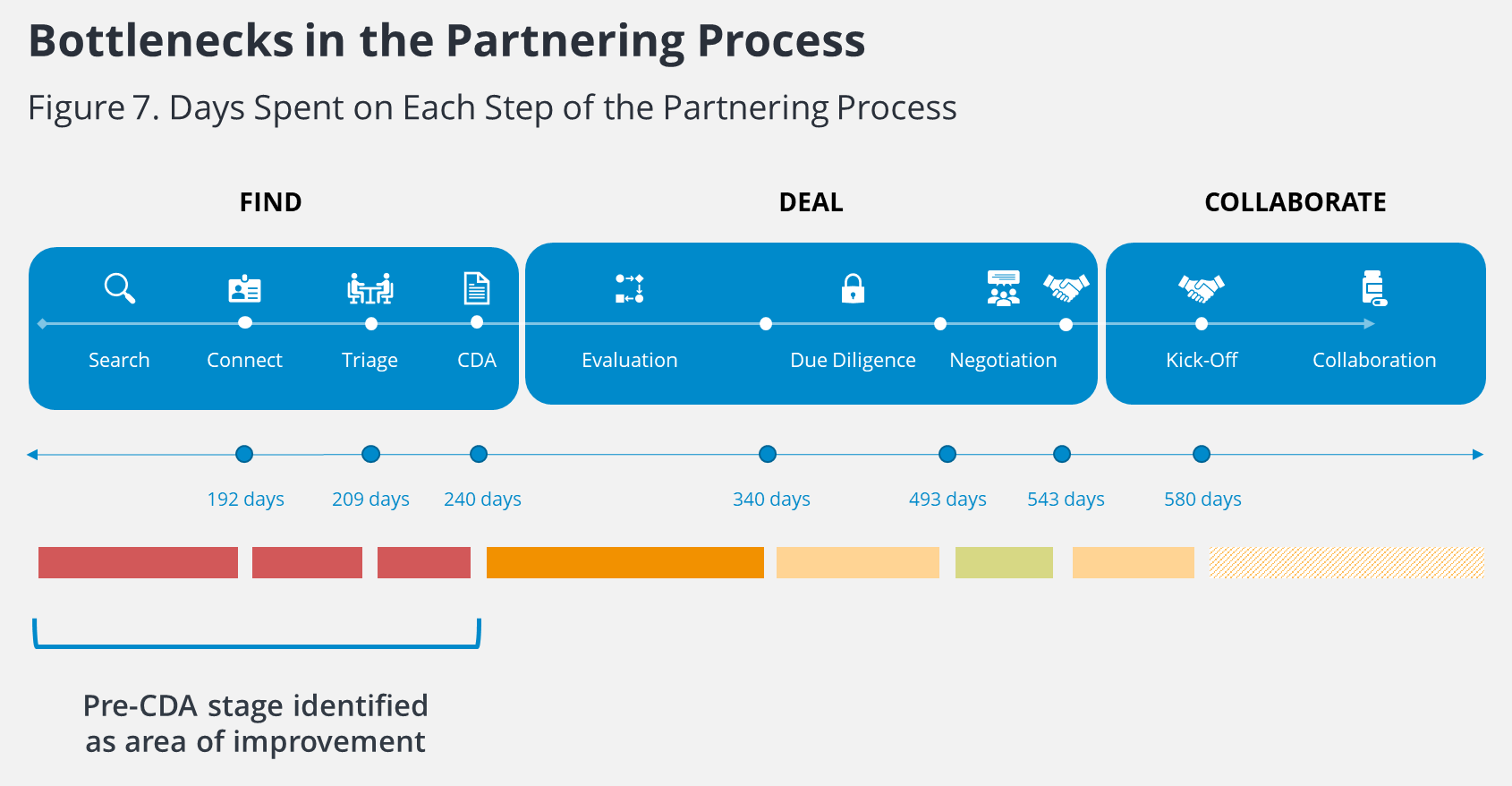 The biggest bottleneck, and therefore biggest opportunity for improved efficiency, according to our respondents is in the pre-CDA period. The challenge here isn't necessarily going faster (nurturing relationships takes time) but rather to initiate a relationship before the competition. This imperative to find and start relationships efficiently, puts partnering under pressure. But the good news is that small improvements can mean big results.
Takeaway 4: Efficiency pays off
Being better at sourcing assets and faster at executing deals comes with real financial benefits. Figure 8 shows a sensitivity table based on risk-adjusted net present value. It evaluates the impact of an increased probability of success for an in-licensed asset combined with an increase in the number of deals that can be executed by the same team. Essentially, if you are sourcing better assets, the probability of success increases. If you're more efficient in execution, you can complete more deals.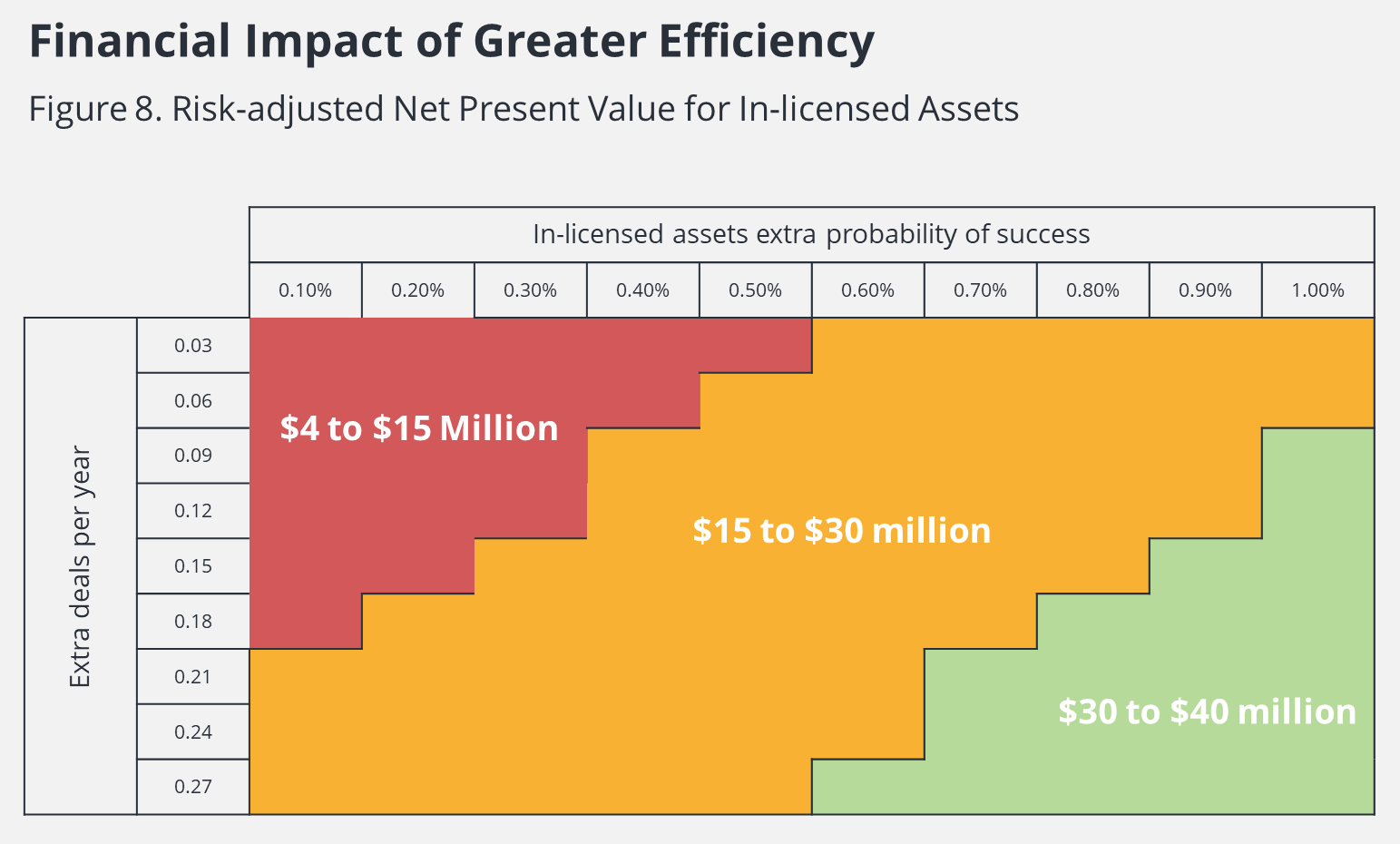 Take a deeper dive into the biopharma partnering trends of 2021 by watching the webinar replay here.
---
This article was originally published by Inova on LinkedIn.
Further reading
Last week, our guest contributor, Pascal Goursaud, CEO of BACARU and General Secretary of ASAP Franc...
Read more