From conferences to deal signature: the long road to partnership
Published on Aug 2, 2016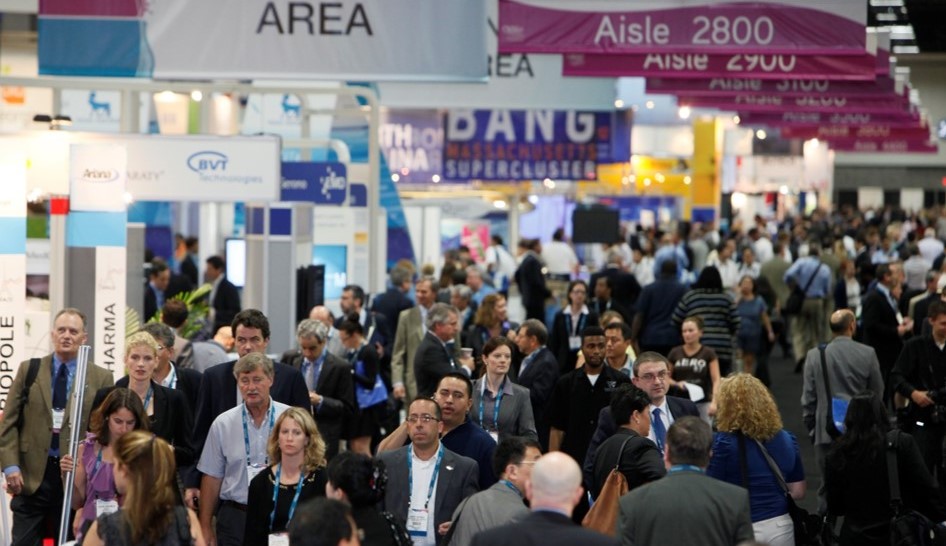 It's a long road to partnership in the life sciences. To manage the process effectively, pharma companies need a life sciences CRM.
Partnering conferences are indispensable. Even in a world highly connected by the internet, face-to-face interactions still matter. That's why every year thousands of life sciences professionals attend hundreds of conferences all over the world. In just a few days they can check-in with current partners and meet with new ones. Yet, conferences are only the beginning of the partnering process. Companies must be ready for what comes next and have the right tools, such as a life sciences CRM, to succeed.
Partnering conferences: An indispensable beginning
In an interview at BIO-Europe 2014, Jochen Maas, General Manager of R&D at Sanofi in Germany, explained that one-on-one partnering meetings at conferences are absolutely necessary and indispensable. Maas commented that they need to meet partners and get to know them - it's the critical first step in a partnership. Big conferences are perfect for this. They're an efficient way to meet a lot of people.
They're also perfect for bumping into fellow scientists and realizing that you have a common interest. Such was the case when scientists from Novartis and Pfizer met each other by chance at a conference and realized that their research was perfectly complementary and – when combined – upended key theories in oncology. Their chance encounter led to a paper published in the Proceedings of the National Academy of Sciences and was an important discovery in the hunt for cancer treatments.
However, as Mass pointed out, meetings at conferences are just the starting point of a potential partnership. Once a meeting is over, there's a lot more work to be done to get the deal signed.
The next steps: The long road to a signed deal
Partnering conference meetings are just one step along the path to successful partnering. Afterwards there's a long and difficult road of confidential disclosure agreements (CDAs), due diligence, negotiations and more. Many opportunities are considered but very few make it to the finish line. Research from Inventiv Health Consulting shows that only 5.1% of opportunities make it from consideration to a signed deal.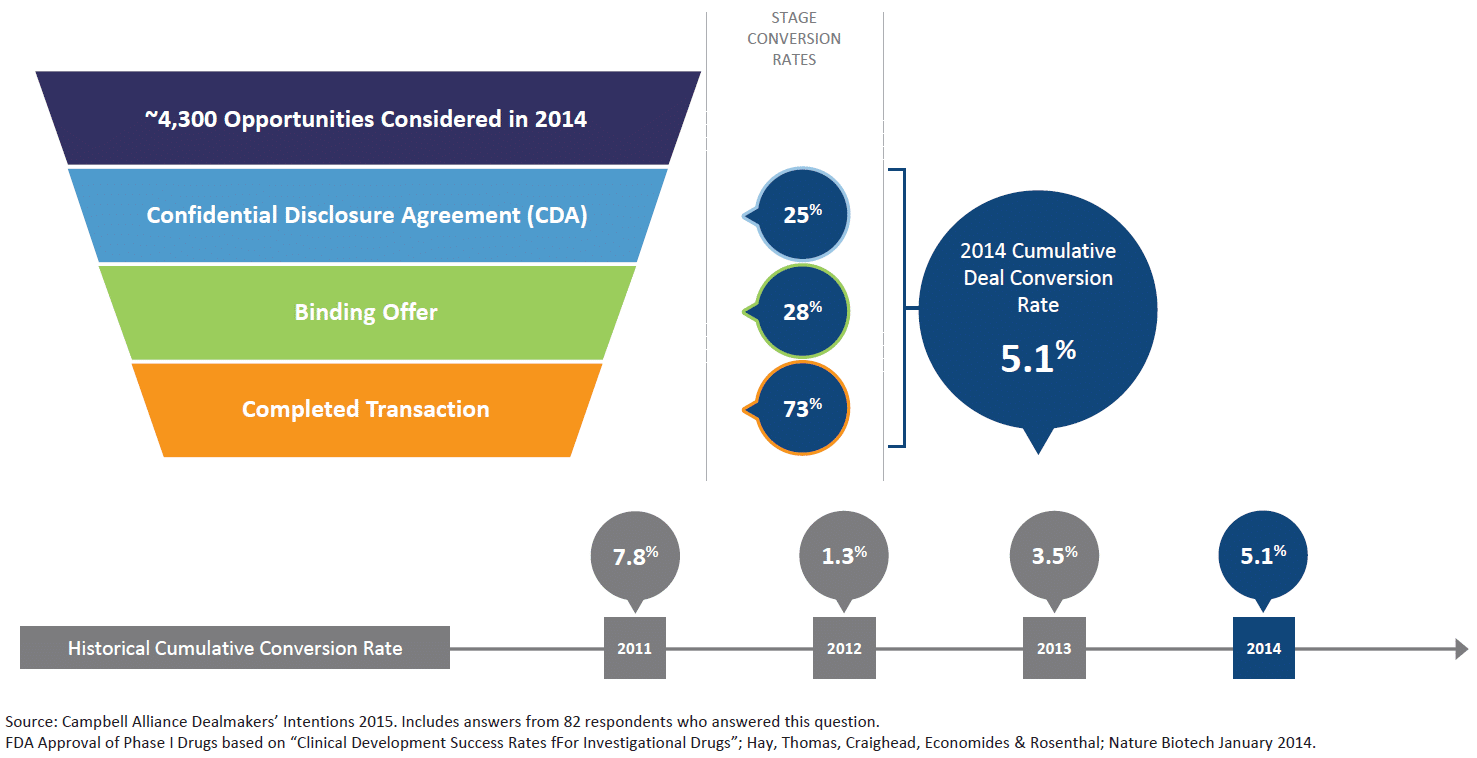 According to the same research, "The major constraint on the process of evaluating and making deals is the buyer's own capacity to evaluate deals. To improve the in-licensing/acquisition process, 33% of buyers believe that improved bandwidth in dealmaking is needed. While 28% of buyers desire better assets for review, dealmaking more often falls short due to internal operations, diligence, and partnership management."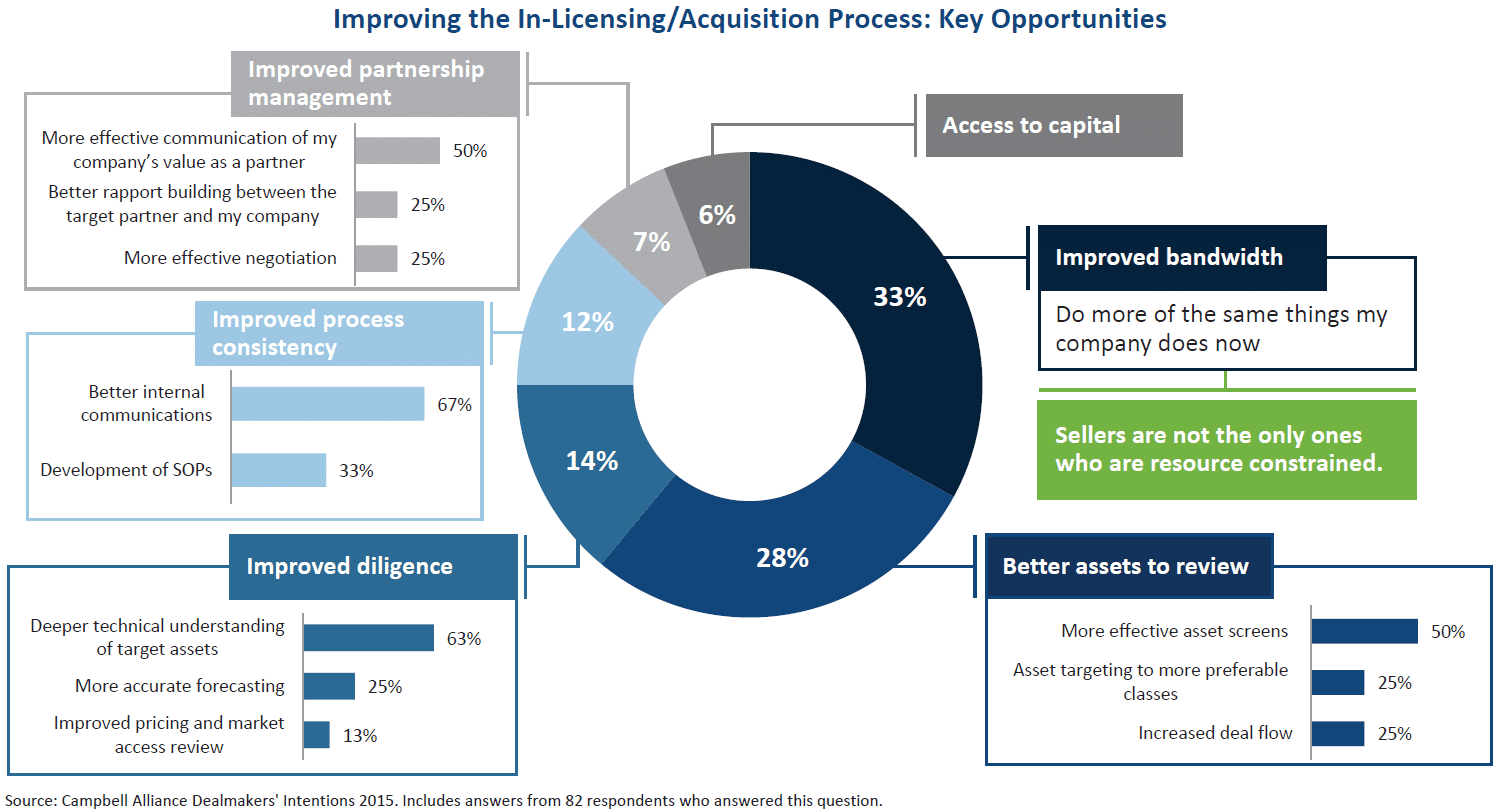 That's why it's key to leverage a pharma CRM. It manages the entire partnering process and integrates with conference providers, centralizing all your partnering information.
Life Sciences CRM: Built-in best practice partnering processes
Based on 15 years of experience working with life science companies, Inova created a pharma CRM for partnering. Our solution connects to industry leaders such as BIO, EBD, Clarivate Analytics and Citeline. Instead of spending time looking for and gathering information, it's already in one secure place with no data entry. Inova's life sciences CRM is ready out-of-the-box. It features best practice workflows and processes, including for due diligence, ensuring that opportunities are evaluated effectively. For example, review capabilities enable users to collaborate easily with colleagues and securely request their expertise. Robust reporting makes it a snap to compare opportunities, track your pipeline and portfolio, evaluate the strategic importance and value of alliances and more. Partnering in the life sciences is tough. Out of the thousands of opportunities out there, business developers must find the right ones. Inova's life sciences CRM helps with just that, from scouting new opportunities at conferences to managing existing alliances.
Further reading
Innovation makes the world go round and some industries are more exposed to this fact than others. I...
Read more