Gene therapy is hot on the partnering agenda
Published on Jul 10, 2019
by Gilles Toulemonde, CEO at Inova Software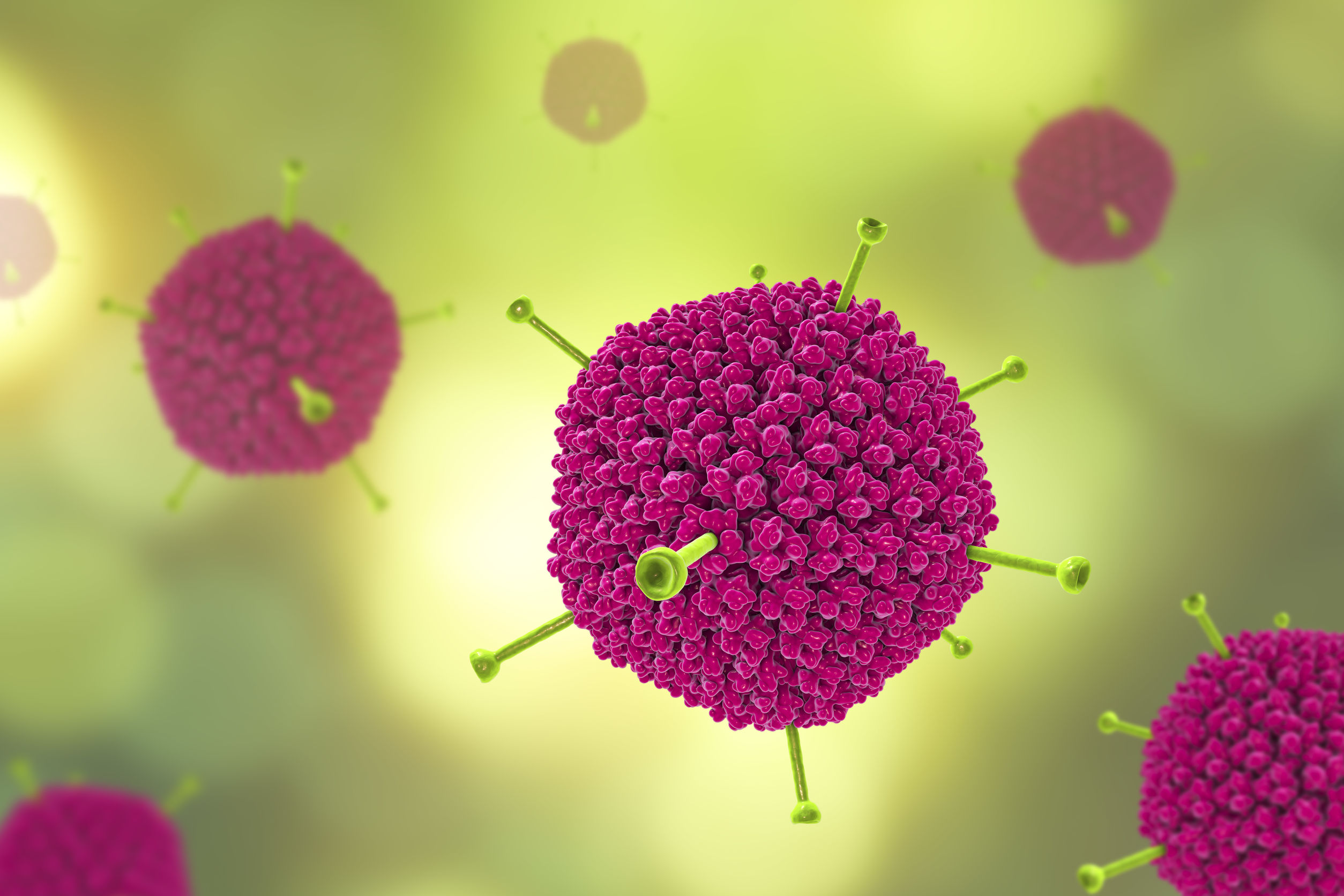 Gene therapy is undoubtedly making a comeback. After early difficulties and failures, there has been a recent surge in activity, and with good reason: over 6,000 diseases are known to be caused by genetic mutations and fewer than 5% have a treatment option. Gene therapy could hold the key to combating these diseases.
Gene therapy on the rise
At Inova, the biopharma partnering software, we closely follow the latest trends in partnering and collaboration in the life sciences industry. Gene therapy is one area that really stands out, in terms of pipelines, partnering, and deal-making.
A surge of deal-making activity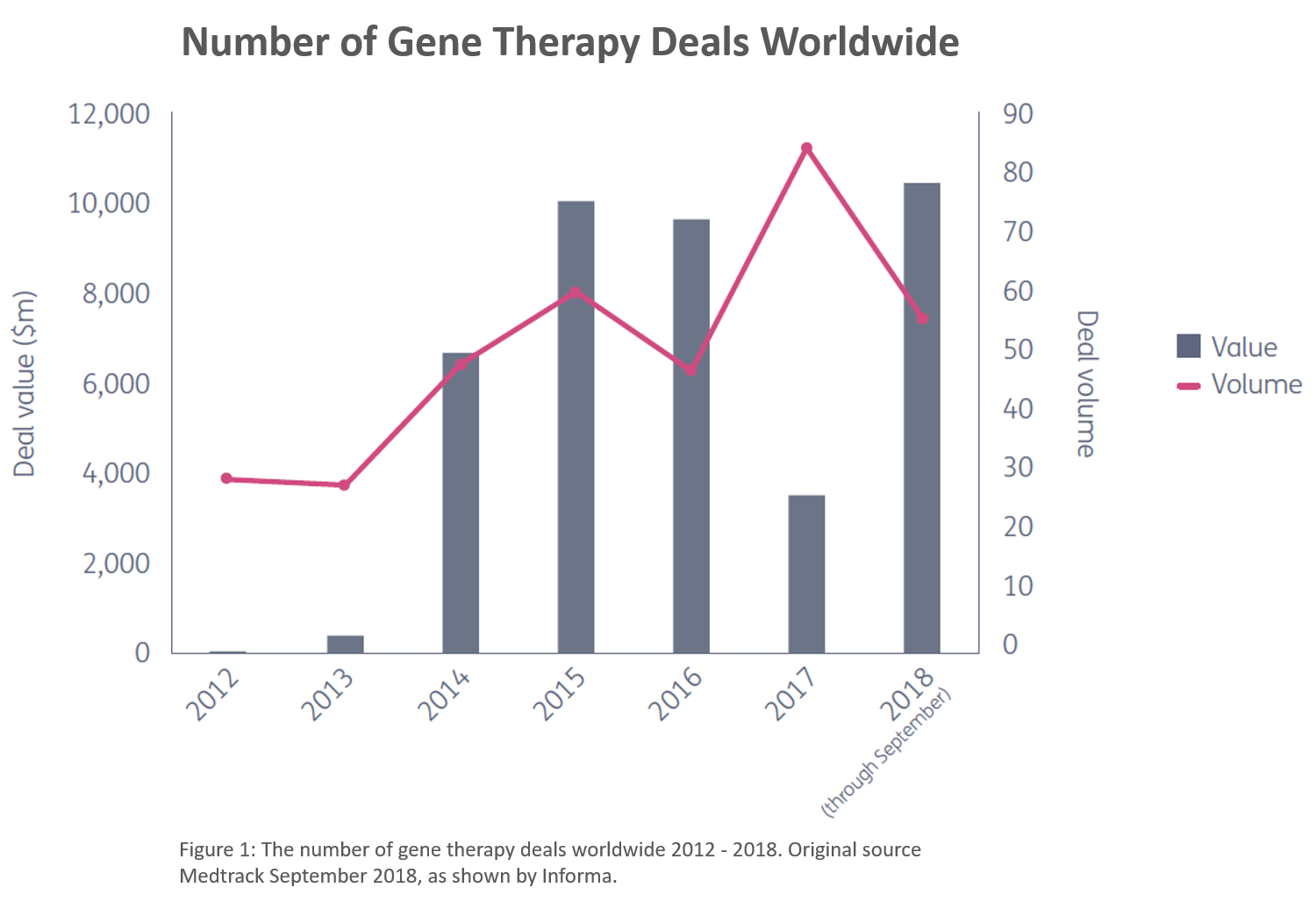 Since 2014, deals have been on the rise. Novartis, for example, has acquired AveXis for $8.7 Billion(1), Roche acquired Spark Therapeutics for $4.8 Billion (2) , Biogen is acquiring Nightstar Therapeutics (3) and Vertex has just announced that it is buying Exonics (4).
There's also a lot of interest in collaborations. AbbVie, for example, has teamed up with Voyager Therapeutics to tackle Parkinson's Disease (5). A multi-organizational team effort targeting cystic fibrosis has also been launched. Together, Boehringer Ingelheim, Imperial Innovations, Oxford BioMedica, and the UK Cystic Fibrosis Gene Therapy Consortium, will tackle respiratory diseases (6). The group's leaders tout an "unparalleled combination of clinical, scientific, manufacturing and commercial skills" through the combined experience and capabilities of its members.
A parallel rise in partnering & pipeline activity
As the developers of the One-on-One Partnering System, used at major conferences such as the BIO International Convention, we analyzed the partnering trends around gene therapy. Since 2015, the number of gene therapy assets available for partnering has steadily risen and more than doubled just in the last year.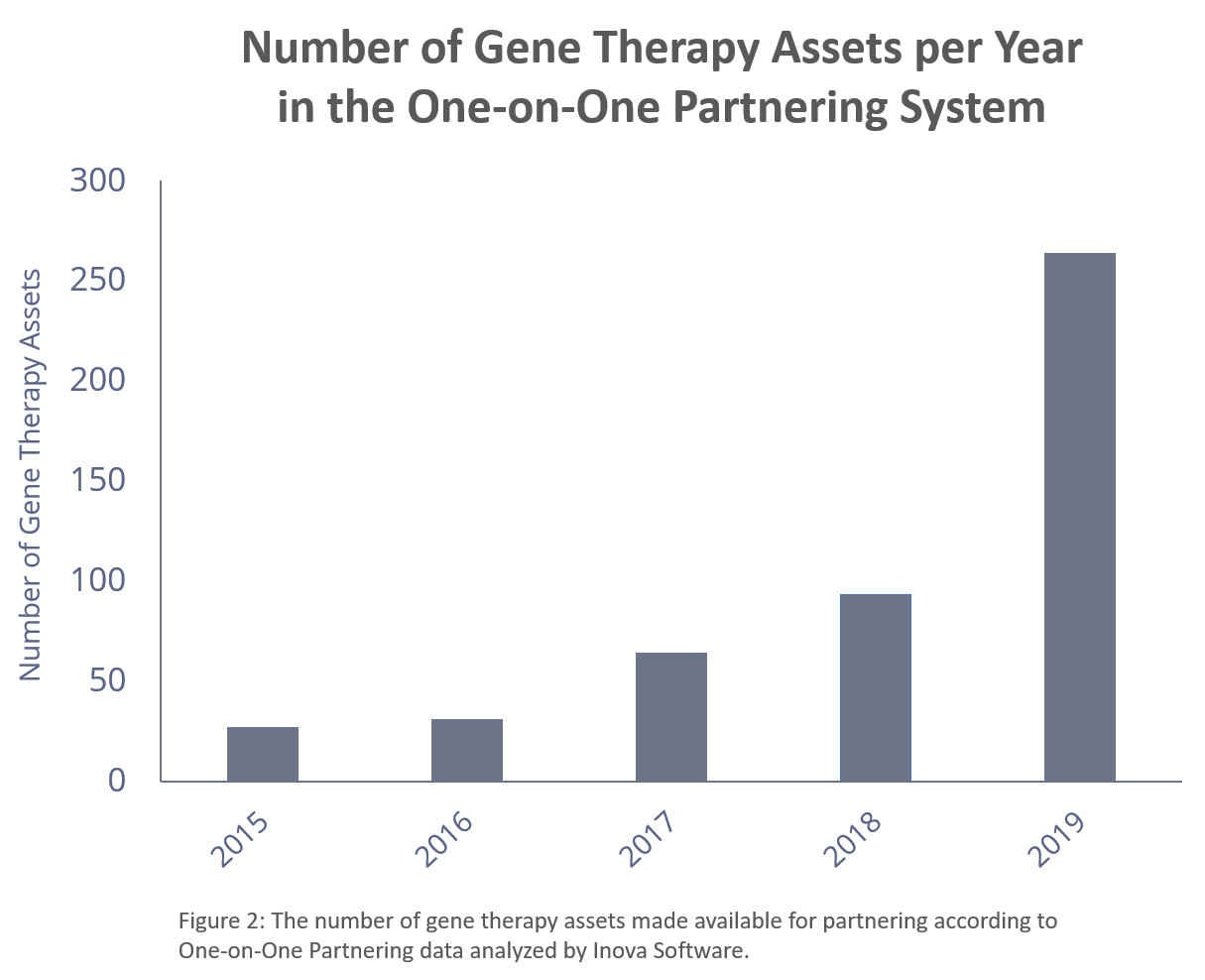 Most of the partnering, unsurprisingly, centers around oncology, but it is certainly not the only area of interest. As we see below, neurological disease, degeneration, cardiovascular disease and gastrointestinal disease complete the top five therapeutic areas associated with these assets.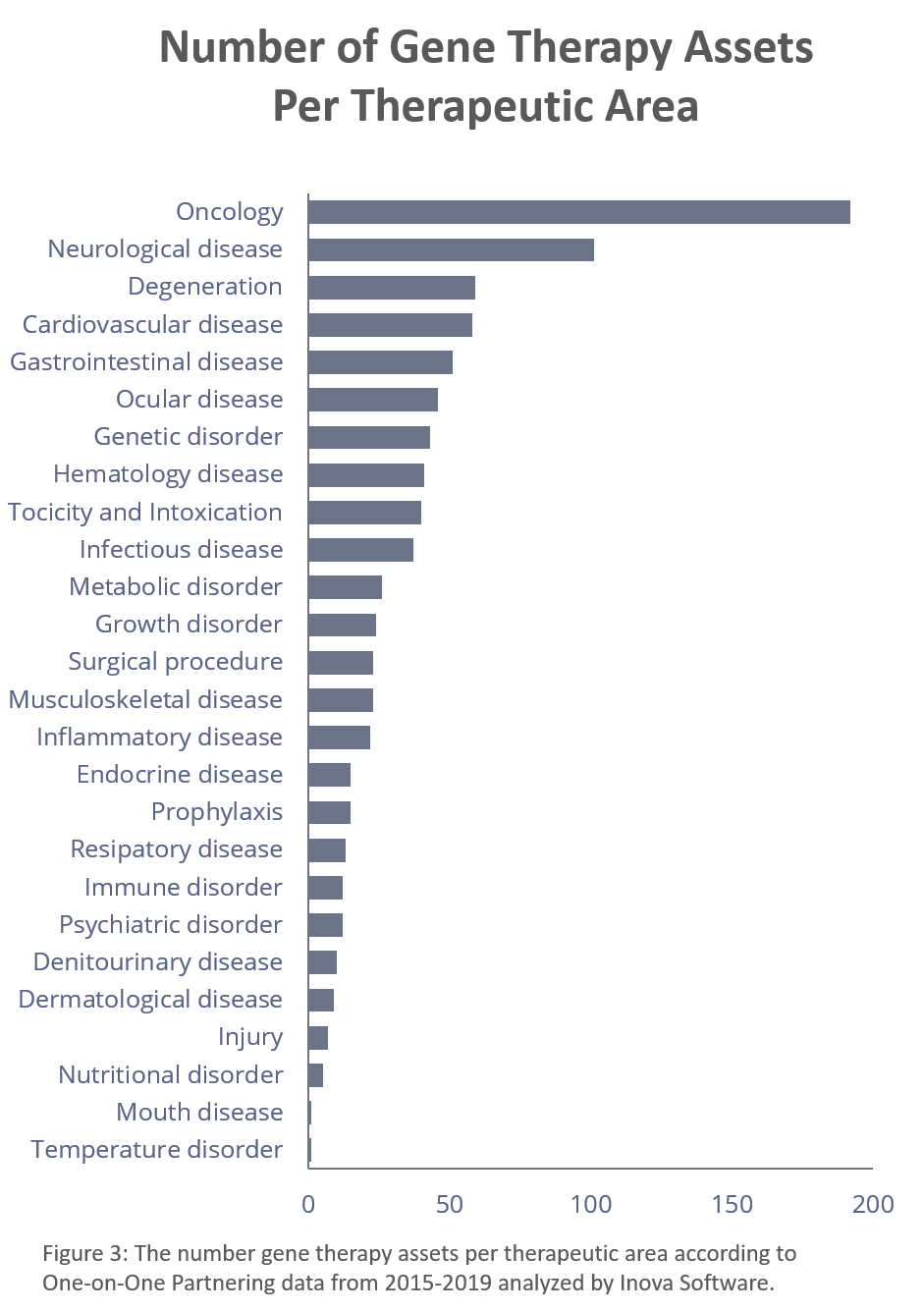 This increase in activity at partnering conferences corresponds with a boost in the number of gene therapies in the pipeline. Since 2014, there has been a rapid expansion in the number of therapies under development.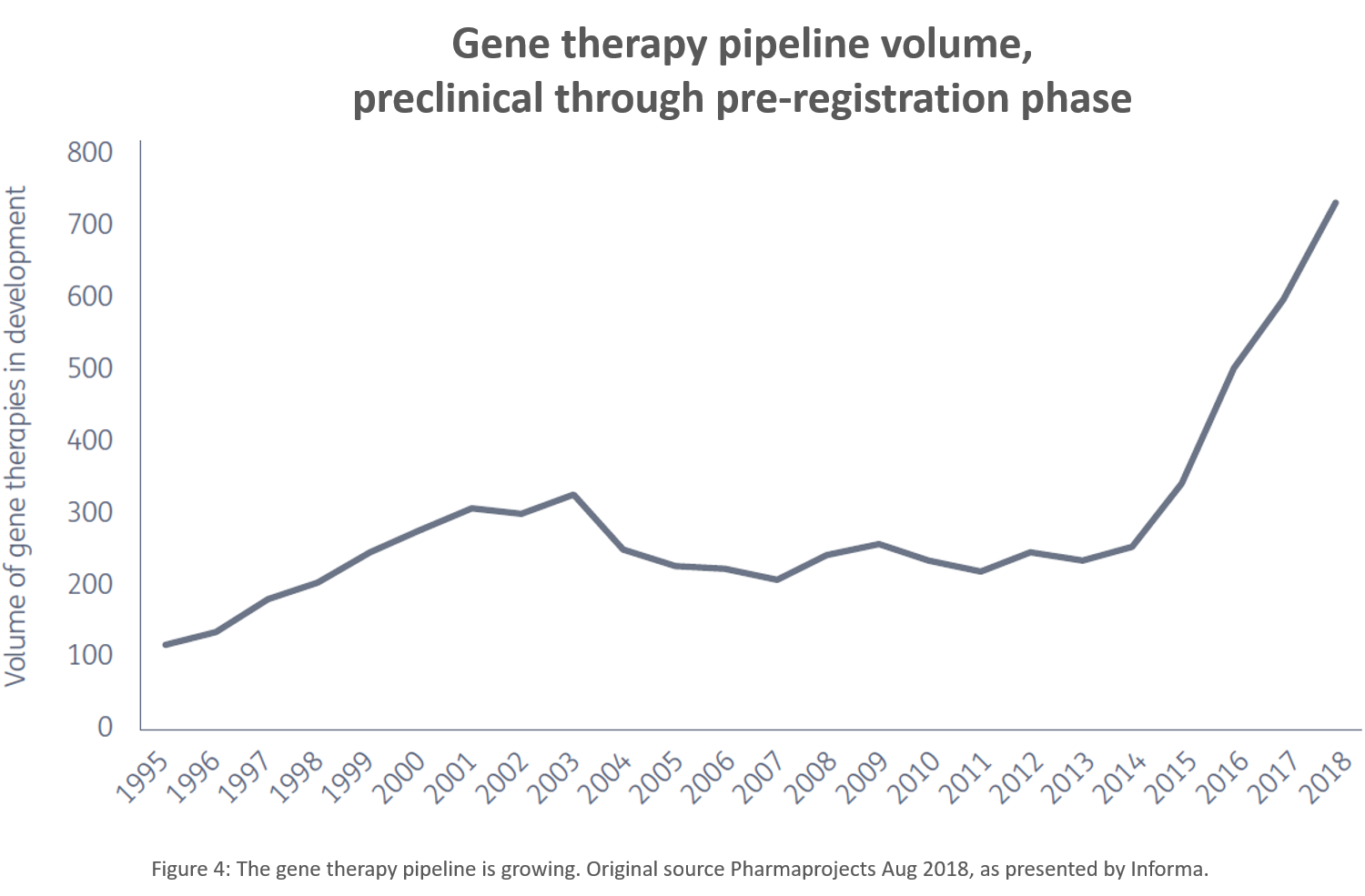 However, despite these positive indications, gene therapy has some critical challenges to overcome.
The uncertain road ahead
As is often the case, gene therapy has taken two steps forward and one step back. In particular, two key challenges lie ahead: pricing and the science itself.
The complications of pricing
When it comes to gene therapy, consumer groups are understandably rattled by one glaring drawback: pricing (7). If you are the individual or parent of the child suffering from a fatal disease, the price of treatment should be a moot point. That said, researching and developing a cure is not cheap. A few examples of gene therapy prices, include:
LUXTURNA™, Spark's retinal therapy is priced at $850,000 (8)
SPINRAZA™, the spinal muscular atrophy gene therapy by Biogen, costs $625,000 - $750,000 for the initial dose, and $375,000 for each annual dose (9)
ZOLGENSMA™ the recently approved spinal muscular atrophy gene therapy from Novartis-AveXis is a one-and-done treatment priced at $2.125 million (10)
Pricing is a challenge that should not be underestimated. To date, GLYBERA™, by Uniqure, which treats a rare lipoprotein lipase deficiency, is the fourth gene therapy that has been pulled off the market (11). Although it was approved with much fanfare in 2012, it was sold to only one patient at a price of $1.2 Million. In 2017, it was dropped (12). Clearly, pricing requires a delicate touch.
One solution is to adopt Novartis' pricing strategy. KYMRIAH is priced at $475,000 and includes a money-back guarantee if it does not work. Taking it a step further, ZOLGENSMA includes both an installment payment option and, if the treatment fails, a refund. It is a distinctly different approach that holds a great deal of promise. How well it works, remains to be seen. Pricing, however, is not the only challenge ahead of gene therapy.
Balancing risk and potential in scientific development
There's no doubt that gene therapy has come a long way. It was not so long ago that the idea of in vivo genome editing sounded like science-fiction. Today, it's a reality. The science is advancing at a breathtaking pace, but has had its share of problems, tragedies and controversies (13, 14, 15). It is critical that researchers continue to be cautious in their work.
Take CRISPR, for example, a technique that has suffered many setbacks. Yet, two leaders in the field, Crispr Therapeutics and Editas Medicine, are demonstrating that it's possible to make great advances, while exercising caution. Today, these two companies have a combined total of nearly 20 therapies in development.
Beyond CRISPR, there are many new gene therapy techniques being researched. For example, in vitro-transcribed (IVT) mRNA, which is showing promise as a new class of therapy, particularly for lung diseases (16). Another approach leverages sustained enzyme expression and secretion from the liver. It's a novel in vivo genome-editing approach well suited to the treatment of monogenic diseases (17).
As we've seen, adeno-associated virus (AAV) works extremely efficiently in retinal diseases (18), but new scaffolds for genetic delivery are emerging. Specifically, branched cationic peptides (19) and human artificial chromosomes could be superior delivery vectors (20).
The research ongoing in gene therapy is thrilling, but there is always a degree of risk in development and that should not be neglected.
Why partnering matters
Gene therapy is ground-breaking but the complexity of designing treatments is daunting. Setting a price on the value of the quality or longevity of a person's life is fraught with peril on numerous fronts from ethics to human rights. Clearly, the pioneering biopharma companies who develop these innovative treatments need to be compensated. How much is too much? And who pays for it?
I believe that partnering is the way to overcome the risks and perils of gene therapy. Collaboration brings the right resources together. Even the largest pharma companies do not have all the skills, expertise and people power required to discover, develop, optimize, test, manufacture and commercialize specialty treatments like gene therapies. Vector development and manufacturing is challenging: only a few sites and teams with the required know-how exist worldwide. And, even so, uninterrupted supply is not guaranteed. The right partnerships with CMO/CDMO companies will be critical.
Gene therapy is promising and exciting. While there are key challenges ahead, partnering is one way to overcome them.
---

This article was originally published on LinkedIn on July 10th, 2019 by Gilles Toulemonde, CEO & Co-founder at Inova.
---
Further reading
Biotechnology is booming. Everyone working in the life science industry knows it and the numbers say...
Read more