Inova's Green Policy 2021
Published on Oct 28, 2021
Dylan Kissane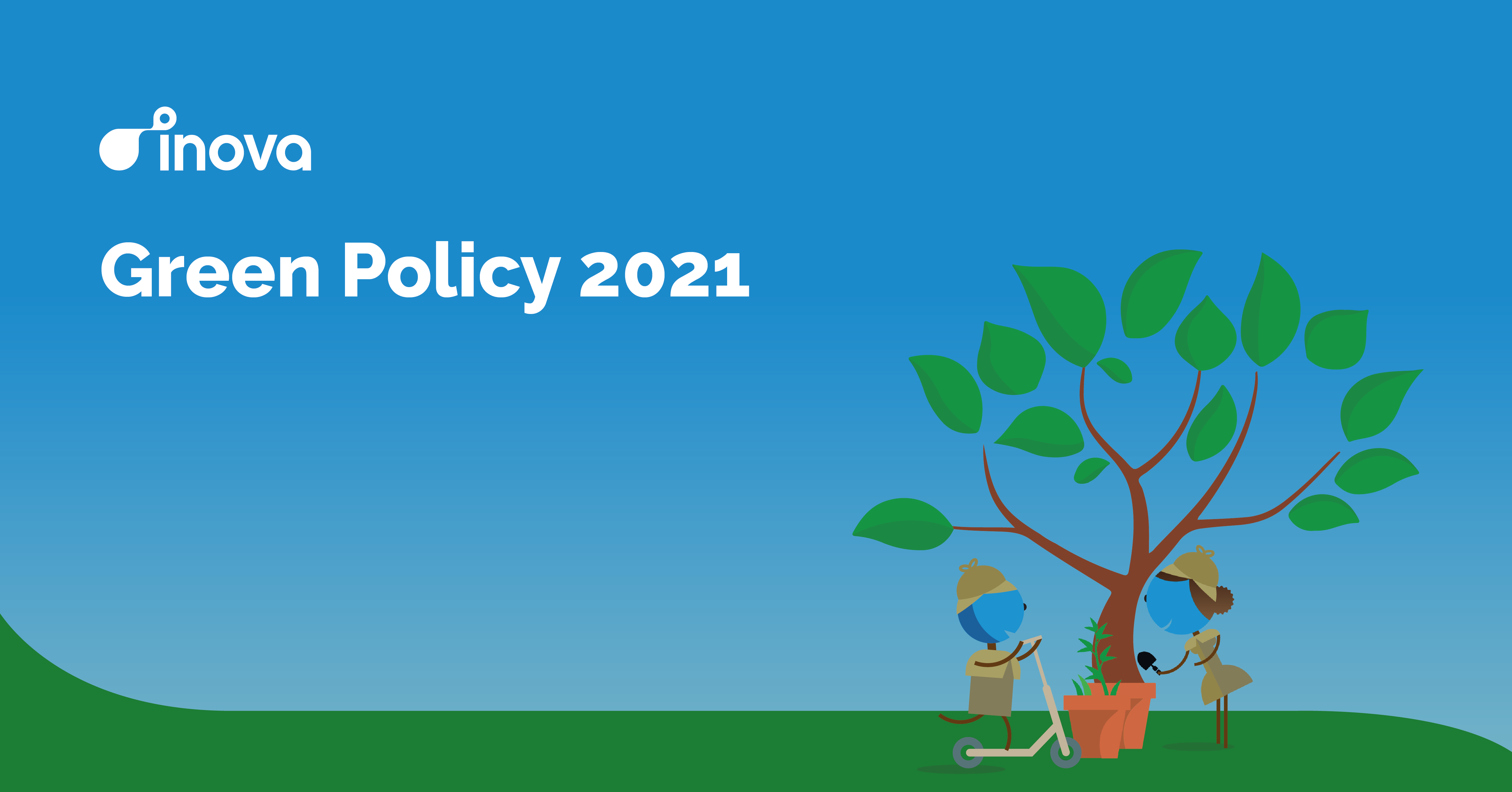 Download Inova's 2021 Green Policy here.
As the world prepares for the COP26 meeting in Glasgow and pressure builds on the nations of the world to recommit to fighting climate change, Inova is releasing its annual Green Policy report, which tracks the significant progress it is making in its own commitment to cut corporate carbon emissions.
Today, three years after Inova's initial commitment to transforming into a low-carbon tech business, the company is building on its early emissions reductions and demonstrating that it is possible to significantly grow a business without further contributing to the release of CO2.
The global pandemic has had a positive impact on CO2 emissions across 2020. With aircraft grounded, international trade grinding to a halt, and lockdowns worldwide, it's no surprise that carbon emissions took a deep dive. According to research in Nature, the global pandemic led to a 1.6 gigaton reduction in emissions, a drop in carbon emissions that exceeded those of the Great Depression, the post-World War II period, and the 2008 financial crisis combined (fig. 1).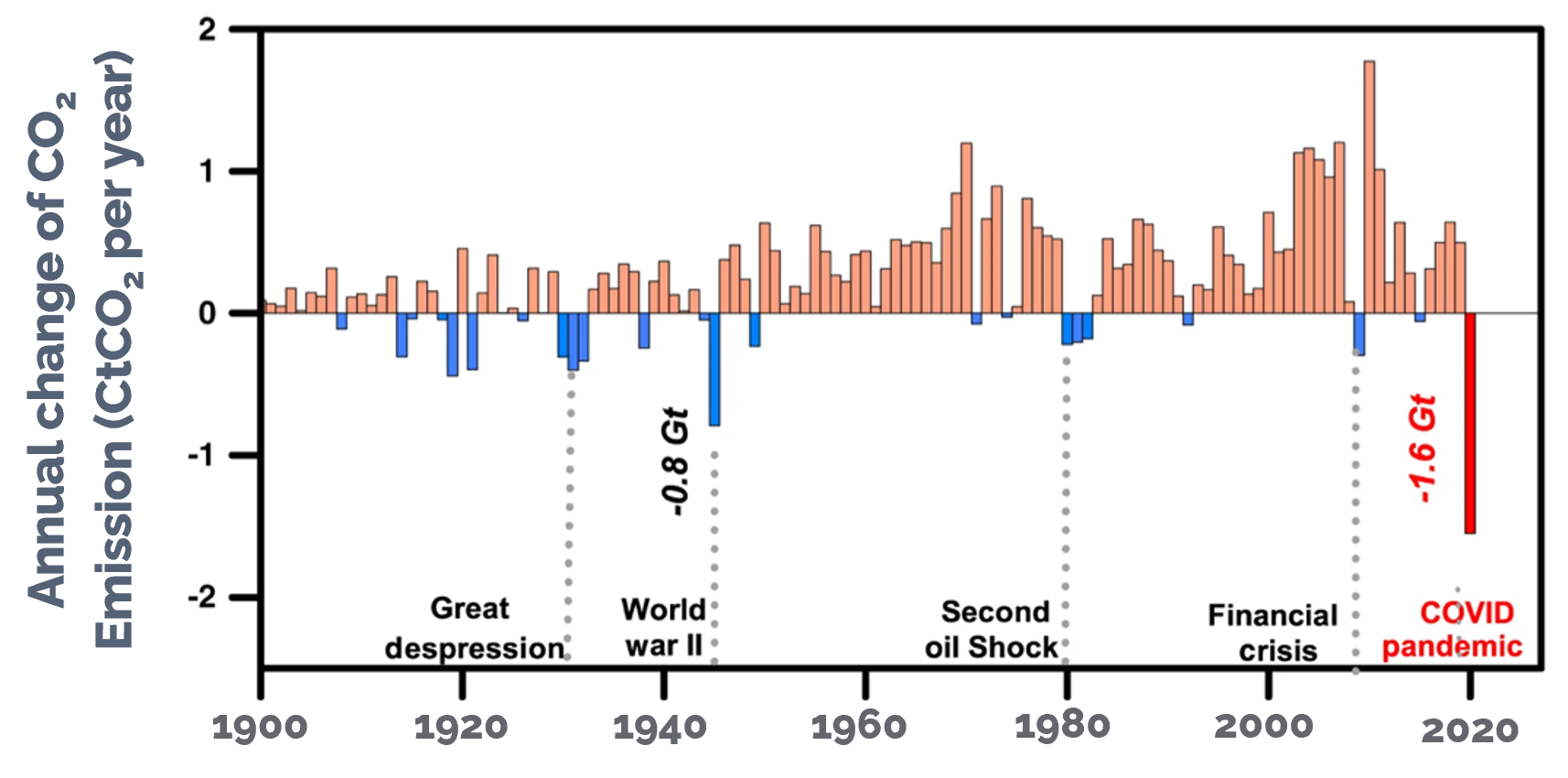 Figure 1: Effects of COVID-19 on Global CO2 Emissions (Adapted from Nature)
Regardless of all the COVID-19 challenges, Inova did not lose focus on its carbon reduction program, as CEO Gilles Toulemonde explains:
Despite a global slowdown in 2020 due to COVID-19 pandemic, the world still needs to radically reduce its carbon emissions. Under the Paris 2015 agreement, a goal was set to halve emissions by 2030. We all have ideas about what should be done at a national or worldwide level to meet this goal – encouraging solar and wind farms, taxing polluting industries, even restructuring entire economies – but it's often harder to change our own behaviors. Inova has taken on a significant challenge, but we are committed to our goal, and we will play our part to meet the Paris 2015 targets.
In 2018, Inova began its journey towards becoming a low-carbon SaaS business. The company aimed to reduce its carbon footprint focusing on both the total amount of CO2 emitted by the business and the carbon intensity of the Inova solution provided to clients.
In 2019, the company supported the training of two employees in the ABC Carbon Footprint methodology so that a first carbon footprint evaluation could be completed. The results of this first evaluation were in line with ISO 14001:2015 standards and offered a baseline by which to measure future improvements.
In 2020, the annual carbon footprint evaluation revealed significant progress towards halving Inova's carbon emissions with some standout achievements, including a reduction in per employee emissions of nearly one ton, a cut of more than 14% per head, and a similar reduction in the carbon intensity of Inova's software solution of more than 25%.
Inova's Results for 2020
A combination of much-reduced business travel and commuting, months of confinement to home offices, and continued commitment to low-energy approaches to Inova's technology implementation helped the company slash their total emissions to just 227 tons for 2020. Despite a 60% increase in headcount in two years and an ever-expanding user base worldwide, Inova's gross total carbon emissions in 2020 are down 33% from the equivalent measure in 2018.
Year on year, Inova has increased their employee headcount by more than 30%, yet per-employee emissions dropped by more than 50% to just 2.6 tons, down from 5.77 tons the year before. Per-employee emissions in 2020 are only 41% of the equivalent measure in 2018, a reduction that the COVID-19 related lockdowns surely contributed to.
In 2020, the greatest contributions to Inova's carbon emissions were its office and R&D operations (47%) and business air travel (38%). Other transport, including employee commuting and non-air business travel, accounted for around 5% of the annual total emissions, with the remainder being generated by Inova's datacenter and user base.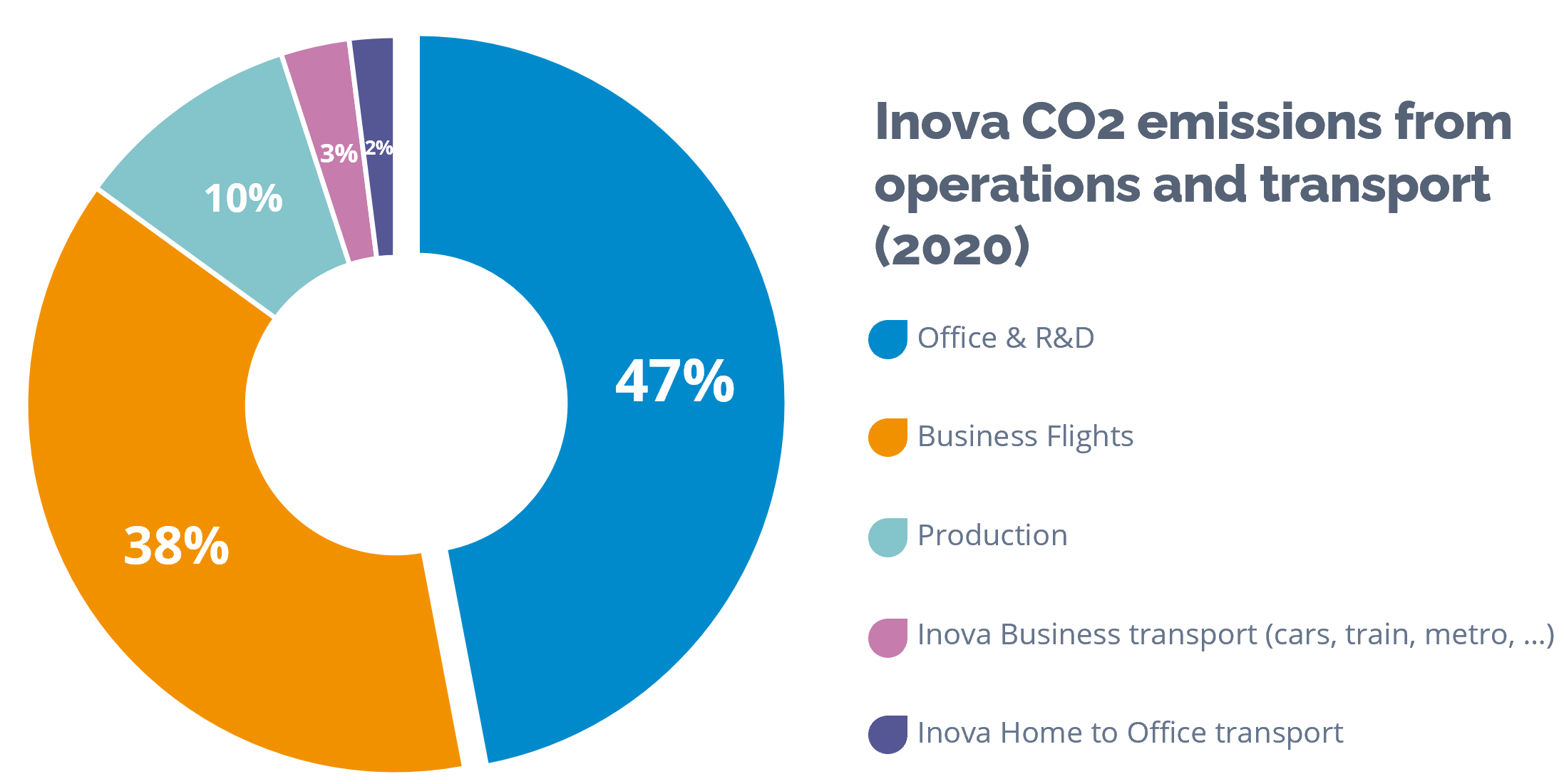 Committed to Change as the World Returns from Lockdown
Inova's Low Carbon Team Leader Ludovic Lecomte doesn't underestimate the impact that the COVID-19 restrictions on travel had on Inova's carbon emissions in 2020 but he believes that the changes that the company have made to limit emissions contribute, too.
" Of course, staff staying away from the office and sales teams working remotely helped reduce our emissions in the short term, but the policies we've put in place around travel, energy use, technology architectures, and hardware depreciation have us on the right track to continue working towards our goal of cutting emissions in half. "

Ludovic LecomteChief Information Security OfficerInova
Lecomte pointed to the smart energy choices that Inova made for their new headquarters in Lyon, the company's capacity to expand headcount while still cutting emissions, and its policies on reducing the carbon impact of business travel as reasons why Inova's carbon emissions should continue to decline even as the world reopens in the wake of COVID-19 shutdowns.
Download Inova's 2021 Green Policy here.
Further reading
Lyon, France, 18 January 2022 – Inova, the leading biopharma part...
Read more