Inova Appoints Caroline EDLUND TOULEMONDE as Chief Strategy Officer
Published on Mar 16, 2021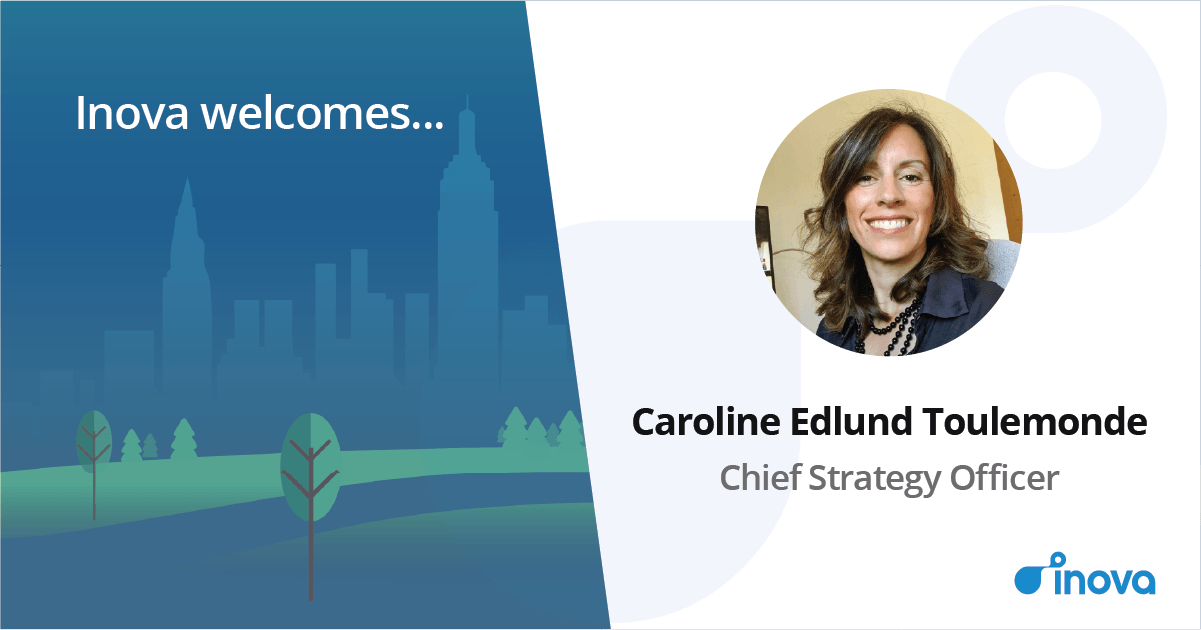 Lyon, France, January 28, 2021 - Inova, the market leading partnering platform for the pharmaceutical and biotech industry, today announced that Caroline EDLUND TOULEMONDE has joined their leadership team as Chief Strategy Officer.
Inova is a FrenchTech success story that, now in its tenth year, has captured more than half of the partnering platform market amongst the world's largest pharmaceutical companies. Inova's innovative technology helps more than 150 biopharma actors on every continent to accelerate their partnering activities and realize the future of medicine faster and more efficiently than ever before. With strong industry partnerships including BIO and a best-in-class partnering event application, Inova is increasingly recognized as a key player in the digital transformation of partnering in the pharmaceutical industry.
As Chief Strategy Officer Caroline will monitor life science industry advances and trends, impart this in-depth market understanding and provide strategic insights to Inova team members to improve the level of industry knowledge across the company.
"We are delighted to welcome Caroline to the Inova team," said Gilles Toulemonde, co-founder and CEO of Inova. "Caroline's deep knowledge of the pharmaceutical sector and her rich background in research and development represent incredible assets for Inova to leverage as we continue our growth. The Leadership Team and I look forward to working closely with her as we continue to build on our history of innovation and transformation."
"The pharmaceutical industry is in the midst of a period of fundamental transformation and partnering activities are becoming ever more crucial to the company bottom line which is why I am thrilled to join this team" said Caroline Edlund Toulemonde. "I'm excited to be able to play a part in powering this transformation by helping to deliver and improve the world's best partnering platform from Inova."
Caroline brings a deep background and decades of experience in the pharmaceutical industry to Inova. A veterinarian by training, Caroline began her career in pharmaceutical research and development where she held roles in clinical development, technical platform leadership, and search and evaluation activities.
Caroline left a research and development role as a Senior Scientist in 2013 to work in public affairs and advocacy. Beginning as a Public Affairs Professional with Merial, a Sanofi subsidiary, she would later head the European Public Affairs program in animal health at Boehringer Ingelheim. She led public policy strategy development and execution and worked closely with European national and transnational policymakers.
In 2018 Caroline left the pharmaceutical sector to join a digital health start-up, Mental Apps, as Chief Executive Officer. She led the Mental Apps team through product development and growth phases before taking the company to an exit in September 2019.
Caroline has worked in a consulting role for Inova from late 2019 and was instrumental in the development of Partnering Intelligence, Inova's innovative, AI-driven sourcing technology. She also played an important role in the organization and execution of Inova's ground-breaking COVID-19 Virtual Partnering Event in 2020 that saw more than 3200 industry, academic, and governmental experts connect to collaborate in fighting the global pandemic.
ABOUT INOVA
Inova accelerates partnering for the future of medicine. Its cloud-based solutions help life science companies manage their biopharma opportunities more efficiently. They secure licensing and collaboration opportunities, accelerate deal making and successfully manage their alliances. Inova also provides One-on-One Partnering, the market leading partnering & matchmaking platform that facilitates thousands of face-to-face meetings at dozens of biopharma conferences worldwide including the BIO International Convention and BIO Asia. Over 150 life science companies, including 30 of the top 50 pharmaceutical companies, and many midsize pharma and innovative biotechs already use Inova's cloud platform. Inova is headquartered in Lyon, France, and also operate offices in New York, Denver and Tokyo.
MEDIA CONTACT
Sabrina BUQUOY
Further reading
Early one morning, I dashed out the door to catch my train. As I waited on the platform, I quickly d...
Read more