Low Carbon Transformation: Day 1 of a SaaS Company's Journey
Published on Aug 1, 2019
by Gilles Toulemonde, CEO at Inova Software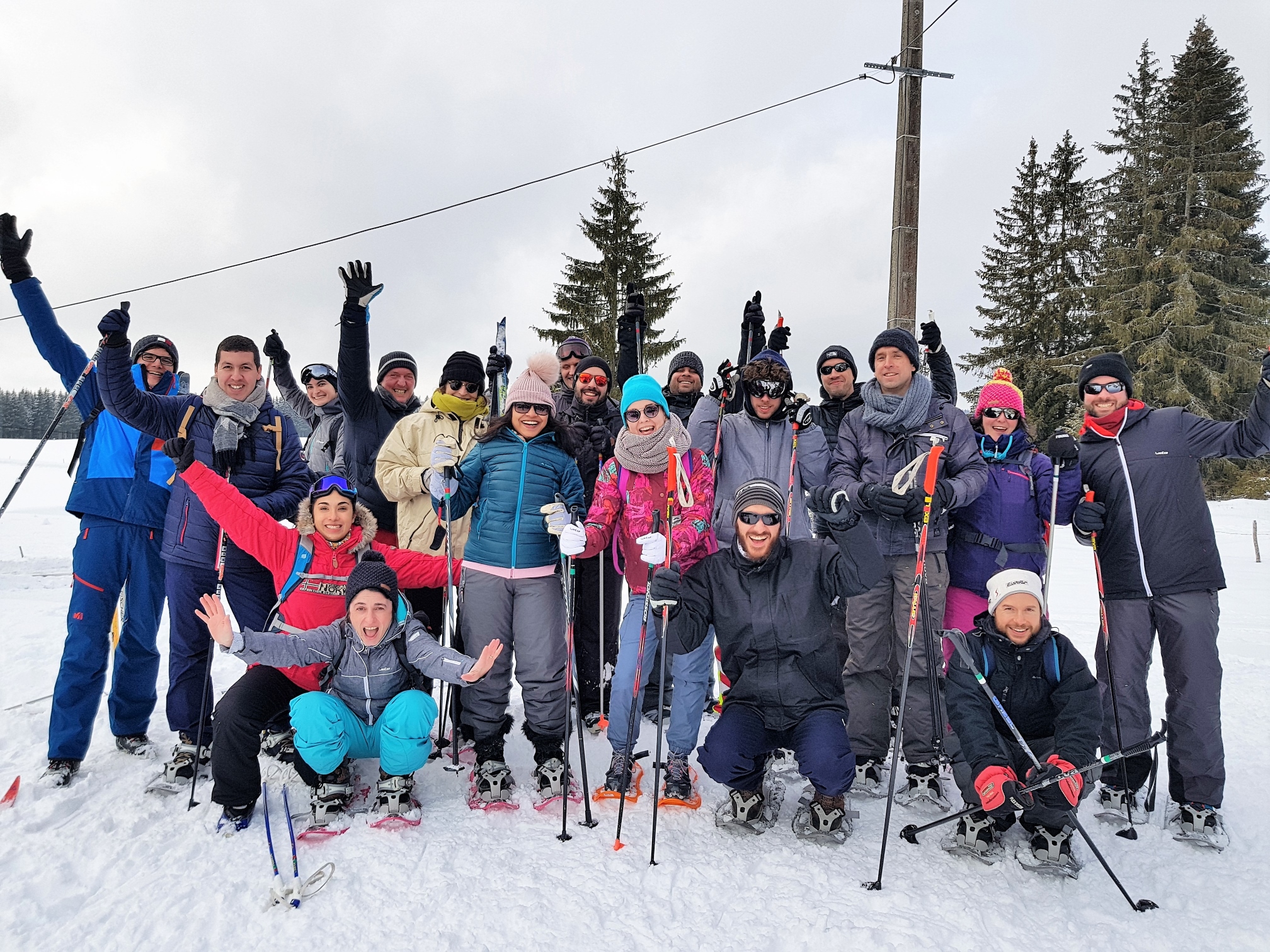 The world needs to reduce its greenhouse gas emissions by at least 50%. While we all have ideas about what politicians should do to make this happen … we're a little less creative when it comes to doing things ourselves. It's a daunting challenge and inertia is real. Recognizing this, and highly concerned by the need for bold action, at Inova we decided to get real and start the journey to reduce our carbon footprint.
By sharing our journey, we hope to show that a 50% reduction is doable, and to share our learnings as we progress in a collaborative effort towards becoming a low carbon tech company. We don't know what it'll take, and we're not sure that we'll make it… but we definitely want to try.
Day 1 (today's article) is all about our starting point. As we discovered, calculating your carbon footprint is a project in itself, but without a starting point, there's no journey. In 2018, our carbon footprint was 329 tCO2eq: 56% of that came from business flights; 3% from other means of transportation, 29% from operations (offices, employees' commute to the office, supplies, etc.) and 12% from the use of our services and products.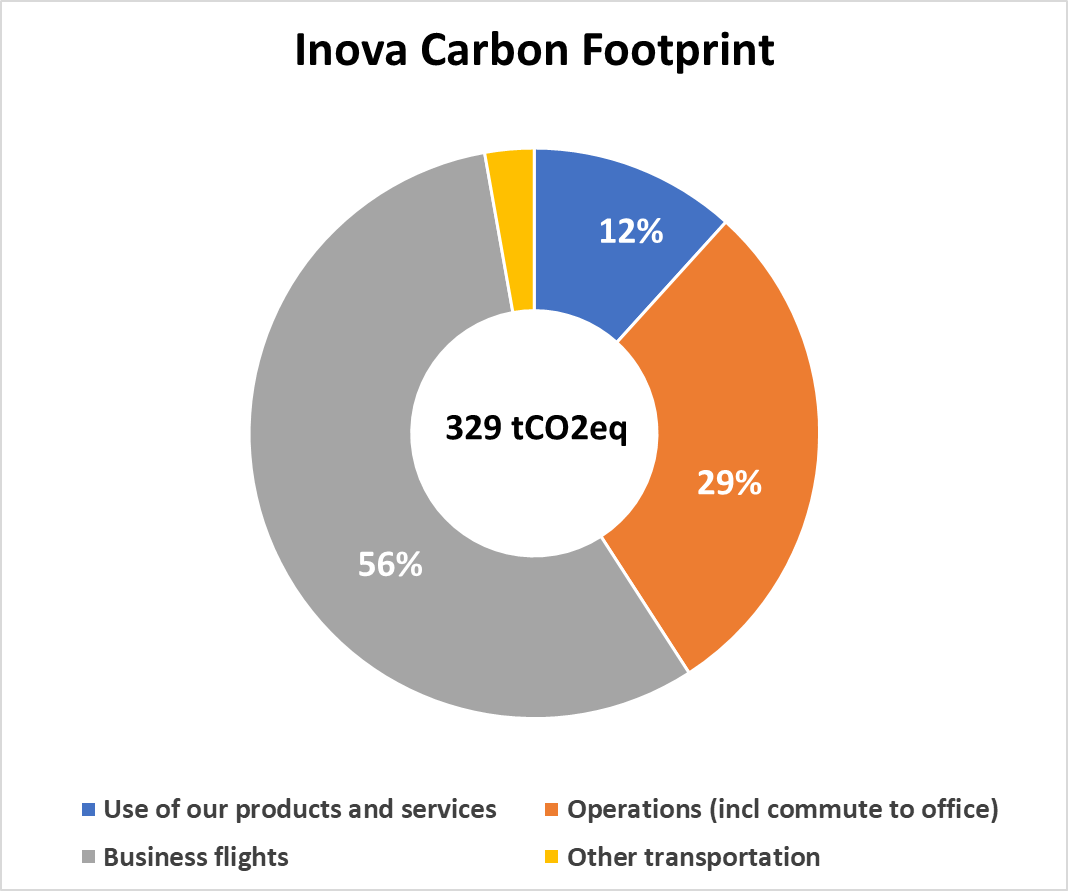 Many companies outsource their carbon footprint exercises, but we decided this was the time to dig in and do it ourselves. Our low carbon initiative is a permanent effort and must be embedded in our processes and company DNA. Two colleagues went through training on a carbon footprint methodology and became our gurus: Ludovic and Nathan.
That's the best decision we've taken so far. More than seeking a label or achieving a KPI, understanding how our carbon footprint is influenced by the way we do things is insightful and it's the best way to re-invent ourselves (can't fight being engineers). At the end we'll understand how to lower our carbon footprint without impacting our business or the quality of our services.
For instance, our developers learned that redesigning some parts of our code could reduce processing and data storage, thus reducing the electricity needed by both our data center and our end users. All employees learned that when travelling overseas, a direct flight is generally 30% more carbon efficient than if you must make a connection. While that means less time to check out the duty-free shops, it's an easy, impactful change to make.
Further, when we look to add new data centers, our Ops team now knows to look for a location where electricity is low carbon (from renewable, hydroelectric or nuclear). Happily, that's the case for our main data center, located in Geneva. The sources of inspiration are endless. What's most important is that we've learned that it's doable. Solutions exist. Reducing our carbon footprint by 50% is possible. There are many low hanging fruits like the ones listed above. For the rest, we'll need to be creative.
For those who are data driven (like me) or would like to help, below are some detailed numbers. Also, we are curious has your company engaged in such an initiative as well? Please share your experiences and learnings so we can learn from one another.
Business flights
We're 65 employees with operations in New York, Lyon and Tokyo. Our customers (biopharma companies) are all over the world and ... we love to visit them, often with blue macarons in hand…(can't help being French either ). In 2018, we took 269 business flights of which 70 were overseas and 189 were domestic or European. Looking closer, we realized that 20% of our flights could have been replaced by a 4-hours-or-less train ride: New York to Boston, Lyon to Brussels, Paris to London and more. There is certainly room for improvement there.
Other transportation
Visiting our customers by ground transportation represented less than 10 tCO2eq. But, it's interesting to note that 75% of that number was linked to taking rental cars and taxis, instead of trains and public transportation. Further, even though we took the train more often than we flew (often from Paris to Lyon), flights accounted for 185 tCO2eq and only trains added up to a little 2 tCO2eq. All the more motivation to think twice before flying.
Operations
Operations includes our offices (mostly electricity) but also our supplies. For instance, the amortization of our different tech devices is a significant contribution (32 tCO2eq). Extending the lifespan of our material (currently 3 years) would be another possible way to reduce our carbon footprint. Otherwise, we're generally pretty good at commuting to work on bikes or public transportation (31 tCO2eq). We have also started promoting electric company cars, which should help reduce this number in the future.
Use of our products and services
The carbon footprint methodology requires us to include the carbon emission linked to the use of our products. I'll let you imagine what that means for a car manufacturer, Boeing or Airbus. We debated on the relevance of including this measurement. Afterall, just like Boeing wants its planes to be used widely and often, we want our clients to leverage our platform constantly. Is it really our responsibility if large teams of BD scouts spend more time on our platform searching for licensing opportunities?
In the end, we decided to include it anyway. The output was interesting. In 2018, 135,000 hours (a whopping cumulated 80 man-years) were spent on our application. With the processing power needed, we came to an estimate of 11tCO2eq. With the user base growing rapidly, we need to consider how to take action quickly if we don't want that number to wipe out all our other efforts.
Setting goals and actions
We're energized by this exercise and confident we can reduce our carbon footprint. It remains to be seen by what scale and through which actions. We're growing 30% a year and expect our team to double in the next 2 years as well.
This begs the question: Should our objective be to reduce our carbon footprint per head, per revenue or, do we go more radical and aim for halving the total amount? What do you think?
These questions are now being tackled by an internal task force. In 3 months, they'll make their recommendations. That'll be Day 2. Stay tuned!
---

This article was originally published on LinkedIn on July 31st, 2019 by Gilles Toulemonde, CEO & Co-founder at Inova.
---
Further reading
Lyon, France, 4 February 2021 - Inova, the market leading partnering platform for the pharmaceutica...
Read more