Social media vs digital health: why are there double standards?
Published on Apr 18, 2019
by Gilles Toulemonde, CEO at Inova Software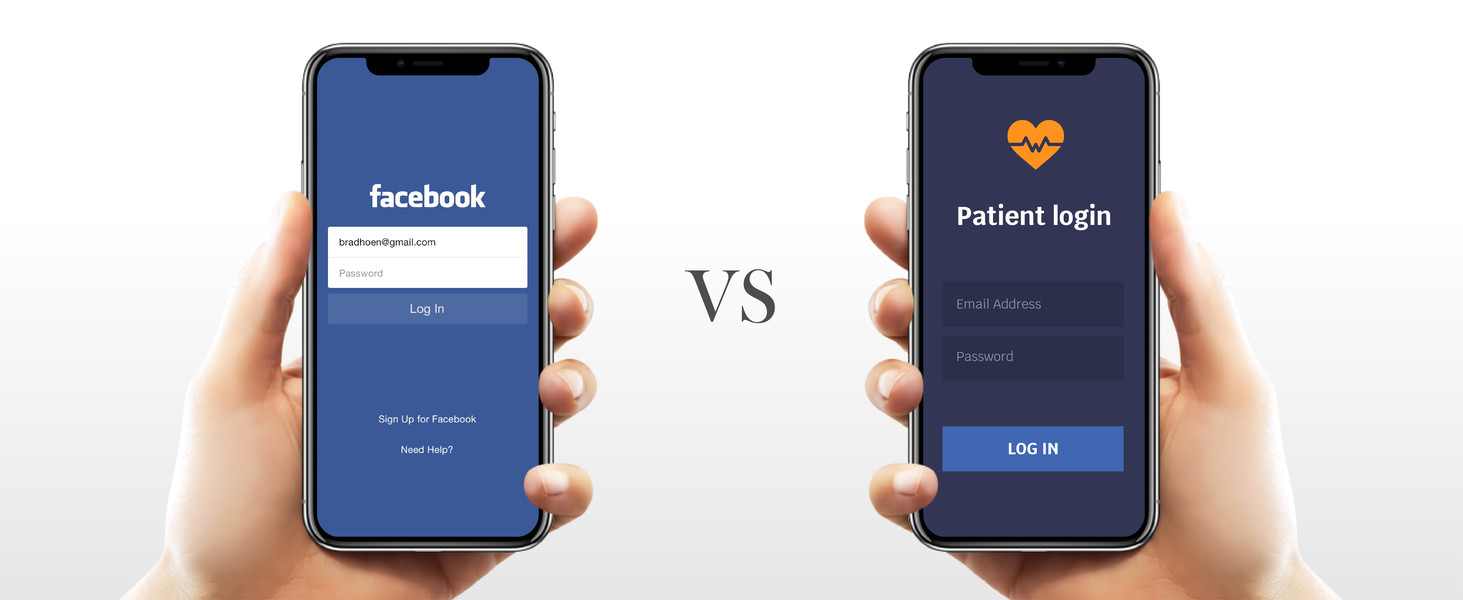 We live in a digital world. More than 5 billion people worldwide now have a mobile phone and over half of those are smartphones. The word itself, "apps", abbreviated from "applications", is now a common part of our daily vocabulary. No explanation is needed to describe what an app is or where to source it. Mobile apps are everywhere. In fact, there are over 2 million apps available today in the Apple® or Android™ stores. In 2008, there were only 500[1].
Digital health apps are also on the rise. 50% of smartphone (and tablet) users worldwide have downloaded mobile health apps[2]. The use of digital health apps is not surprising given their effectiveness, cost-efficient approach to improving treatment, and excellence with respect to real-time data collection and analysis. Yet, despite the benefits and widespread adoption of digital health apps, innovation is being stifled by unnecessarily onerous regulations designed to keep biopharma in check. Why do digital health apps suffer these burdensome regulations while social media apps can reign freely?
Yes, we are in the midst of a techlash, post-Facebook/Cambridge Analytica scandalous era filled with digital bad actors, but that doesn't mean we should punish digital health apps. Digital health apps hold great promise in the future of personalized medicine. And they have already demonstrated their value and utility. Perhaps the responsible actors that constitute the digital health apps world should be less restricted and allowed to innovate. Especially in countries like the USA who incur an unimaginable annual healthcare burden that is approaching $4 Trillion[3].
Social media's problems are driving heavier restrictions on digital health apps. Ironically, at a time when mental health and physical health (obesity rates are off the charts) are in crisis, digital health apps are facing heavy scrutiny and onerous legal restrictions. We need to develop strong cross-sector partnerships across biopharma into telecommunications, technology, regulatory and public watchdog agencies in order to bring some balance and commonsense management to digital health apps.
Some insights into the techlash
In January, 2018, The Economist sent a memo to big tech officially signaling the beginning of the techlash[4]. The warning to the giants of Silicon Valley that "tech" could become a dirty four-letter word echoed around the globe. Amazon, Google, Facebook (and many others) have been categorized as "BAADD" (Big, Anti-competitive, Addictive and Destructive to Democracy). Shockwaves rippled through Silicon Valley. Aptly summed up by TechCrunch author, Jon Evans[5],
"People hate hubris and hypocrisy more than they hate evil ... It's hard to shake the sense that, as an industry, we are currently abdicating some of our collective responsibility to the world."
The techlash is not unfounded. Google collects around 85% of all online search-ad revenue. Together, Facebook and Google account for more than half of all internet advertising revenue. Amazon dominates nearly half of the e-commerce in the USA.
Just a few days after the scathing memo was published in The Economist, George Soros, a global investor addressing the 2018 Davos World Economic Forum, described this current period in history as "painful". He lobbied to safeguard the values of an open society but lamented the "rise and monopolistic power" of the tech giants. Soros publicly called them out as "obstacles to innovation" and scolded them for manipulating public opinion[6].
Scandal after scandal has finally increased awareness that social media apps are, by design, addictive and manipulative. Facebook and Twitter have been accused of meddling in the 2016 USA Presidential election, spawning the violence in Myanmar, and facilitating Russian corruption[7]. The EU Commission has Google in its cross-hairs: in 2017, they assigned a record-breaking fine of $2.7 Billion for violating antitrust policies for online shopping. Then, in 2018, they fined the search giant $5 Billion for violating antitrust policies by illegally bundling Chrome browsers to Android operating systems. Germany hotly pursued Facebook for an investigation that lasted nearly two years with an antitrust lawsuit that argued the social media giant abused its market dominance to aid in the collection of private data: ultimately ruling that Facebook's ad business is illegal[8].
Perhaps even more importantly, particularly for our industry as the guardians of health, social apps are having an enormously destructive effect on normal societal behaviors and have forever altered our social fabric and sense of well-being. Daily screen time has skyrocketed to shocking levels: in 2018, Common Sense Media published a study citing that teens aged 12-17 spend an average of 9 hours per day online whereas children aged 8-12 spend 6 hours. Pew Research surveyed thousands of teens – 60% said that they had a problem and were spending too much time on their phones on social media[9]. It is noteworthy that just over half of the teens surveyed cited that their own parents spend too much time on their phones.
Anxiety, depression and suicide rates are at an all-time high and college students have been identified as the "loneliest cohort in the world"[10]. Psychology professor, Dr. Jean Twenge, was the first to suggest that the rise in anxiety and suicide correlated with the rise of social media. Tristan Harris, a former Google product manager has attained viral stardom after "defecting" and becoming the antidote for tech addiction which he argues is "by design". Not to mention the attention deficit disorder resultant from our addiction to social media that is now rampant in society and sapping our productivity. Studies suggest that we are currently distracted at least 50% of the time[11]. On average, Americans check their phones 80 times per day when on vacation, and more than 300 times per day at work. As a society, we are increasingly complaining about disrupted sleep, eye strain, and being sedentary. Who knows what the long-term effects are for heavy usage of mobile devices.
Harmful social apps such as Calculator, Hot or Not, Snapchat and others (identified by the Sarasota Sheriff's Office) encourage sharing nude, lewd and provocative content and photos which disappear from view and fly under the radar of many parents. This is the time that we should be cracking down on some social media apps and lightening up on digital health apps.
I believe that regulations need to be better balanced and more in tune with society's needs. When the tech giants innovate, they have no restrictive rules to comply with. Nor are they obligated to any governmental agencies in the same way that biopharma is. Every day, these social media apps conduct thousands of A/B tests by randomly giving their new features to different subsets of their users. Unfortunately, these tests are extremely efficient (many are disguised as fun games) and like millions of parents, I struggle daily to get my teenagers off YouTube and Snapchat. In the pharma world, these A/B tests would be called randomized trials and have a whole host of regulations to comply with.
How digital health apps are regulated today
Much needed digital health apps are being dragged down by the very regulations intended to protect people from harm. There is a huge disconnect between the regulations that would be appropriate versus those currently enforced. Digital health apps should not be stifled under the same set of regulations designed to govern biopharma.
I have witnessed this up close as an investor and board member of MentalApps, digital health company dedicated to mental illness. Despite being non-invasive, the solution must still go through an intensive regulatory process to get the trial approved, including submitting a 50-page report to one of France's patient protection agencies (CPP: Comité de Protection des Personnes). It will take at least 4 months to get the approval and start recruiting patients. Meanwhile, destructive social media apps run unchecked.
Is this level of regulation necessary? Maybe not. Even the FDA has pledged to foster the "efficient regulation" of digital health apps[12].
The FDA is embracing change through its Digital Health Innovation Action Plan. The plan is intended to help reduce inefficiencies, improve access, reduce costs, and make medicine more personalized for patients. Some aspects of the plan have been welcomed by the biopharma industry, particularly the "Pre-Cert" digital health software precertification pilot program and a series of new guidances designed to modernize their policies. The Federal Trade Commission (FTC) is stepping up as the watchdog to protect personal health data. And the FDA has established the Digital Health Program which both protects and promotes improved public health. One key approach to this is by fostering collaborations and enhancing outreach[13]. This is also a key component of Inova's mission, helping biopharma companies collaborate better as they develop the medicines of tomorrow. Perhaps the call for simplified and relaxed regulations in digital health apps is finally being heard.
An open call for reasonable, simplified regulations
There are signs that regulations for digital health apps are being re-evaluated. The global consensus is that they need to be simplified and reflect reasonable, commonsense requirements. The FDA's Pre-Cert program allows nine developers of digital health apps, including Apple and J&J, to operate under relaxed restrictions. In so doing, they can accelerate their time to market and broaden their reach. The intention is to expand the number of companies in the Pre-Cert program if the pilot "goes well".
However, the definition of "goes well" is lacking. The ambiguity is multiplied for those entrepreneurs and startups not yet on the path to a Pre-Cert status. With new guidances in flux, still pending commentary from the field and awaiting legalization, the growth of innovative health technologies is stalled. Startups, typically the essence of innovation, are particularly vulnerable given that they commonly lack experienced compliance leaders. The topic is complex and many question if regulatory agencies can keep up with the pace of change needed so as not to thwart innovation and compromise the wellness of society.
Together, we must push for regulations which are reasonable, simple and clear. Innovation and our collective health literally depend on this.
Partnerships will drive digital healthcare innovation
By working together and deepening our partnerships within biopharma, we can continue to spark innovation. In parallel, simplified regulations will attract investors. Driving innovation is what pharma does best. Perhaps more so than any other industry, biopharma has the money, expertise and skills to drive transformation in health. Case in point – immuno-oncology. Once pharma "doubled-down" on the field and, in partnership with the FDA who granted "Breakthrough Therapy" designations to 11 new treatments in 2018, the field really took off. Today, PhRMA reports that there are more than 240 immuno-oncology treatments under development, many of which are being advanced through multi-national multi-corporation partnerships [14].
Commercial developers should take notice – digital health apps are likely to be the next hot spot for innovation, value creation and of course, partnering.

---

This article was originally published on LinkedIn on March 13th, 2019 by Gilles Toulemonde, CEO & Co-founder at Inova.
---

[1] https://www.theguardian.com/media-network/2015/feb/13/history-mobile-apps-future-interactive-timeline
[2] https://www.fda.gov/MedicalDevices/DigitalHealth/MobileMedicalApplications/default.htm
[3] https://www.cms.gov/research-statistics-data-and-systems/statistics-trends-and-reports/nationalhealthexpenddata/nationalhealthaccountshistorical.html
[4] https://www.economist.com/briefing/2018/01/20/the-techlash-against-amazon-facebook-and-google-and-what-they-can-do
[5]https://techcrunch.com/2018/06/17/the-techlash/?guccounter=1
[6] https://www.georgesoros.com/2018/01/25/remarks-delivered-at-the-world-economic-forum/
[7] https://www.forbes.com/sites/neilhowe/2018/06/29/tech-lash-batters-silicon-valley/#673ae5814a1a
[8] https://www.wired.com/story/germany-facebook-antitrust-ruling/
[9] https://qz.com/1367506/pew-research-teens-worried-they-spend-too-much-time-on-phones/
[10] https://journals.sagepub.com/doi/full/10.1177/2167702617723376
[11] https://bankunderground.co.uk/2017/11/24/is-the-economy-suffering-from-the-crisis-of-attention/
[12] https://www.healthcaredive.com/news/fda-pledges-efficient-regulation-of-mobile-health-apps/527113/
[13] https://www.fda.gov/medicaldevices/digitalhealth/
[14] https://www.policymed.com/2017/07/phrma-report-shows-more-than-240-immuno-oncology-treatments-in-development.html
Further reading
Welcome to our July newsletter! This month, we're taking a closer look at reporting. A common chal...
Read more