What to Expect in Biopharma in 2020
Published on Jan 9, 2020
Nicolas Jouven, Key Account Director at Inova Software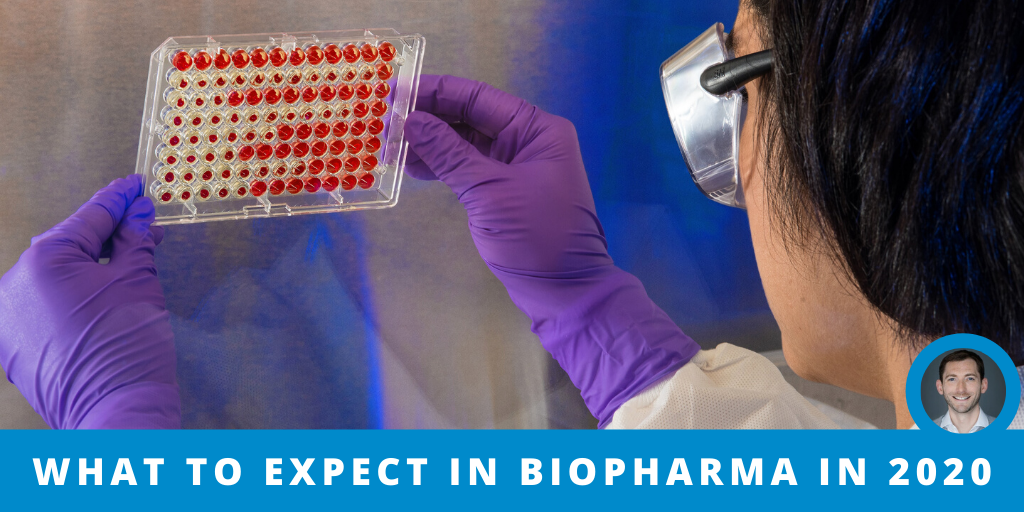 Happy New Year!
The Holidays are behind us and it's time to take a quick look at what's lying ahead.
What's going to shake up the pharma industry in 2020? Here are the five trends I'm watching in the year ahead and the impact I think they'll have on the industry, and beyond.
Climate Change
What does a changing climate have to do with the pharmaceutical sector? It turns out, quite a lot.
Increasingly I'm hearing from clients that their corporate carbon footprint is a topic of conversation both in the boardroom and elsewhere. There's increasing pressure from internal and external stakeholders to consider the environmental impact of their business, and this pressure is starting to make itself known in business practices.
Remote work, video conferencing with partners, and software enabling connections between internal and external teams are spreading through the pharma industry, just as they have through other industries before.
But in an industry that has traditionally relied heavily on personal connections and face-to-face meetings to drive deals and partnerships, this new carbon sensitivity and environmental awareness is impacting travel budgets, quarterly planning, and partner discovery efforts.
In 2020 I think we'll see the number of Top 200 pharma companies consistently reporting their direct and indirect greenhouse emissions rise from around 25 to more than 50.
Election 2020
The race for the White House continues and I'm expecting (though not really looking forward to) wall-to-wall cable TV coverage of the presidential fight.
This year, as for the last three presidential election cycles, healthcare will be front and center as a major issue for both parties. Healthcare costs, insurance coverage, and consumer drug pricing are just three of the fronts on which the healthcare battle will be fought. With 'Medicare For All' already a catch-cry for leading Democratic contenders and with the Trump administration lauding the trend of falling prescription drug prices, the pharma industry is going to be in the spotlight in the run up to November.
All of this attention is sure to see the pharma industry spend big in the 2020 cycle, both to lobby candidates and educate the public about the potential impact of proposed healthcare policies. Coming off the back of a record $27.5 million lobbying spend in the 2016-2018 cycle, I think we'll see the 2020 cycle spend out over $30 million for the first time.
The Opioid Crisis
The scale of the opioid crisis in the United States almost beggars belief.
The Center for Diseases Control and Prevention reports that, on average, 130 Americans die every day from an opioid overdose. While the number of deaths from prescription opioids is trending somewhat stable, if still high, the number of deaths from synthetic opioids like tramadol or fentanyl – much of it illicitly manufactured – continue to grow.
For the pharma industry the impact has been two-fold.
First, there is the obvious and headline-grabbing financial impact. Large fines, enormous settlements, and bankrupted pharma firms have been in the news in 2019, and with lawsuits ongoing in many states we can expect more of this to come. Look for more headlines and more settlements in 2020.
Second, though, is the less obvious toll that the opioid crisis is having on the reputation of the pharma industry. Despite the greatest number of recent deaths associated with illicitly manufactured fentanyl (IMF) rather than prescription painkillers, in the public's mind the villains remain the pharma companies. Look for public pushback against these conclusions, and continued investments in harm reduction by the industry in the year ahead.
Incubating the Next Big Thing
A little more off-the-radar but no less significant for the industry is the investment in incubators and accelerators by leading pharma firms.
Over the last five years pharma giants have invested heavily in biopharma incubators and accelerators as part of their discovery and evaluation strategies. Whether it is Bayer's branded CoLaborator, Merck's investment in Calibr, or any of the dozens of other programs nationwide, biotechs today have an incredible opportunity to secure lab and research space, benefit from mentoring, and win early investments in their emerging assets.
So: is big pharma helping out small biotechs for altruistic reasons alone? Probably not. The recent trend towards earlier stage deals and the importance of partnerships between biotechs and pharma companies in filling development pipelines means there are good reasons for pharma firms to make early overtures to innovative startups.
The startup gets a helping hand at a critical early stage in its research and development, and the pharma company gets up close and personal with cutting-edge researchers (and maybe gets a first bite at those emerging assets, too). I'm predicting more of this sort of incubation and acceleration in 2020.
A Trade Shakeup?
As 2019 edged towards its final days, two major trade agreements were back in the news. The United States-Mexico-Canada Agreement (USMCA), a revised NAFTA-type deal, and a trade agreement between the global behemoths of the US and China were thought to be nearing final ratification for the former, and signature for the latter.
In 2020 these agreements will have significant impacts on the pharma industry and in a couple of different ways. We can expect that prescription drugs will be a major focal point as subsidized Canadian and Mexican pharmaceuticals find slightly easier paths into the US. Both generic drugs from China and new biotech research in that country will also be in the spotlight as the reins on trade between the Asian giant and the North American powerhouse move slowly back towards a new normal.
If history is a guide, though, no matter the intentions of the negotiators, there are bound to be some unintended consequences. Despite being mostly content with the negotiation of the USMCA and the provisions around pharmaceuticals, I suspect that the industry will be keeping an eye on how things evolve in the new year, and I wouldn't be surprised if tensions don't start to rise again as a new trade agreement with a post-Brexit UK moves from idea to reality.
What About You?
What trends are you watching in 2020? What predictions will you make about the state of our industry?

---
This article was originally published on LinkedIn on January 9th, 2020 by Nicolas Jouven, Key Account Director at Inova.
Further reading
Inova, software editor of a CRM dedicated to pharmaceutical companies, has followed software trends,...
Read more