What's new in Inova: Biotech reporting
Published on Jul 25, 2019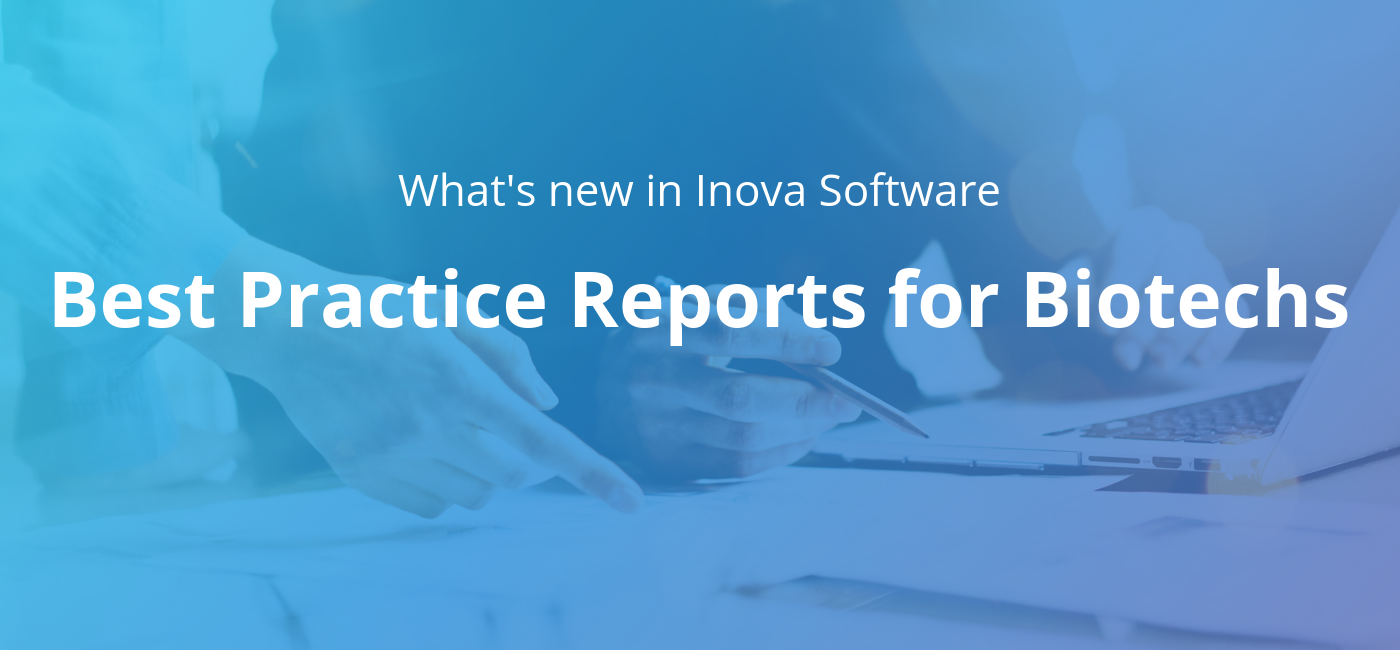 Welcome to our July newsletter! This month, we're taking a closer look at reporting.
A common challenge with reporting is knowing exactly what to track and to report on. Below, we've gathered a few best practice reports on opportunities, assets and meetings. These reports will help you get an overview of your activities, analyze your pipeline, and prepare for meetings quickly.
Continue reading to discover the top four reports you need today.
1. Opportunities per Stage Report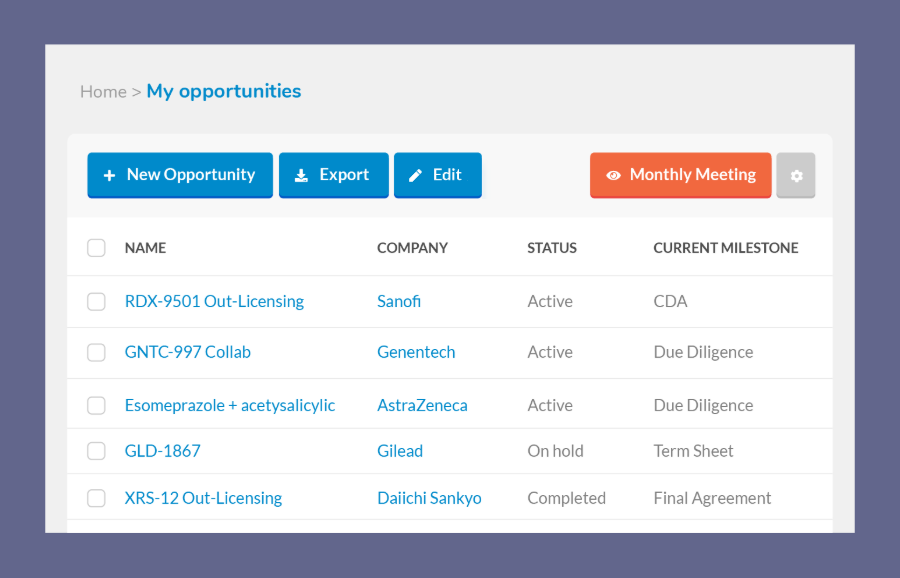 Get a global overview of your activities with the Opportunities per Stage Report. Instantly view your team's opportunities grouped by stage in the deal making process (due diligence, term sheet, etc).
This report answers key questions such as:
How many opportunities do I have?
What stage are they at?
What does my pipeline look like?
To build this report, create a lister view using the following columns: Name, Status, Company, and Current Milestone. To make your report easier to interpret, group your opportunities by Current Milestone.
#2. Opportunities per Asset Report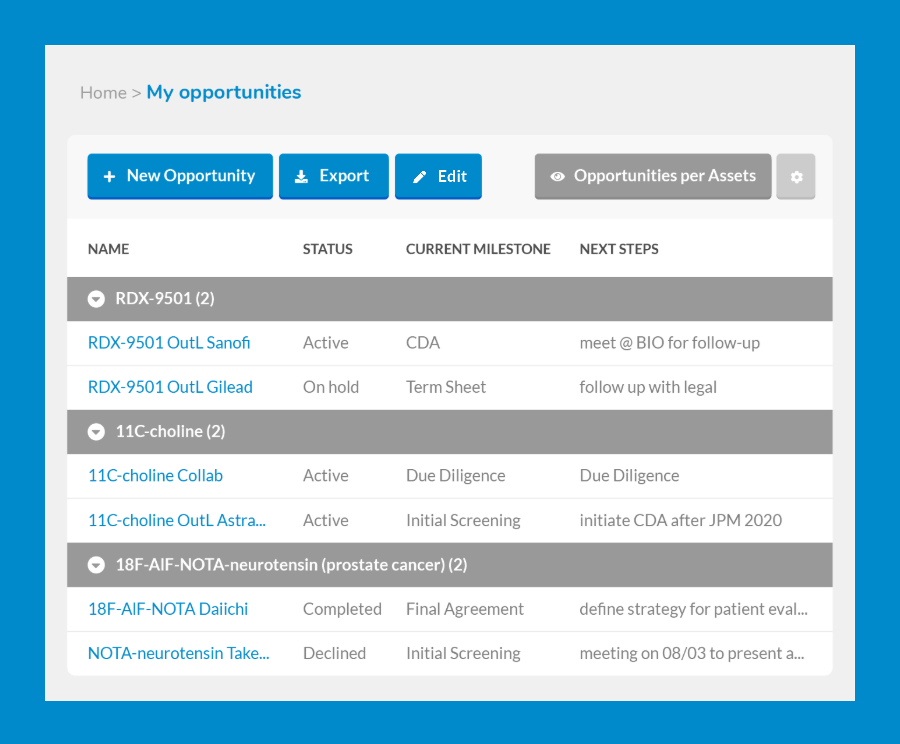 Prioritize your activities with the Opportunities per Asset Report.
This report is a different way to analyze your pipeline, putting the focus on assets. Grouping the opportunities by asset helps you quickly decide which ones to follow-up on first. To create this report, build a lister with these columns: Name, Status, Current Milestone, and Next Steps. Then set the report to group the results by Asset.
Quick tip: To quickly update information on multiple opportunities at the same time, click on the "Edit Page" button at the top. This enables you to quickly update key fields, such as the "Status". Once you've made your updates, click "Save".
#3. New Opportunities by Date and Deal Type Report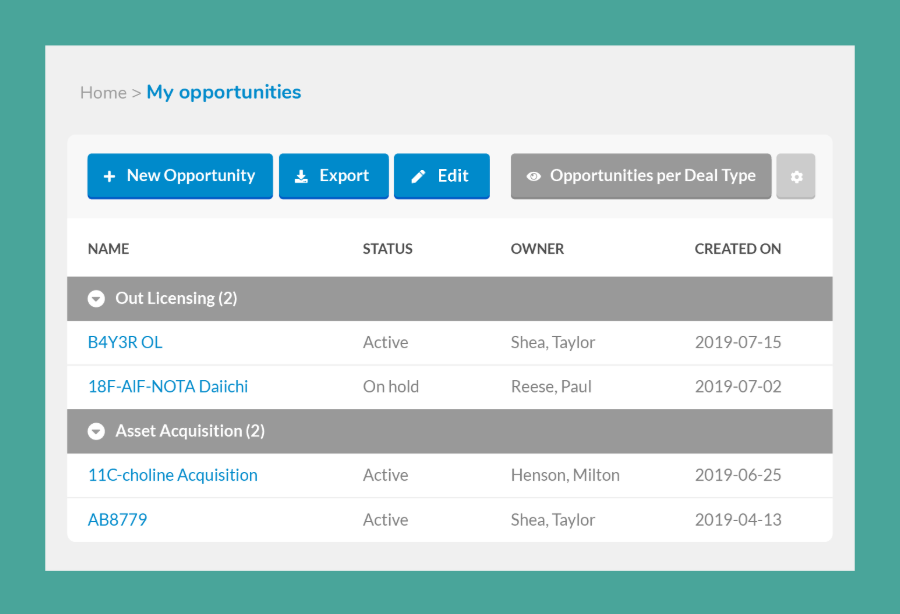 View your opportunities by chronological order with the Opportunities per Date and Deal Type Report.
In this report, you can choose to order your opportunities either by their created date or their last modified date. It is a great way to quickly find the newest opportunities or to verify that all opportunities are up-to-date and have been recently modified.
To create this report select these columns: Name, Status, Owner, and Created On / Last Modified (depending on what you would like to analyze).
#4. Meetings Report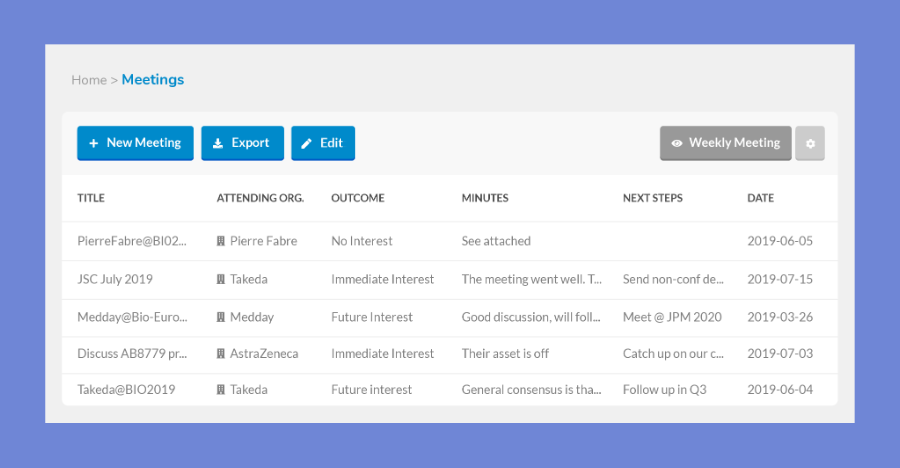 In addition to reporting on your opportunities, you can report on your meetings. The Meetings Report is an easy way to prepare for and follow-up on your meetings.
For example, to quickly prepare for your weekly meeting, create a "Weekly Meeting Report" in the meetings module. By clicking the "Edit Page" button, you can quickly make updates to multiple meetings at once. Then, share this information with meeting attendees ahead of time by exporting it to Excel or Word. It's a fast, easy way to get everyone up-to-date before the meeting.

These are just a few of the reports that you can create in Inova. To learn more or to get help setting up your reports, contact your Customer Success Manager.
Further reading
New partnering system for the life sciences industry to be launched ahead of the BIO International ...
Read more