Smart, confidential and secure scheduling for the JPM week
Private Scheduler
Pharma companies boost productivity and save time by using Inova's Private Scheduler to schedule and manage meetings at BIO Partnering at JPM.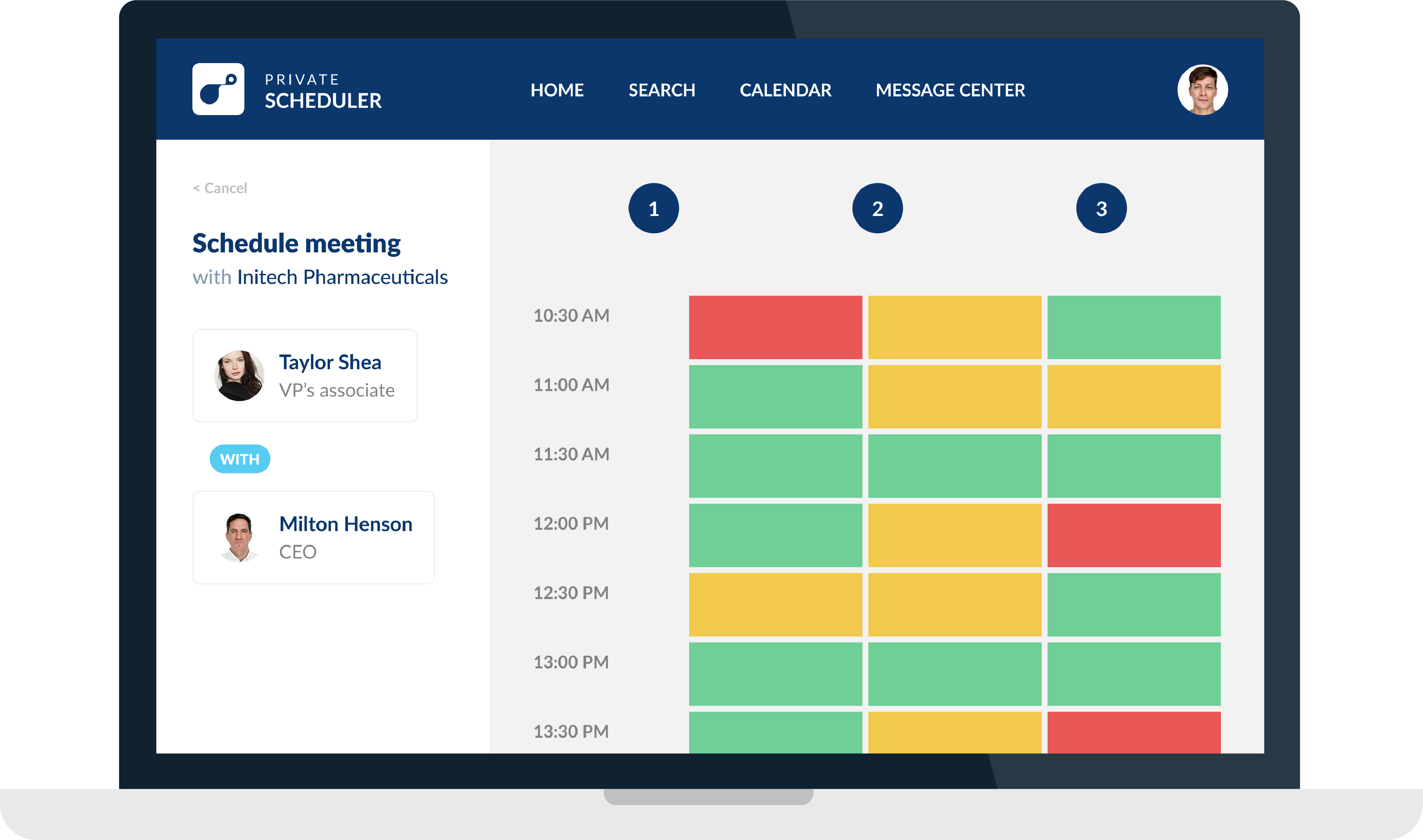 Hybrid biopharma events: A new scheduling nightmare
Organizing all your company's meetings during the JPM week is a very challenging job.
It is made even more complex with the rise of hybrid meetings offering both on-site and virtual attendance options.
Schedule hundreds of
meetings
Find common availabilities
between busy attendees
Juggle virtual and
in-person meetings
Keep your confidential
meetings private
Avoid technical issues
during virtual meetings
Schedule, host and follow up
on meetings all in one place
Smart Scheduling for hybrid biopharma events

Smart Scheduling
Find the best times and attendance type for your meetings. Private Scheduler enables you to:
Access attendee list through the event's directory
Identify common availabilities automatically
Send meeting requests and receive automatic email reminders and notifications

Privacy
Protect your confidential data with our best-in-class security and privacy protection, including:
Secured environment
Access control

Technical Efficiency & Reliablity
Host your meetings on a technically reliable and easy-to-use video conferencing system:

Easy Meeting Follow-up
Keep track of all your meeting information:
Integrated with the Inova Partnering Platform
Discover how the Private Scheduler works
Inova registers your company. You setup meeting location and attendee availabilities.
Easily schedule meetings at mutually available times.
Private Scheduler handles all your communications, including email invitations and Outlook/Google calendar events.
Quickly reschedule meetings and optimize room availability. Private Scheduler notifies attendees automatically.
Use the mobile app to keep up-to-date and refresh your memory before meetings.
Import your meetings into Inova in just one click and get started on follow-ups.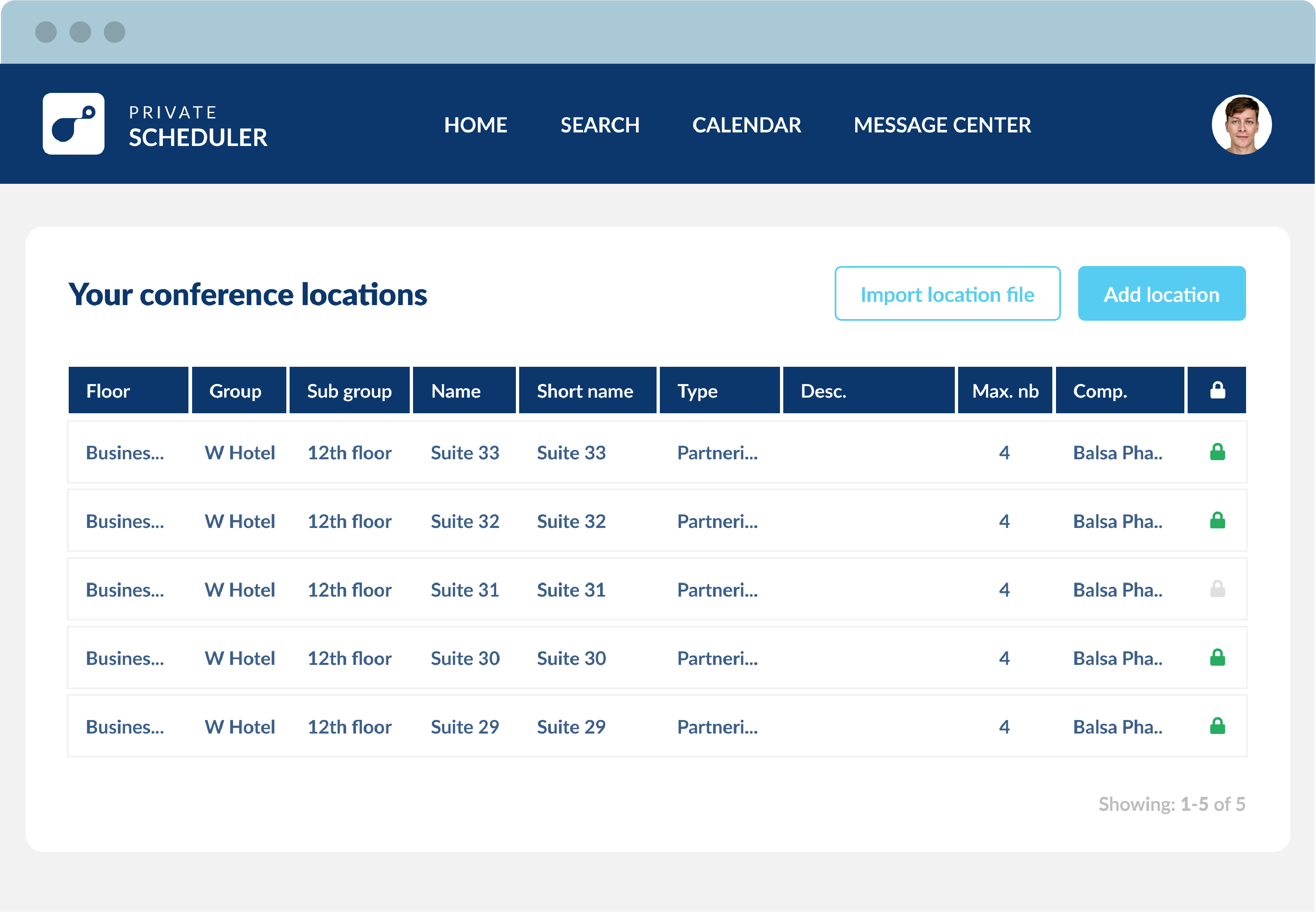 "Inova's Private Scheduler for BIO JPM takes the headache out of organizing meetings during JP Morgan. Managing rooms and schedules takes just a fraction of the time now.​"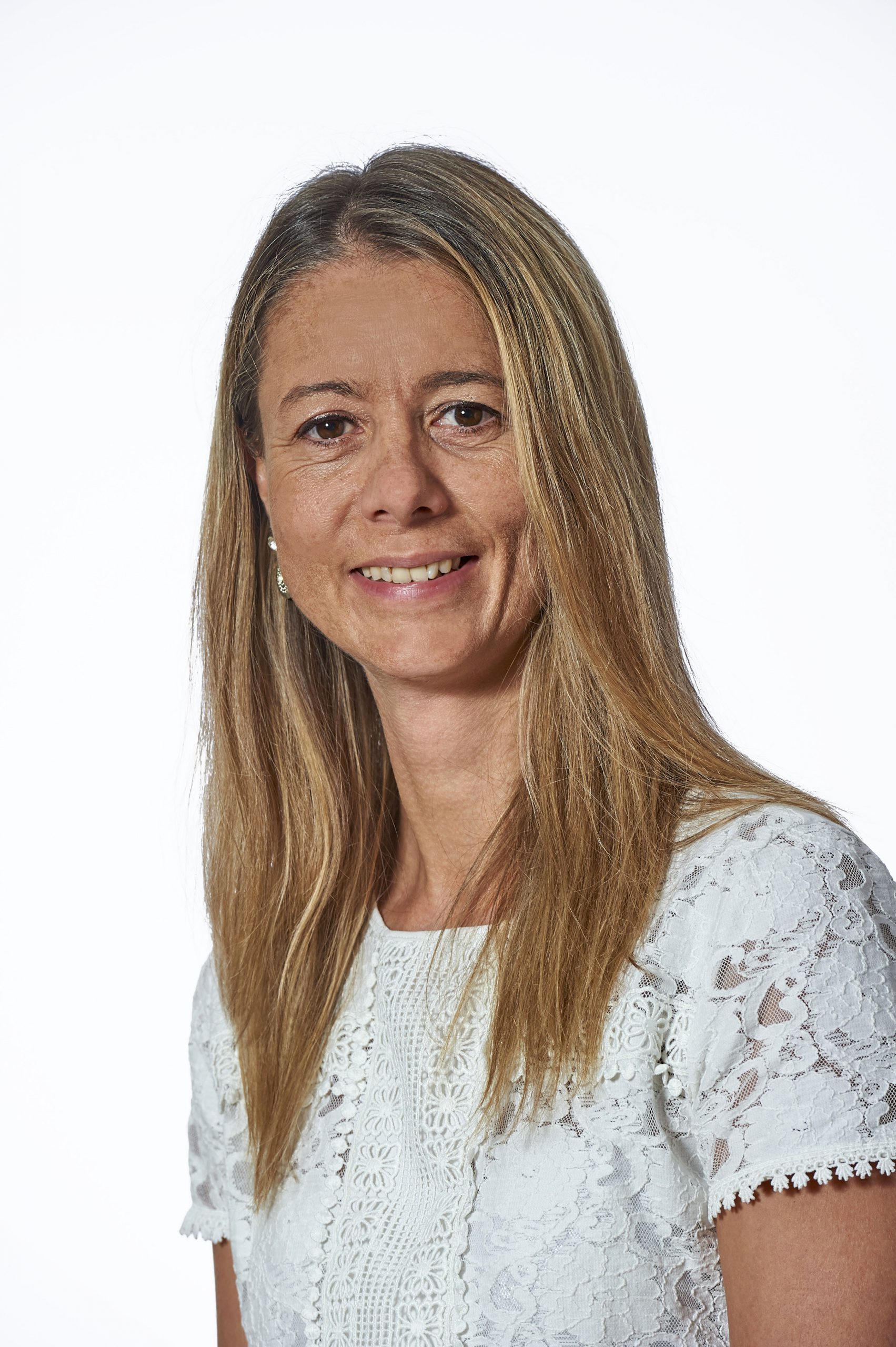 Ruth Allison-Marshall BD&LServier
Frequently Asked Question
1) Where does the directory come from?
The directory is part of a free service provided by the event organizer.
2) Can I schedule meetings with someone not in the directory?
Of course! Your meeting attendees do not need to sign up for the directory. Simply add them as an attendee and they'll receive the relevant details. All you need is their first name, last name and email address.
3) Can I schedule meetings with someone who is not using Private Scheduler?
Yes. You can schedule meetings with anyone.
4) How do you get availabilities for someone not in the directory?
You can request availabilities using Private Scheduler or do it the old-fashioned way – by phone or by exchanging emails with your attendees.
5) Do you provide virtual meeting rooms?
We provide virtual conference rooms through Zoom.
6) Do the calendar invitations sent by Private Scheduler work with Outlook? What about Google?
Yes! Private Scheduler sends meeting invitations with an ics calendar file. That means it works with Outlook, Google and most other calendars.
7) I want to use Private Scheduler. How do I get started?
We help you get your Private Scheduler all set up, including your meeting spaces and attendees. We also provide training to be sure that you get the most out of the system. If you need additional assistance, you can contact support at any time before, during or after the event.
Want to learn more about Private Scheduler?
Get to know the
One‑on‑One Partnering™ platform
The most widely used and award-winning conference partnering system biotechs and pharma companies love.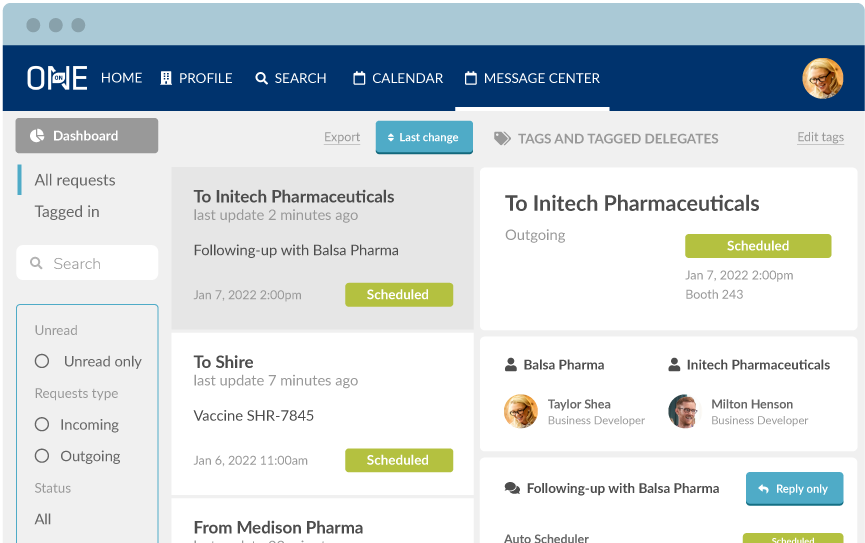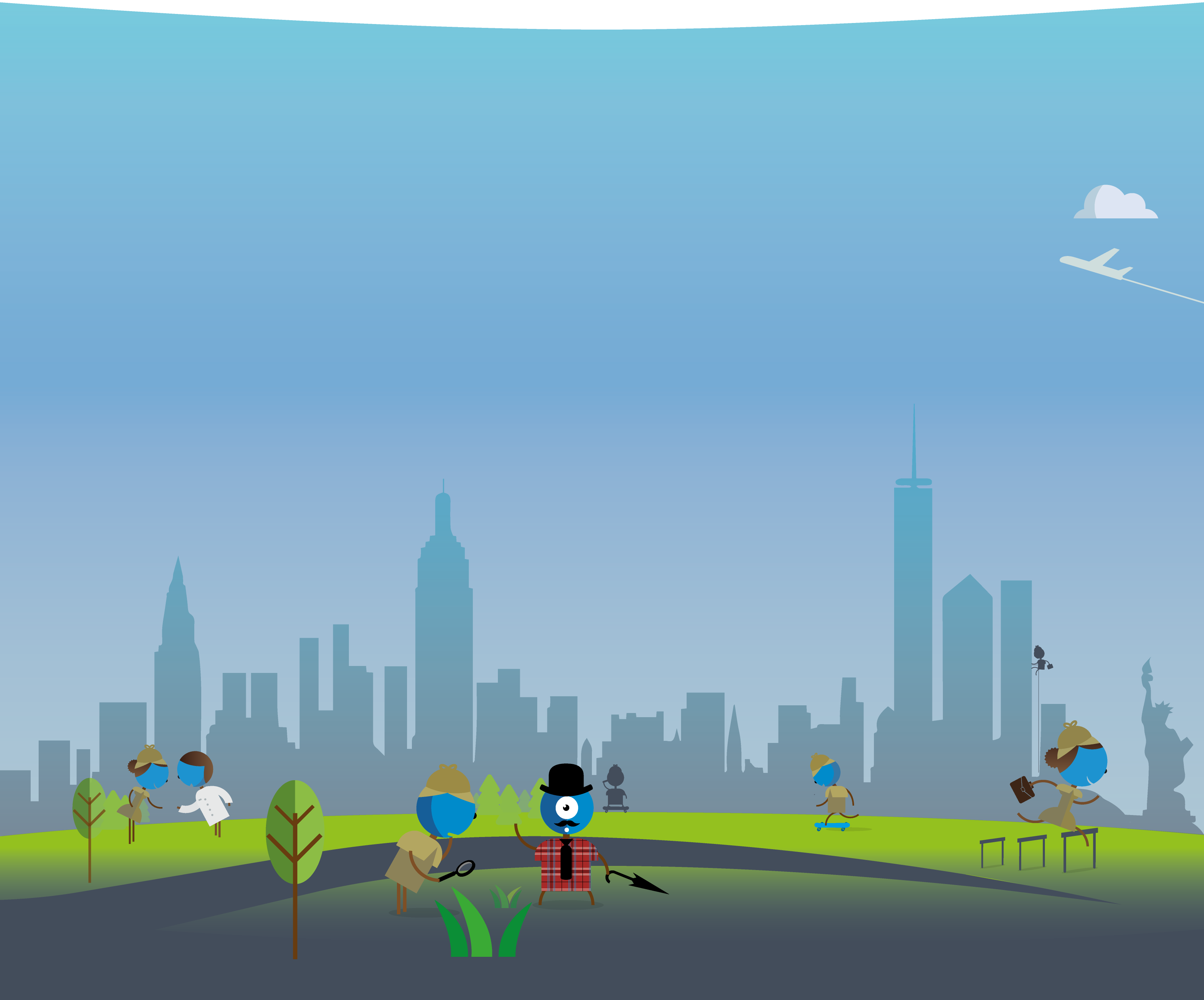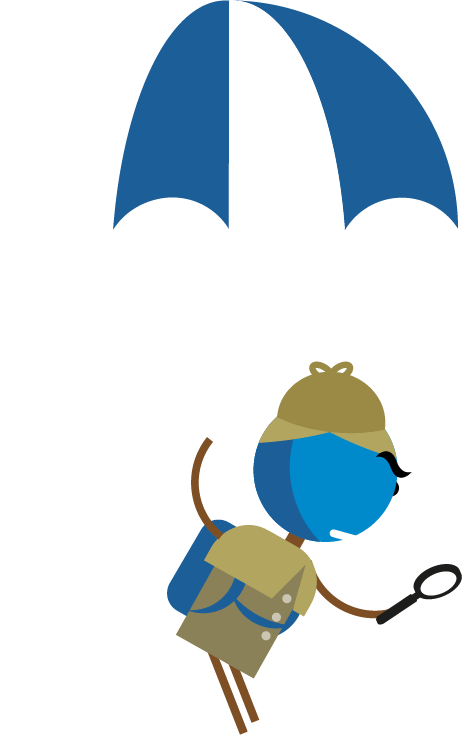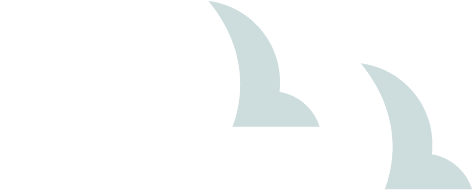 Why our customers love Inova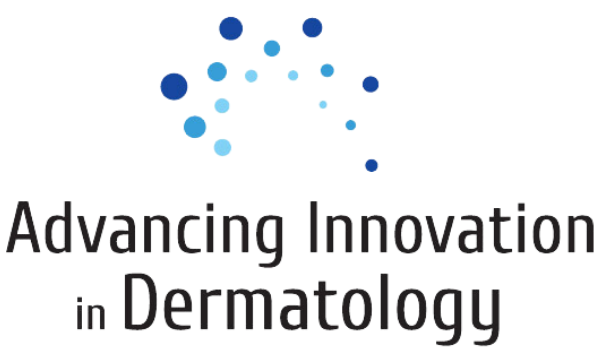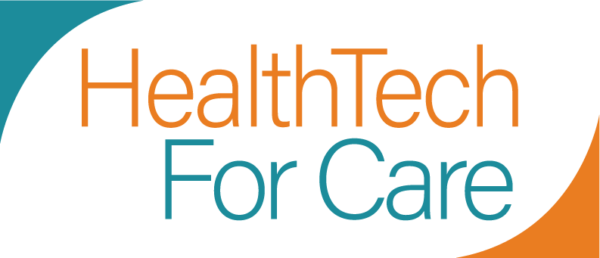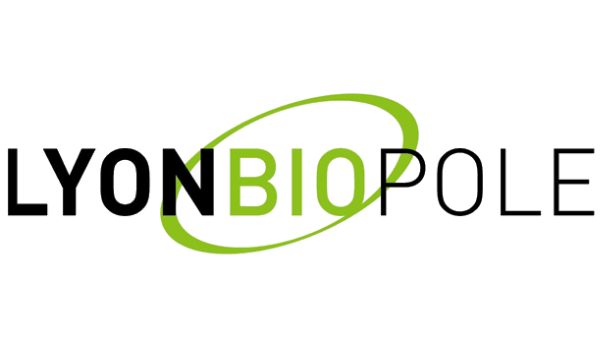 Talk to one of our experts
Schedule a live and personalized demo with our experts
We're always happy to help find the solution for your needs.
Schedule a demo today