About us
Our mission is to accelerate partnering
for the future of medicine.
Our story
Inova was founded in 2010 by Gilles Toulemonde, David Carteret and Fritz Eisenhart by merging Inova and Vertical*i. The merger combined Vertical*i's business development and alliance management expertise with Inova's experience in strategic innovation software. The newly merged company turned its focus to creating a software that would help life sciences companies find external innovations.
Since then, we've worked exclusively in the life sciences, learning the pains and challenges of this industry inside and out. We're constantly developing new partnerships and new features to help biopharma companies work together better.
For example, we have a strategic partnership with the Biotechnology Innovation Organization, organizer of the largest biopharma partnering event of the year. Thanks to this partnership, our CRM is prepopulated with company and contact information from BIO partnering meetings. The two systems are synchronized in real-time, providing our users with always up to date information and helping them find the right partners.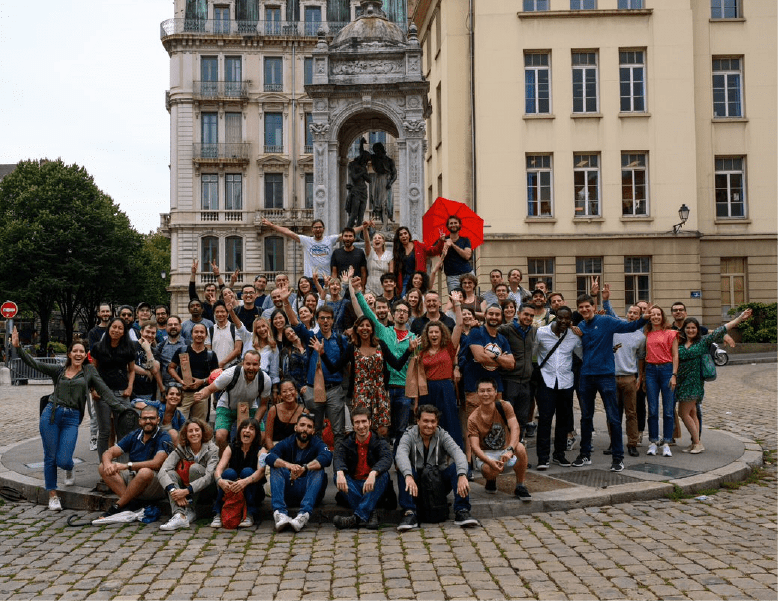 Our team
Our team is made up of 125 people hailing from over 35 different countries. With a small, but diverse team, we are flexible, agile and innovative. Inova can be found all over the world, with our headquarters in Lyon and offices in New York, Denver and Tokyo.
Join our team
Our values
It all starts with hiring passionate, talented and diverse people who work well together.
We take pride in our accomplishments, but we believe in a solid work/life balance.
We work hard, then go home on time so that we can ride our bikes, head to the mountains or enjoy a restaurant or two in Lyon, New York, Denver or Tokyo.
We seek diversity
We strongly believe in a diverse, international workplace. It helps us connect with our clients and leads to increased creativity, deeper market insights, and better solutions. We're proud to say that our employees represent 25 different nationalities. Mixing cultural and educational backgrounds sparks greater innovation and better problem-solving. When searching for new solutions, we're not afraid to seek different opinions and expertise outside of Inova.
We commit and deliver
When we commit to something, we are all in. We take our responsibilities seriously, going the extra mile to get the job done and deliver beyond expectations. Our quest for excellence is relentless. We constantly strive to improve ourselves and our service, cultivating the knowledge, skill, and attitudes to make it happen. We dare to tackle big problems, approaching every challenge with a can-do attitude and fact-based decision-making.
We care
We care for our people, our customers, the industry we evolve in, and the environment. We want our business to have a positive impact. Work-life balance is important, but what it looks like depends on the person. We're happy to be flexible because happy and rested employees make us a better company. Ethics are core to our strategy and we take pride in being exemplary in the way we do business. When prioritizing business strategies, we consider both their business potential and their impact on the environment. Reducing our carbon footprint is important to us.
Gender equality index
In 2023 (reference period from January 1 to December 31, 2022) INOVA obtains a score of 97/100.
French: Index égalité Femme/Homme – En 2023 (période de référence du 1er janvier au 31 décembre 2022) INOVA obtient la note de 97/100.
Join our team
At Inova, you'll find yourself surrounded by talented,
innovative people who love what they do.