Introducing Lead Space
Published on Sep 17, 2021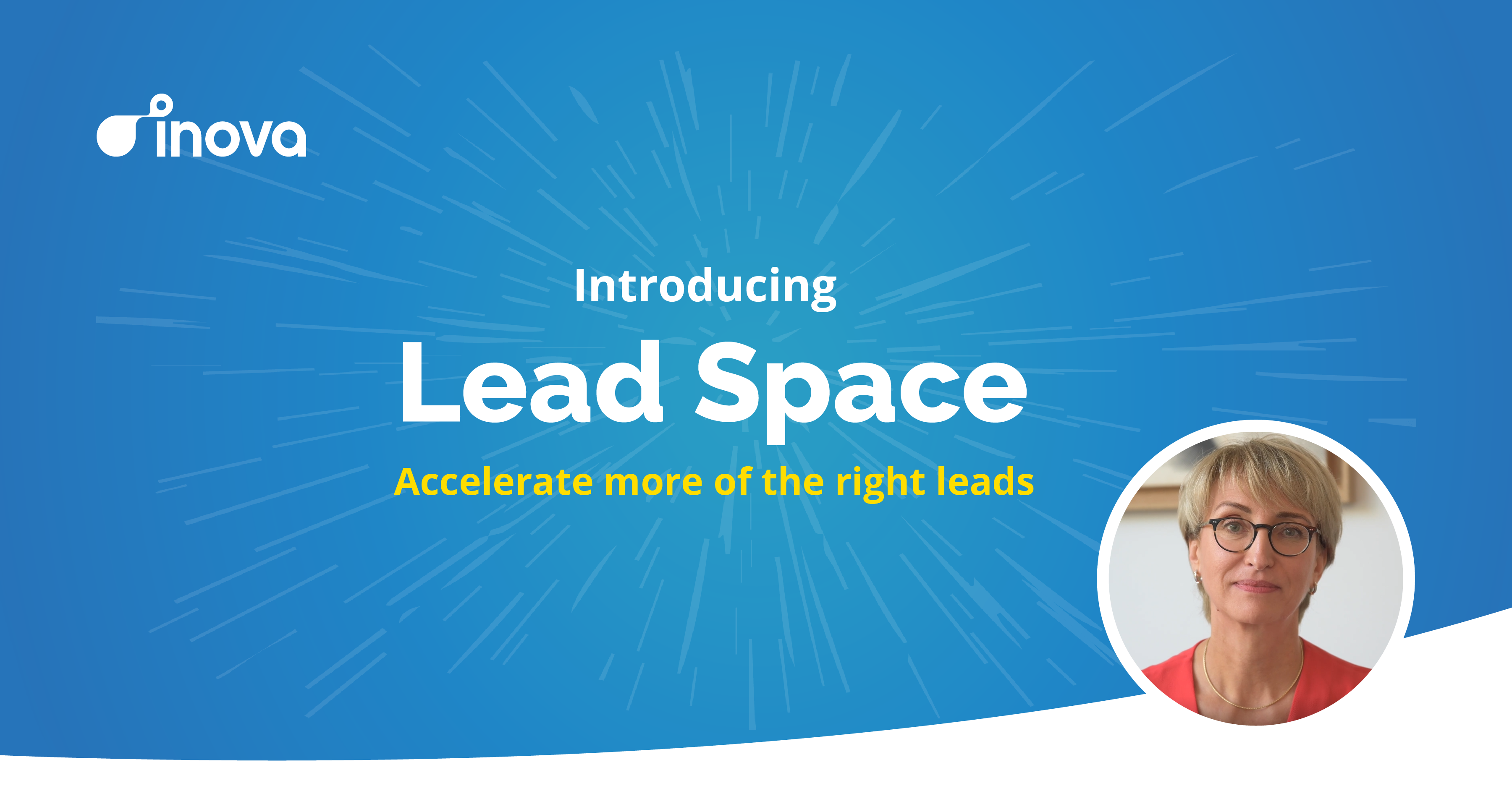 Q&A with Inova's Chief Product Officer Claude Basset
What is Lead Space?
Lead Space is a new product built specifically for early stage biopharma partnering. Its purpose is to accelerate the discovery and management of the right leads – efficiently.
How does it work?
Lead Space accelerates more of the right leads by enabling teams to track and manage early stage leads in one place with a clear overview of all assets.
Lead Space expands your network of lead contributors beyond the Search & Evaluation (S&E) team to leverage companywide expertise. Internal experts can comment and contribute with valuable feedback.
It's built to maximize productivity and enable better decision making, improving your company's competitive position.
Why now?
Science is advancing at an unprecedented pace and there's a major influx of capital into the biopharma industry, making competition for the right partners and assets intense. Partnering is occurring much earlier in the development process as pharma companies try to lock in partners early.
In such a competitive environment no option can be ignored, leads can come from anywhere – universities, spinoffs, government laboratories, scientific journals or conferences. There is no room for S&E inefficiency.
On top of that, the increase in remote work has made the digitalization of information and workflows essential.
Lead Space makes the concept of "everyone is a scout" actionable, centralizing your partnering data and providing S&E workflows that allow your team to advance the most promising leads efficiently.
How is Lead Space a gamechanger for biopharma partnering?
Lead Space is the first tool that enables everyone to be a scout – everyone is on the lookout for new leads and can contribute their expertise. Strategic briefs clearly lay out your company's strategy and vision for partnering, putting them at the forefront of all scouting activities.
By breaking down information silos and increasing the transparency of external innovation activities, Therapeutic Area (TA) experts, for example, are better able to submit new leads that are strategically aligned. Functional experts can also jump in and provide feedback on other leads in their area. This increases your company's scouting capabilities and improves decision-making, ensuring that only the most promising leads are selected for further evaluation.
What does this mean for current Inova users?
Lead Space is an add-on to the Inova Partner Relationship Management (PRM) platform that opens the pre-CDA search and evaluation process to more people. Leads selected for further evaluation are converted into opportunities and flow seamlessly into the PRM, where confidentiality, compliance and established workflows are fully respected. Lead Space is the first phase of Inova's next generation platform.
Who will use Lead Space?
Lead Space is used by teams responsible for pre-CDA activities. While the core S&E team are the most active users, internal TA experts also use Lead Space to contribute leads and share their valuable feedback on existing leads.
How long will it take to get up and running with Lead Space?
Lead Space is built on modern technology with usability best practice principles at heart. Setting up and getting started with Lead Space can happen in less than a week.
What is special about the technology used to develop Lead Space?
As I mentioned, Lead Space is the first phase of Inova's next generation platform. We chose innovative technology that puts the focus on usability. For example, Lead Space is a progressive web app, which means that it works in a standard internet browser and is automatically optimized according to the device size (mobile, tablet and desktop). On a smaller device like a mobile, it behaves like an application, benefiting from mobile-specific features, without the need to install anything. For our users, it makes the experience easy and seamless no matter where they're working.
Additionally, Lead Space is built with both a unique set of data and an advanced algorithm to facilitate lead creation.
What other innovations are in the pipeline? What's the vision for Inova's partnering platform?
Lead Space is just the first piece of the next generation of Inova. Using this new technology, we are building a new partnering platform that is more intuitive, more collaborative and data fueled. This is only the beginning!
To learn more about Lead Space or Inova's Partnering Platform, visit here.
Further reading
It's a long road to partnership in the life sciences. To manage the process effectively, pharma...
Read more