What's new in Inova: July 2019
Published on Jul 10, 2019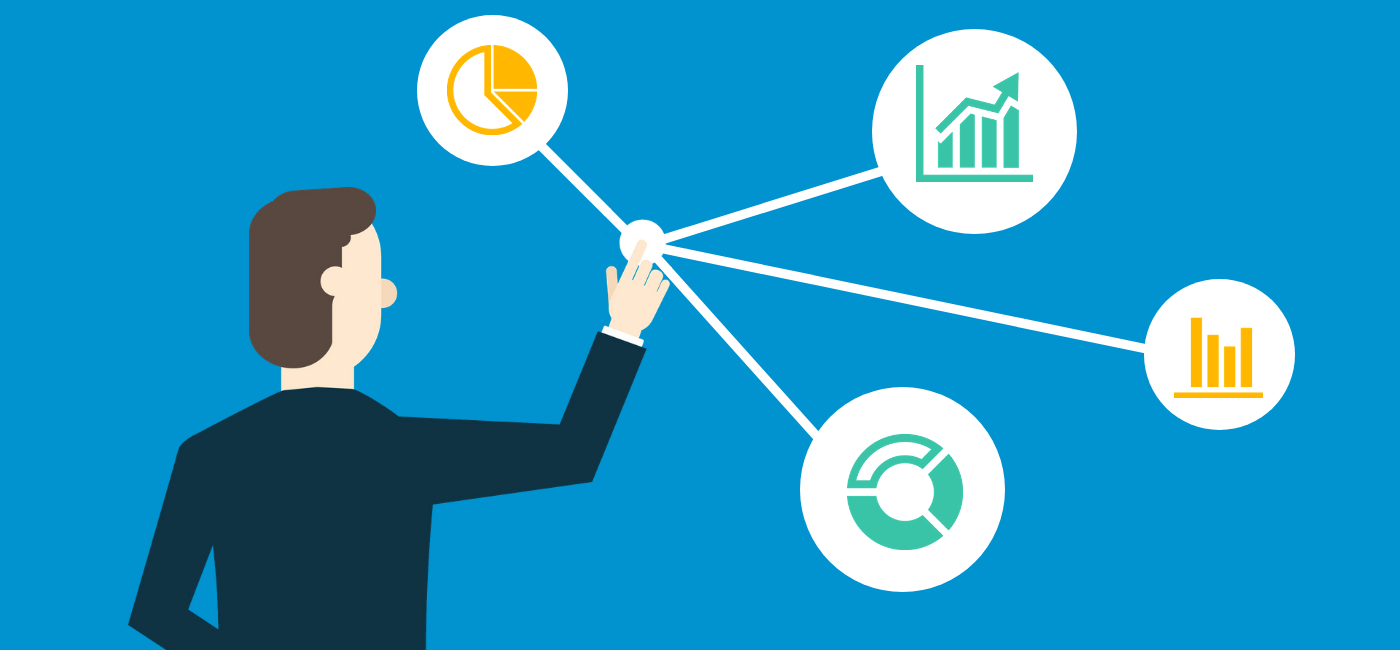 Welcome to our July newsletter! This month, we're taking a look at reporting. We know that reporting is essential to your work managing deals and alliances.
Reports and dashboards show how you performed in the past and what's happening at the moment. They are key tools for driving success and adoption. You need reports that are readily available, even at the last minute, and that are simple to understand.
We have built our reporting tool with your business development and alliance management processes in mind, enabling you to quickly and easily report on your pipeline and partnering activities.
Below, we've put together the top seven reports you need today.
#1. Pipeline Evolution Dashboard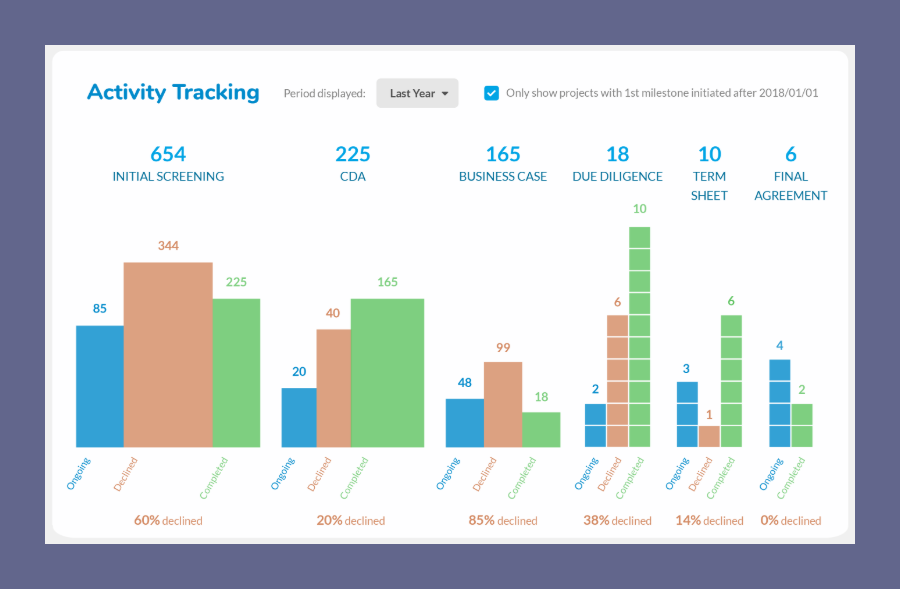 Understand and evaluate the evolution of your biopharma pipeline and each phase's conversion rate with the Pipeline Evolution Dashboard. Instantly view the number of opportunities at each stage and click for more details, for example which opportunities were declined and why.
This dashboard is especially useful for yearly business development activity meetings, providing insights for all team members, such as:
Head of Business Development: How many projects were completed per quarter or year? How many projects are ongoing?
Departmental or Regional Vice President: Are projects mostly declined late in the process? Could they be identified sooner, and if so, how? What is the attrition rate for each phase? Are there any bottlenecks?
Individual Project Managers: How did my opportunities perform? How can I further improve my performance?
#2. Opportunities Reports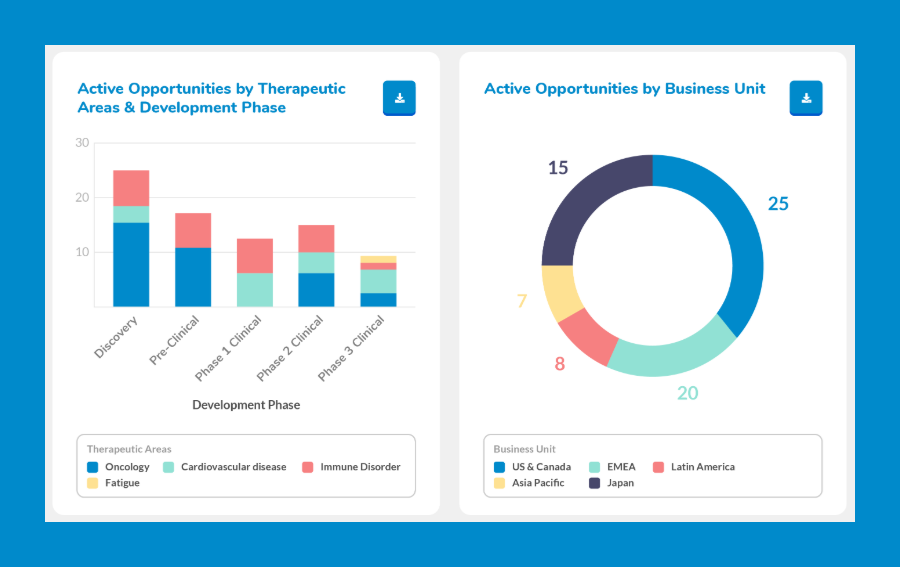 Get a global view of your opportunities in real-time, then dive into the details with our Opportunities Report.
In this report, you can see the number of active opportunities, then filter them by business unit, geographic territory, therapeutic area or development phase, to get a better understanding of your pipeline.
Now it's a lot simpler to present your opportunities to your colleagues or managers and to analyze how these opportunities fit in the team's overall objectives. Share your reports in seconds by exporting them to PowerPoint or Excel, or downloading them as images.
#3. Time Spent in Phase Report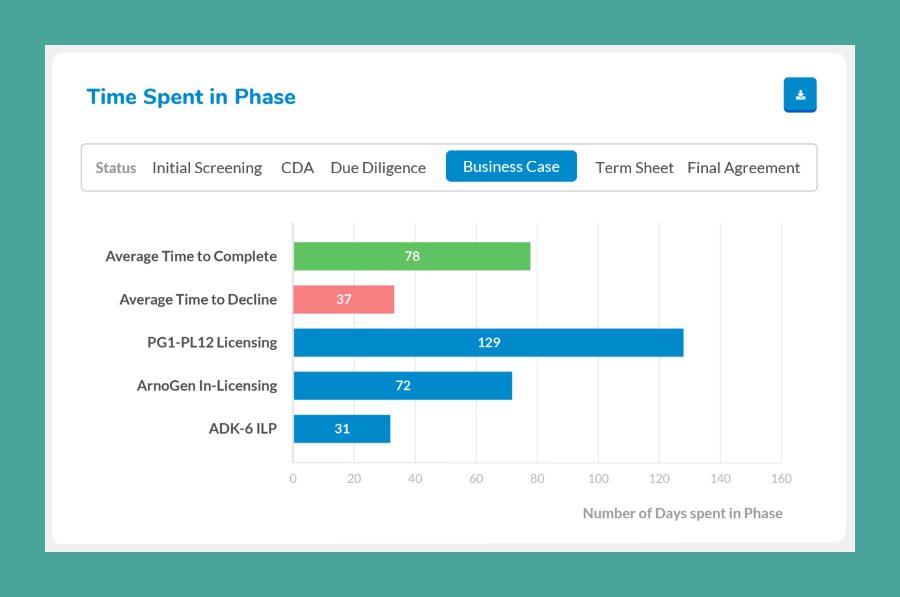 Identify bottlenecks in your process and analyze whether individual projects are on track with the Time Spent in Phase Report.
This report gathers all projects currently in the selected phase and calculates how many days they have been there. Comparing this information to the average time to complete or decline the phase indicates which projects might be running ahead, on time or behind schedule. You can quickly see why a project is still in that phase by looking at the activities listed below and, if necessary, take action.
#4. Monthly Activity Report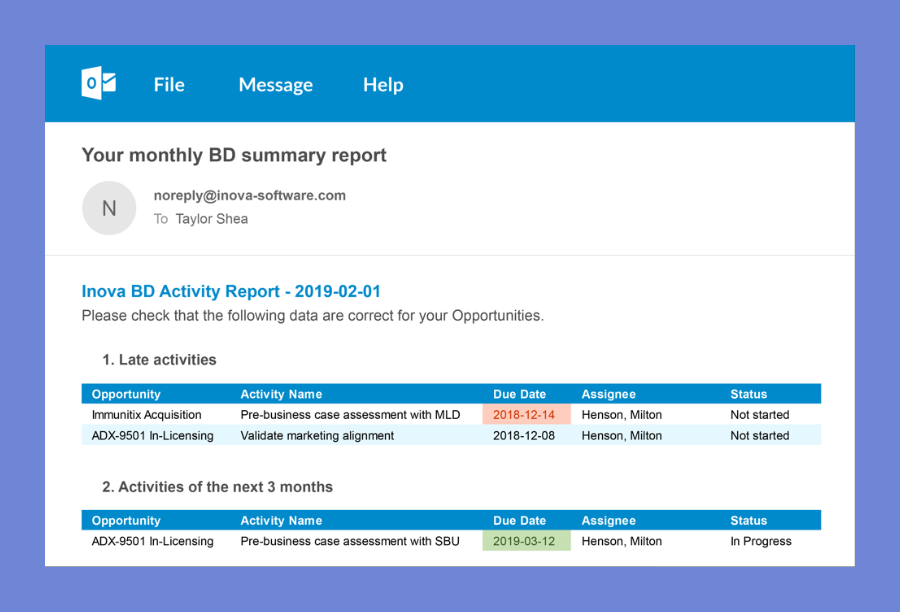 Automatically monitor the status of ongoing projects with the Monthly Activity Report.
This report is automatically sent once a month and provides a quick overview of your activities and upcoming tasks. It is also an easy way to verify that key project information is up-to-date, ensuring that your reports will be accurate. Executives can use this report to track their team's activities.
#5. The Opportunity or Alliance One-Pager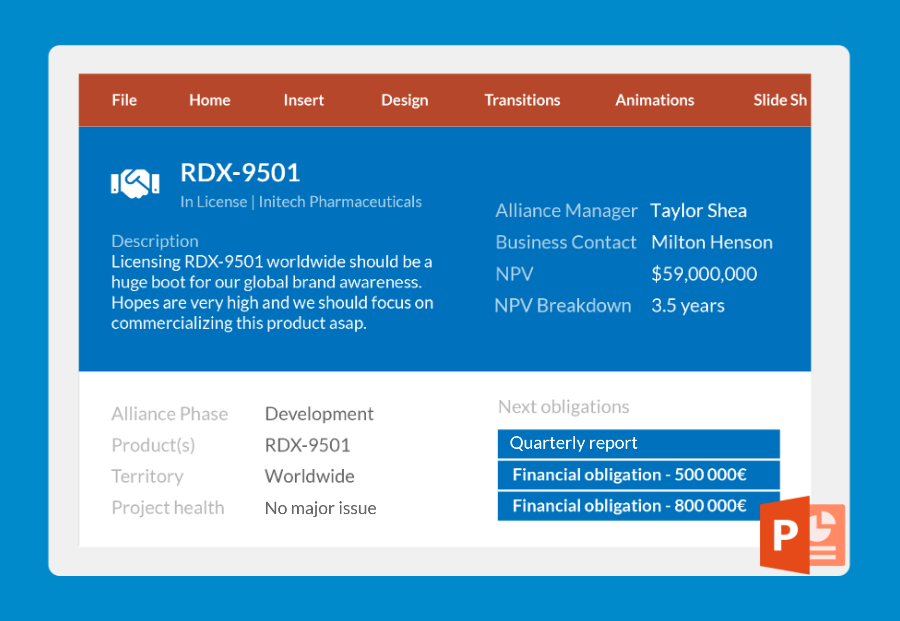 Present your opportunities and alliances easily with our snapshot reporting.
These One-Pager Reports allow you to quickly create a single PowerPoint slide containing an overview of the basic background information, key details, status and next steps, for each opportunity or alliance. The slides can be distributed via email or printed before a meeting to have one document for everyone, making sure everyone is aligned and literally on the same page.
#6. The Health Check Dashboard


Monitor the health of your pharmaceutical alliances with the Health Check dashboard.
Reviews in Inova enable you to get feedback from your partners and your colleagues on how the alliance is going. By using the Health Check to compare the results, you can identify discrepancies and head off problems before they become serious.
#7. Financial Reporting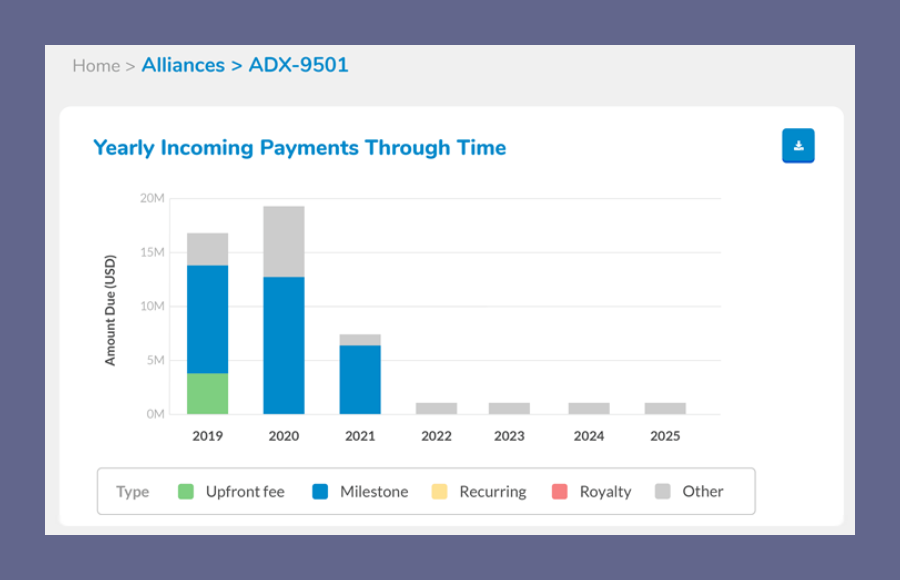 Visualize incoming and outgoing payments in seconds with our Financial Reporting.
Quickly view the status of payments, complete financial forecasting, and share the results with your colleagues. These reports will tell you where you're at and what you can expect in the years to come.
These are just a few of the reports and dashboards offered by Inova! To learn more, request a demo or contact your Customer Success Manager.
Further reading
Inova, software editor of a CRM dedicated to pharmaceutical companies, has followed software trends,...
Read more