An add-on module for the Inova Partnering Platform
Due Diligence Made Simple
The Due Diligence module offers due diligence managers, business development leads and functional area experts a whole new way to work together. Its purpose is to provide a secure space to efficiently manage the due diligence process.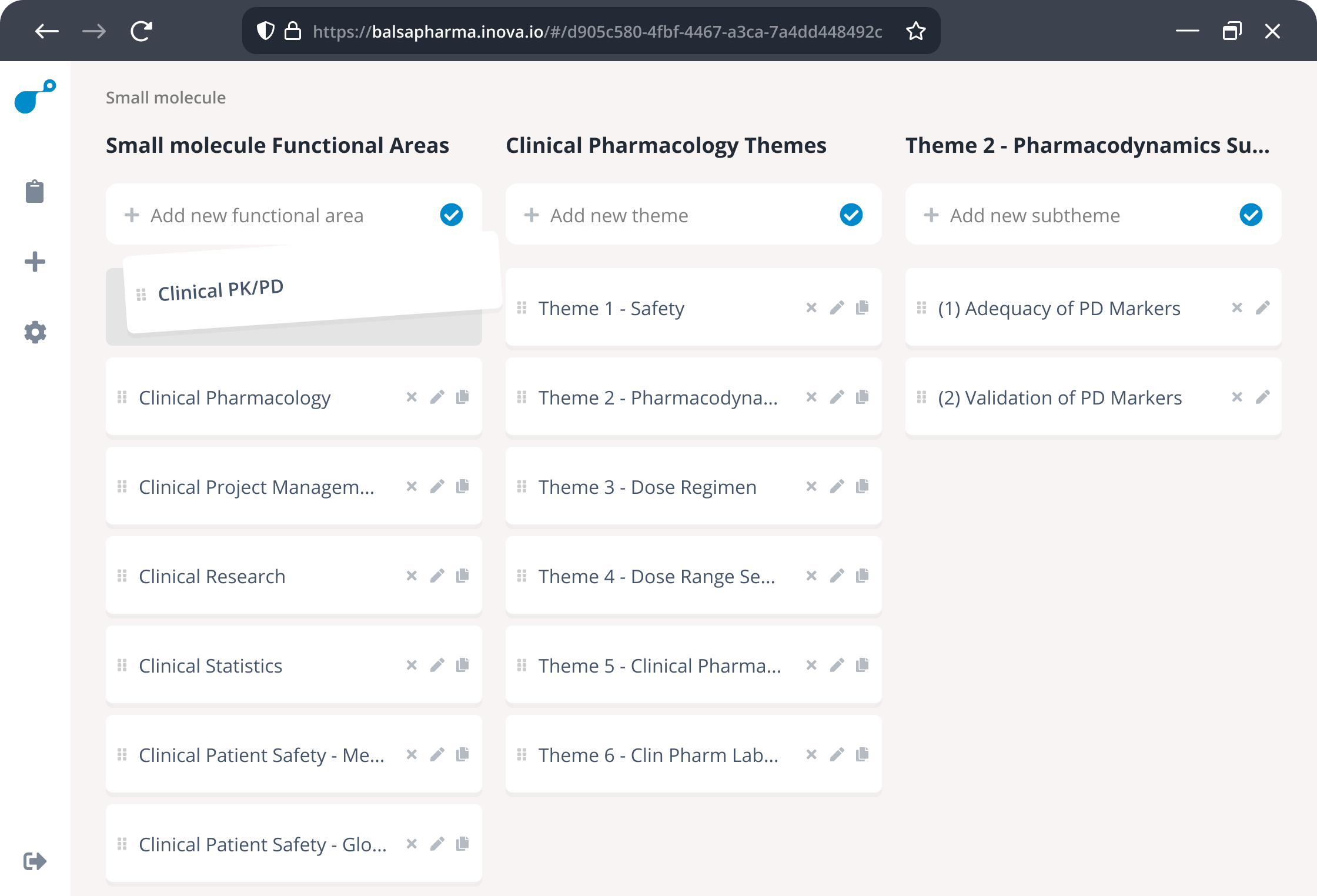 Is the administrative burden of due diligence slowing you down?
Sometimes there can be up to hundreds of experts involved in a project. The manual work of requesting and coordinating assessments, monitoring progress and creating reports is inefficient. Yet, the stakes are high and obtaining timely, standardized feedback for your due diligence project is essential.
Keep Confidential Data Compliant & SecureProtect sensitive data from being leaked, lost or viewed by unauthorized people.
Simplify & Standardize the Process for EveryoneShare and collect feedback in a convenient, organized and structured way.
Leverage Built-In Industry Best PracticesAccess a wide range of complimentary assessment and reporting templates.
Make Clear & Timely Recommendations Every TimeManage the entire process, from inviting the right experts to building reports for decision-making.
Due Diligence module
Seamlessly integrated with the Inova Partnering Platform
A due diligence project is initiated directly from the Inova Partnering Platform, creating a dedicated, secure room. The user can select the due diligence type and assessment template, assign the appropriate experts and effortlessly track and manage the entire process. Once a decision is made, the opportunity within the platform is updated and ready for next steps.
What else is included?
Complimentary assessment templates with built-in
best practices for small molecule, large molecule,
legal compliance, pre-diligence and more
Customizable email
notification templates
Ability for experts
to work offline
Flexible reporting
templates
User management and
permissions with access
to audit history logs
Ability to connect
to your HR database
Featured resources
Webinar Replay
The Art & Science of Biopharma Due Diligence: Lessons from Eli Lilly
Discover best practices for successfully managing the due diligence process from Eli Lilly. Our panelists will share their proven strategies and techniques, highlight key challenges, and discuss how to negotiate the rapidly changing landscape while maintaining a robust due diligence process.
Blog
Six Steps to Kick-Start Pharma Due Diligence Process
To find the right partnerships, biopharmaceutical companies must evaluate hundreds of external innovations and negotiate complex deals, all while managing internal resources efficiently.
Talk to one of our experts
Schedule a live and personalized demo with our experts.
We're always happy to help find the solution for your needs.
Schedule a demo today