Manage your opportunities efficiently
Opportunities Tracking
Inova is designed for biopharma partnerships, providing you with everything you need to monitor, evaluate and report on your projects effectively.
Centralize your pharma business
development project information
Repository for your partnering dataCentralize your opportunity and project information, including information on the asset, company, project description, status, discussions, on-going activities, next steps, important emails and documents, reviews and more.
Company projects overviewYou'll have not only a clear overview of your opportunities, but an overview of all opportunities company-wide, including their status. You will always know where you stand and which projects should be prioritized.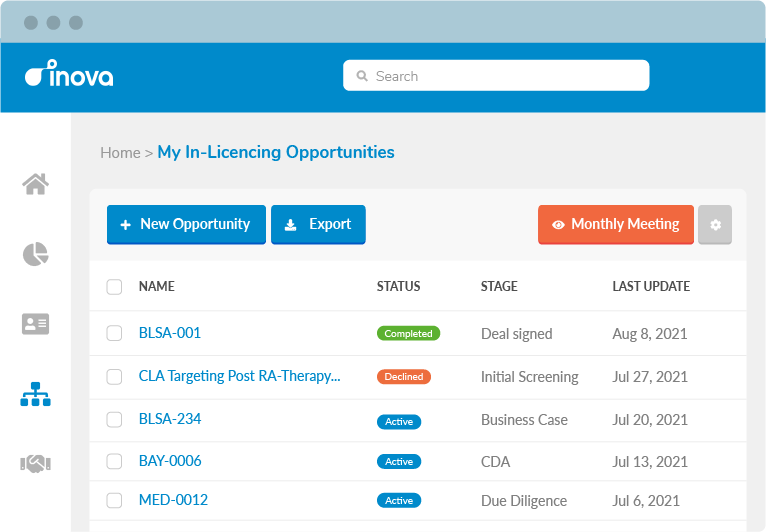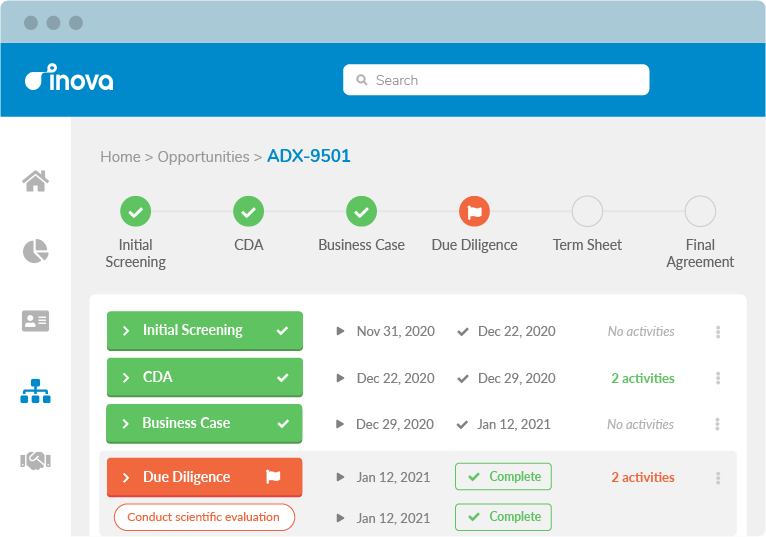 Standardized Workflows
Track your progress with standardized workflows
These workflows, which include default milestones and activities, are available for in-licensing, out-licensing, asset acquisition, M&A and R&D collaboration.
Track your project status, view next steps and report on your activities in seconds. You can even use workflows to structure the evaluation process. This ensures that a standard process is followed and allows you to report on your projects in the evaluation phase.
Customer Case Study
Ipsen uses Inova's business development expertise to refine their processes and maximize their efficiency
Partnering is essential at Ipsen. The company's strategy is to invest in business development to build an innovative and sustainable pipeline and to maintain the growth momentum of the business. Ipsen leverages innovative deal structures ranging from early to late-stage assets. Implementing new solutions to progress towards excellence in their partnering process is therefore key to Ipsen's external innovation model.
Read Ipsen Case Study
"Designing your own solution is really painful. What you think you need, isn't necessarily what works in reality. Inova's platform comes with business development best practices built-in, making it easy to adopt and use."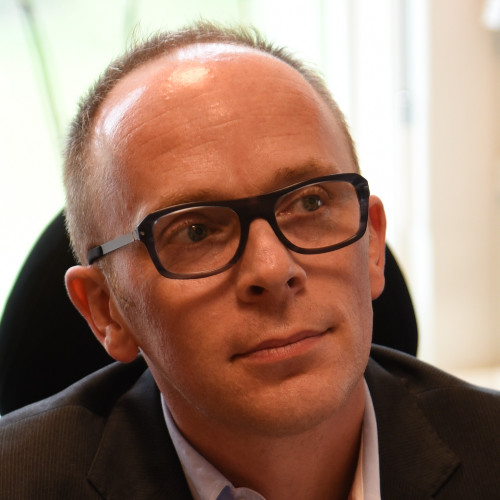 Frederic ScaerouHead of External Innovation Europe & Asia, Senior DirectorIpsen
Standardized BD Reviews
Get feedback faster
Get feedback from your colleagues or external experts. Just summarize the opportunity and provide some supporting documents. Your experts respond directly within Inova, forming an important part of the deal's history and your corporate memory. It's fast and painless for everyone—and cost-free for you, as review participants don't require a license.
Reviews can also be used to evaluate the risk of IP contamination. Simply ask your R&D team to download and review a CDA before you approve it.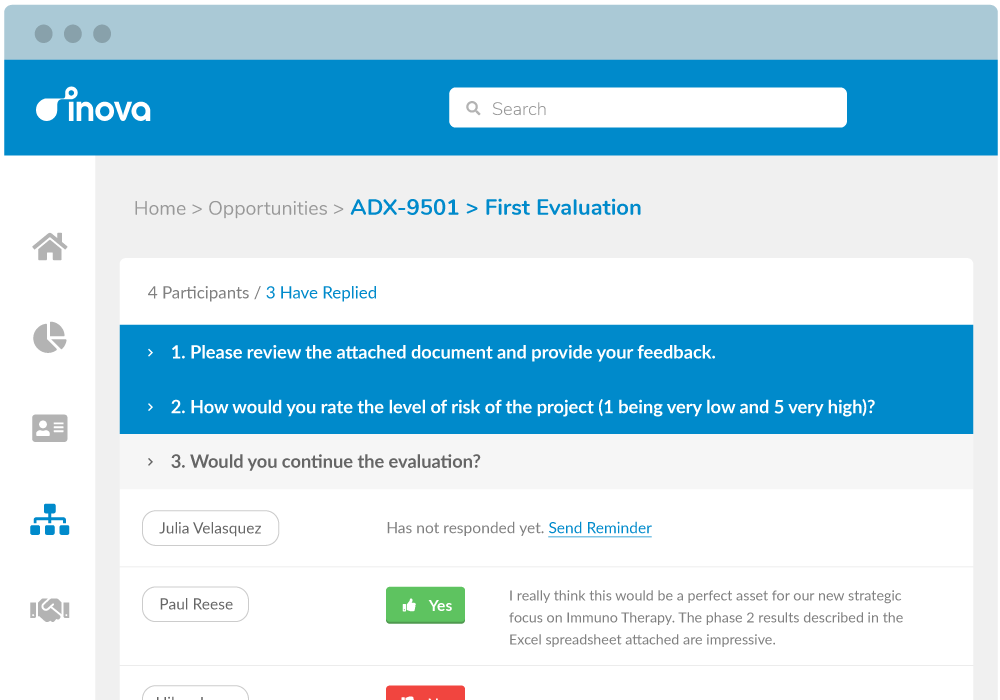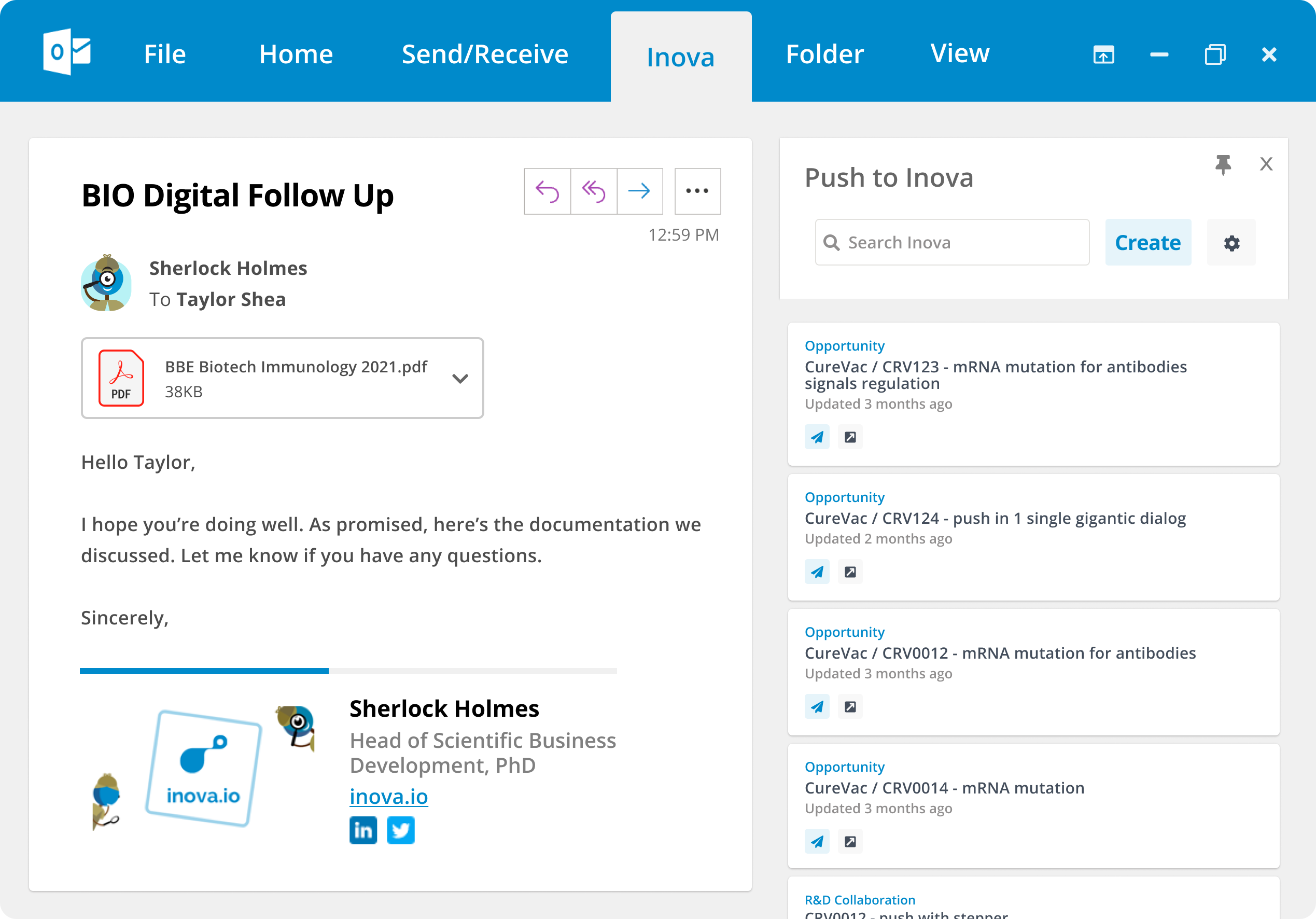 Outlook Integration
Update your BD opportunities easily
Got an on-going opportunity with a lot of important emails?
Quickly view records that are associated with your emails without switching between the Inova Partnering Platform and Outlook. Your Inova records appear directly within the Outlook Add-In's side panel.
Document Manager
Manage your CDA
and due diligence
documents securely
Securely store, share, and manage your CDA and due diligence documents with Inova.
Our document management system features drag and drop of files and folders, support for any file type including spreadsheets, presentations, images, sound files, movie files or PDFs, document version management, and access control for folders and documents.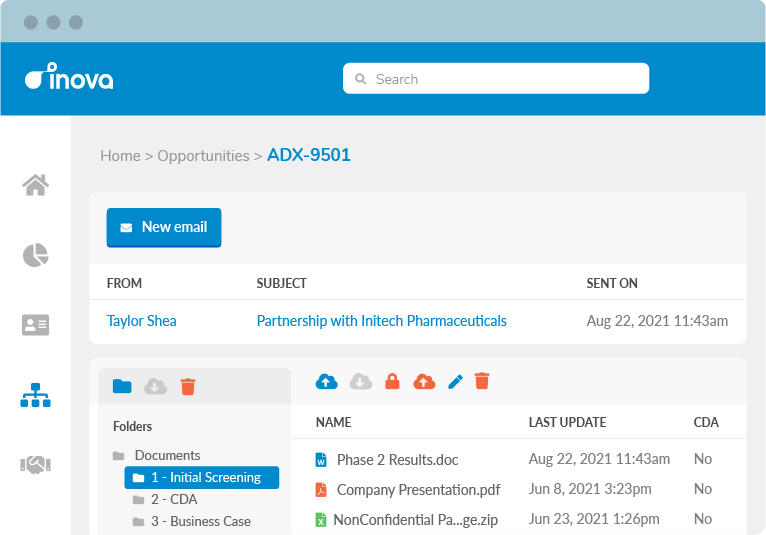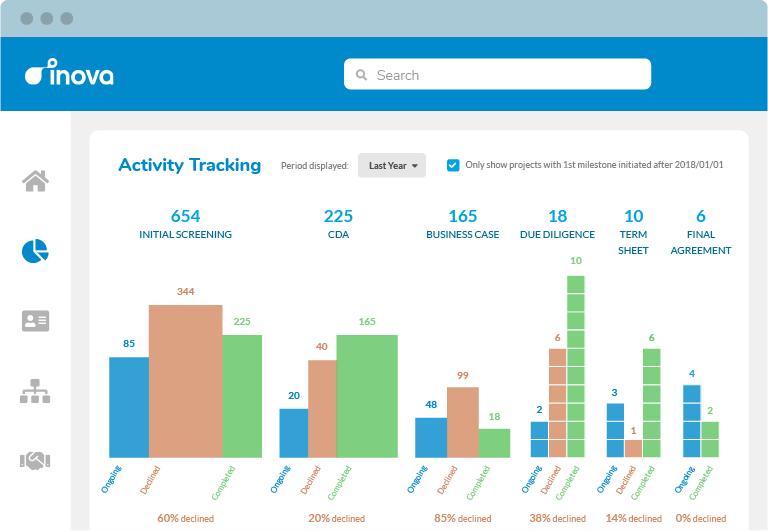 Dashboards & Reports
Report on your BD
pipeline and activities
in seconds
We've developed standard reports featuring key metrics for pharma business developers. When you view your pipeline report, you'll immediately see the number of ongoing opportunities at each stage and, with just one click, get detailed information. But that's not all!
You can also track your activities and KPIs. For example, you can view the number of active opportunities by business unit, and then filter them by geographic territory, therapeutic area or development phase.
Discover more features for pharma
Search & Evaluation
Find the right partners faster
Alliance Management
Drive your alliances towards success
Reporting
Report on your activities faster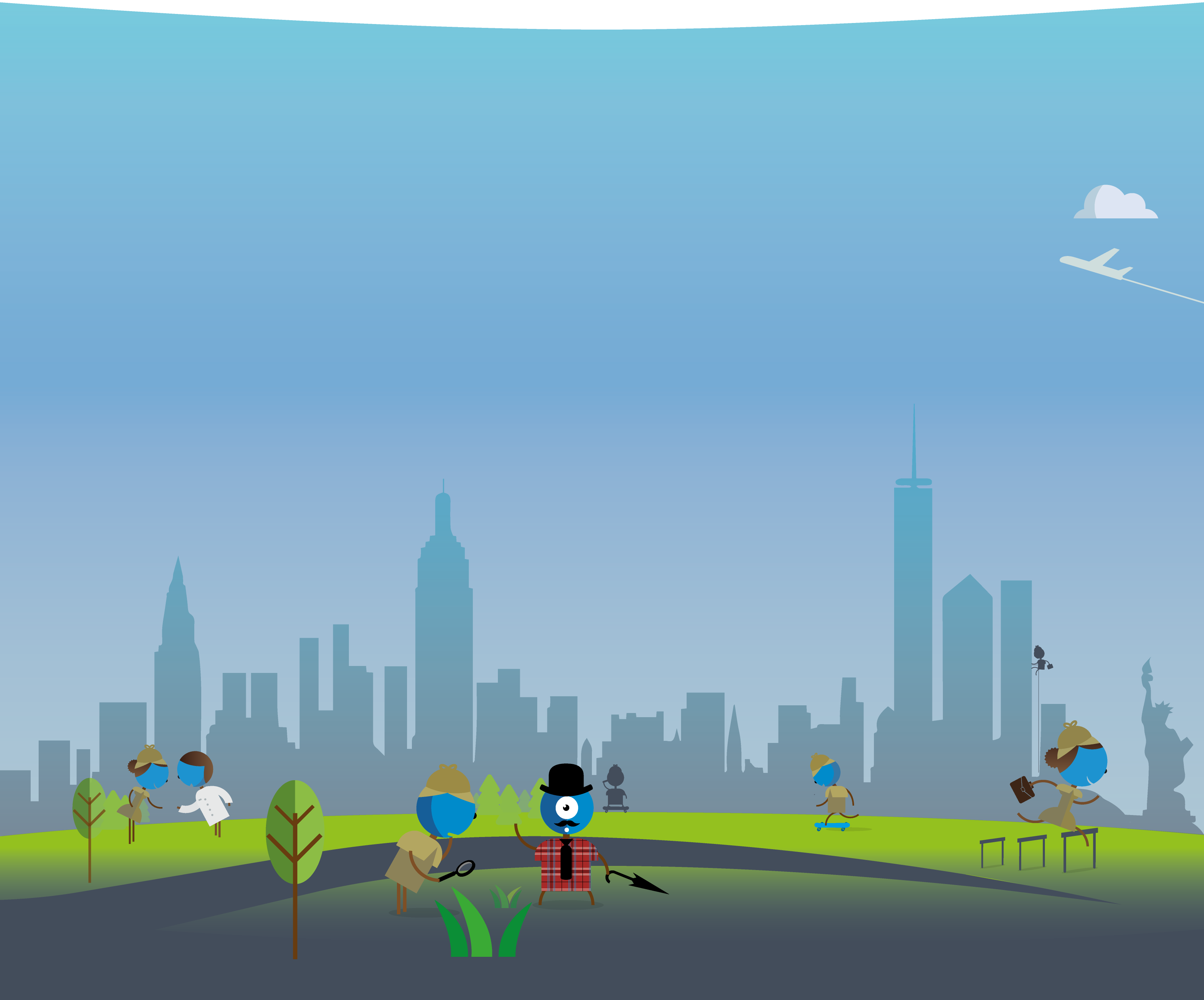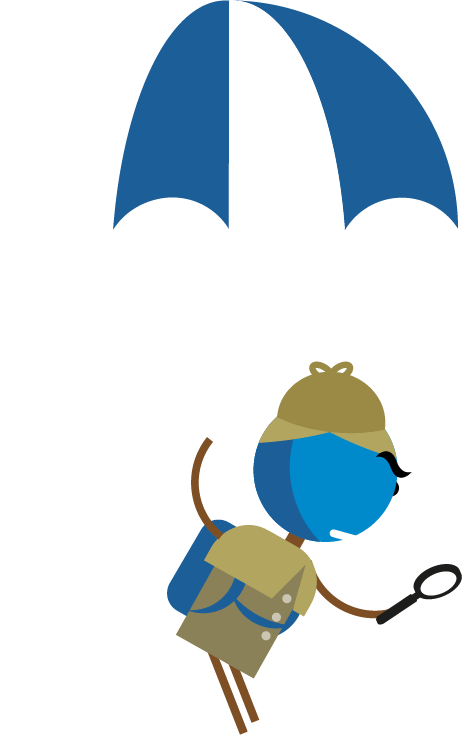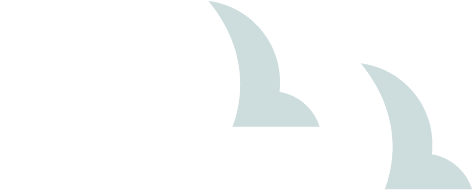 Why our customers love Inova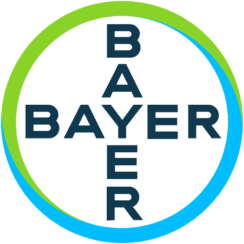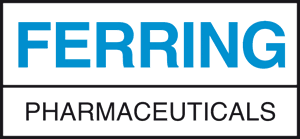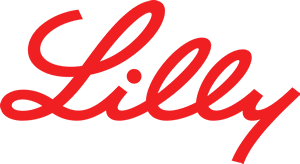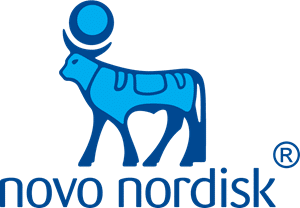 Talk to one of our experts
Schedule a live and personalized demo with our experts
We're always happy to help find the solution for your needs.
Schedule a demo today