What's new in Inova: Alliance Management
Published on Jun 3, 2020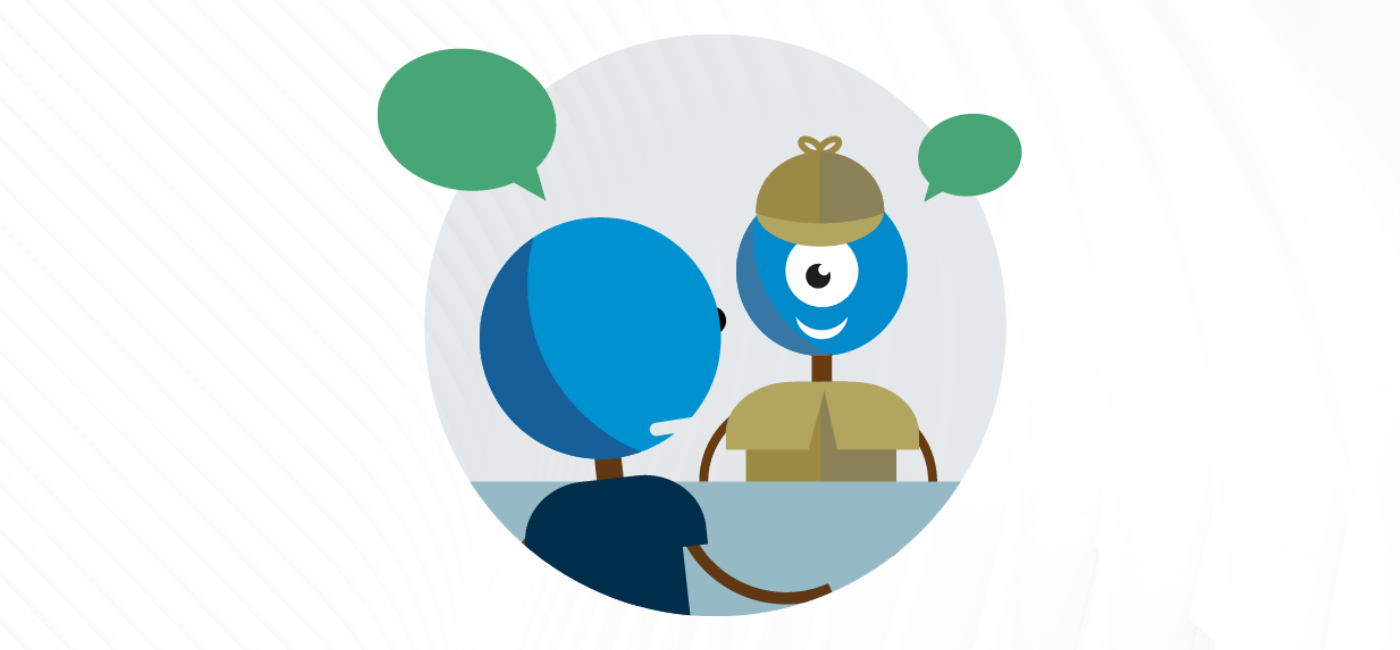 In our last webinar, we tackled alliance management best practices with the help of Rob Barber, Senior Alliance Manager at Mundipharma, and Philippe Lievre, Global Head Pharma Alliance Management at Novartis (if you missed the webinar, check out the recording here).
Today, we're taking a look at Inova's alliance management features and how they help biopharma companies like yours create and follow a clear, detailed alliance plan to track key activities, mitigate risks and keep your alliances on the path to success.
Continue reading to learn more.
Safeguard and centralize your alliance information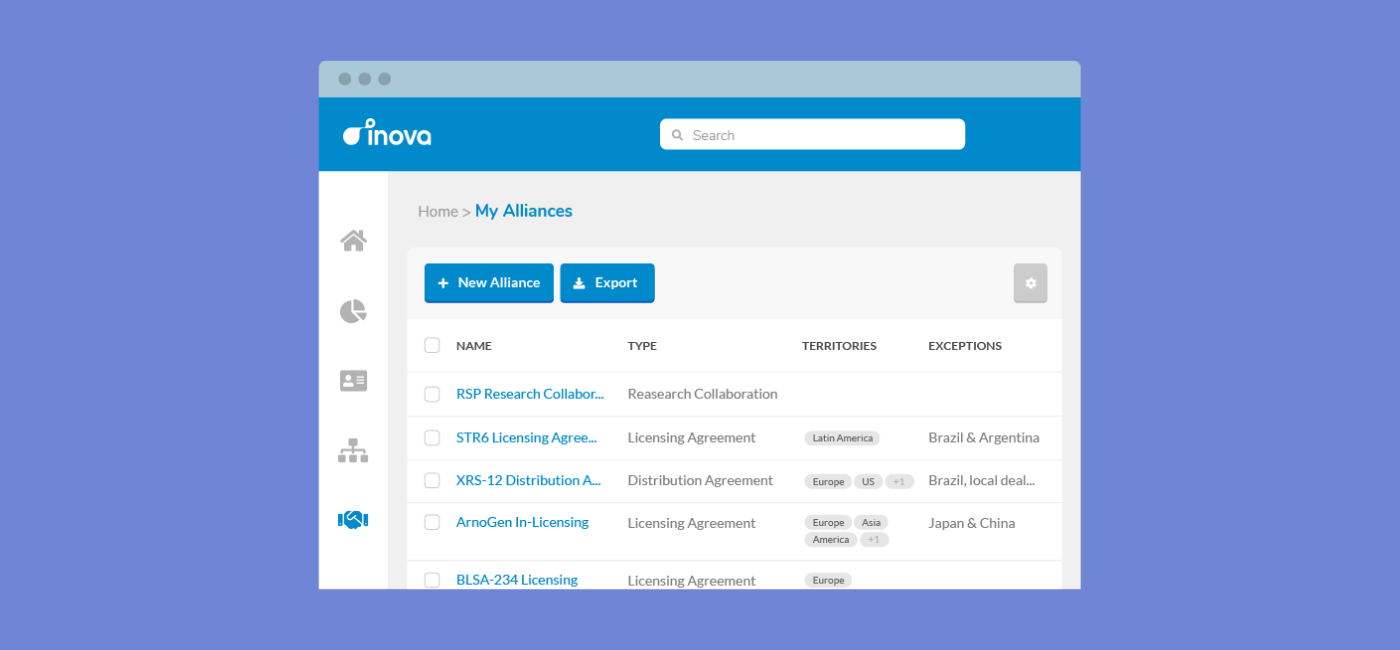 Inova provides one secure place for all of your alliance management information. Find everything you need to know, including the type of alliance, project description, territories and exceptions, important emails and documents, and more. You'll have a clear overview of your alliances, as well as all alliances company-wide.
With all of the key alliance information right at your fingertips, you can get your alliances up and running faster.
Know who to contact with the peer matrix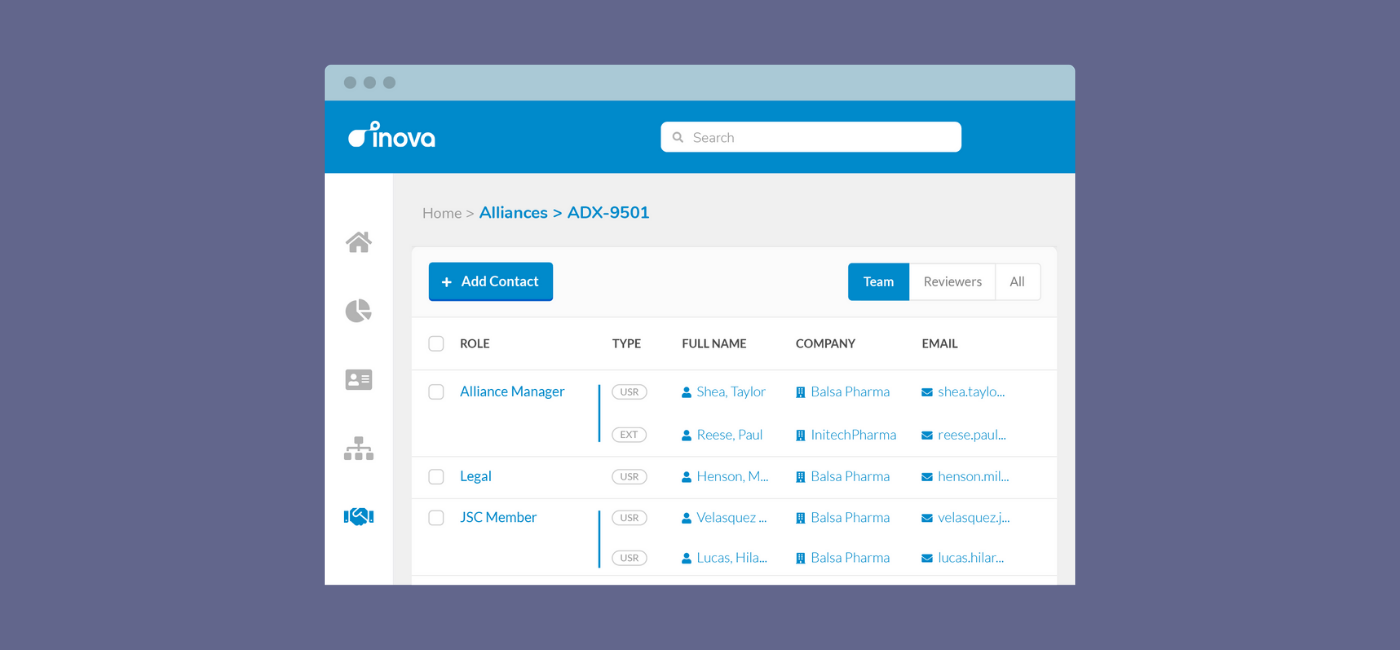 The peer matrix is an easy way to track who is in charge of what on both sides of the alliance. Armed with this information, you'll always know who to contact both during the project ramp-up and throughout the life of the collaboration. As a result, you are able to launch your collaborations and mitigate issues faster.
Track and anticipate your contractual obligations and payments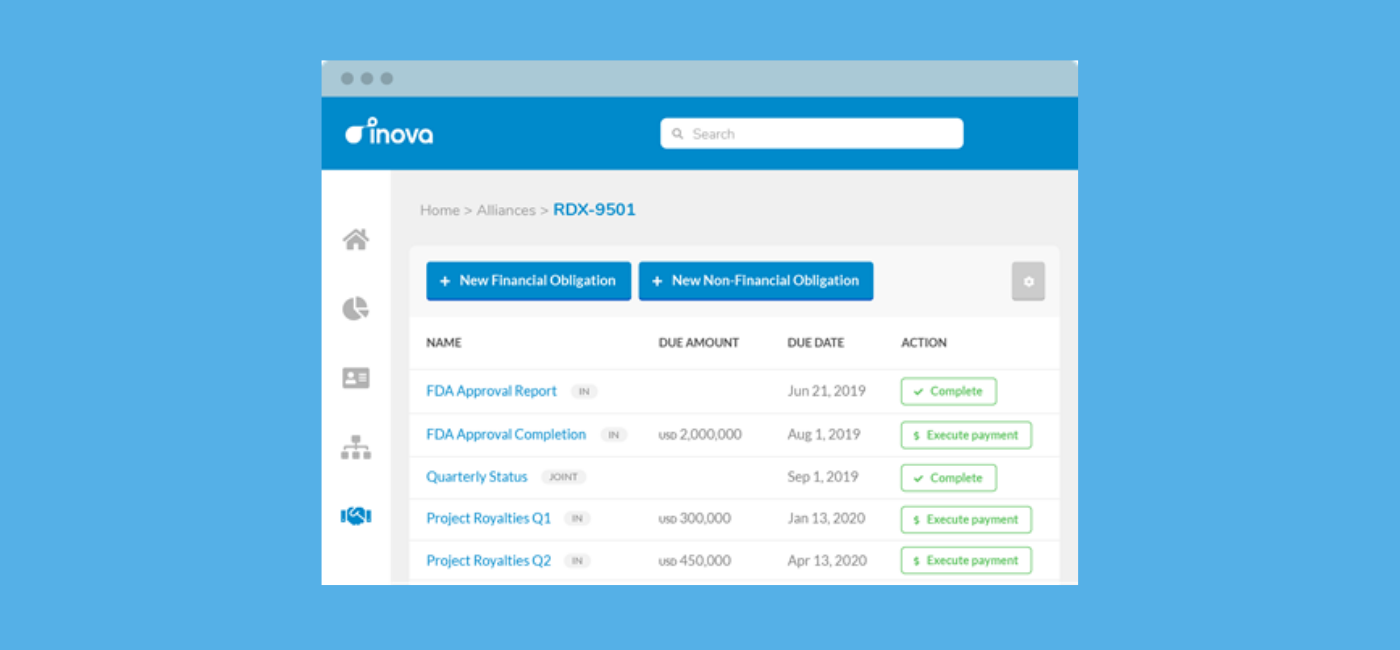 Accurately monitor and forecast financial obligations, and plan and organize all other obligations like key activities, reporting and steering committee management.
With Inova, in one glance you'll see all of your current and upcoming obligations and their status. Quickly export the data or create a report to share with your colleagues. Make sure you never forget an obligation by setting automatic reminders. These reminders can also be sent to other colleagues, for example to prompt the finance team to execute a payment.
Present and report on your alliances easily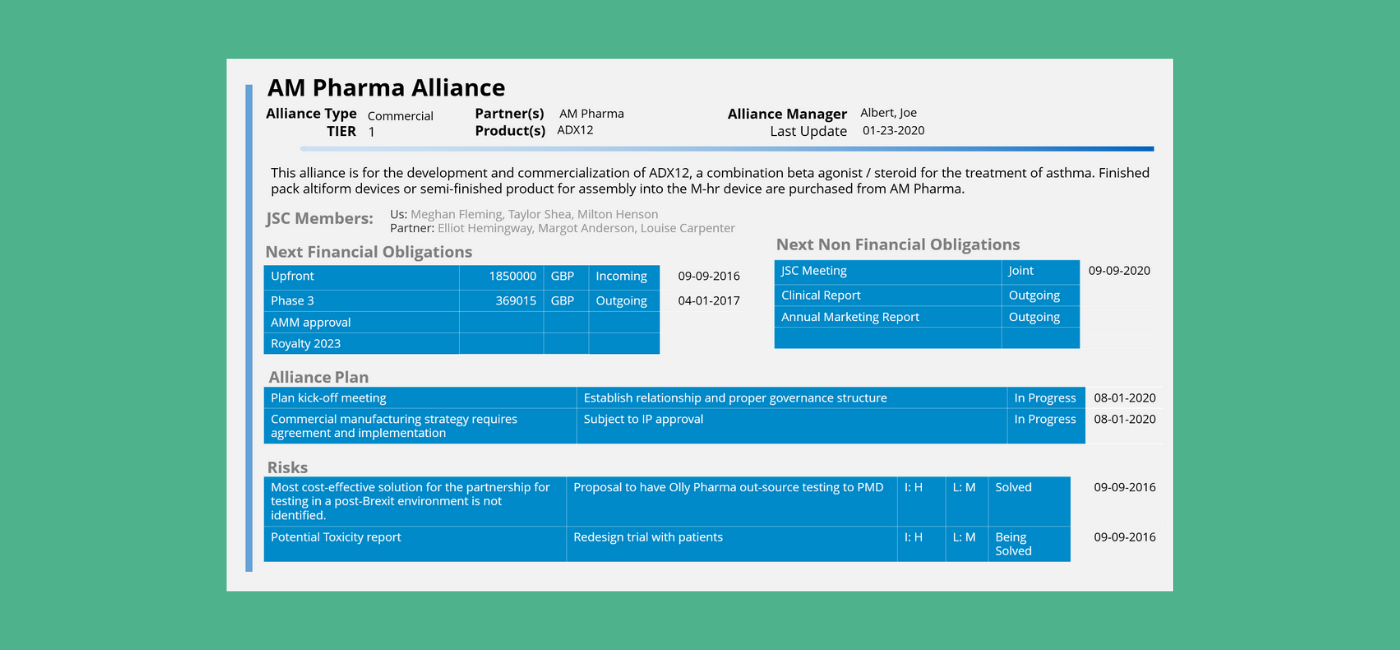 Easily share key information regarding your alliances using our one-pager reports. You can create a one-pager report for each alliance that features the basic background information, key details, status and next steps for each project. These reports can be distributed via email or printed before the meeting so that everyone is on the same page.
Monitor the health of your alliances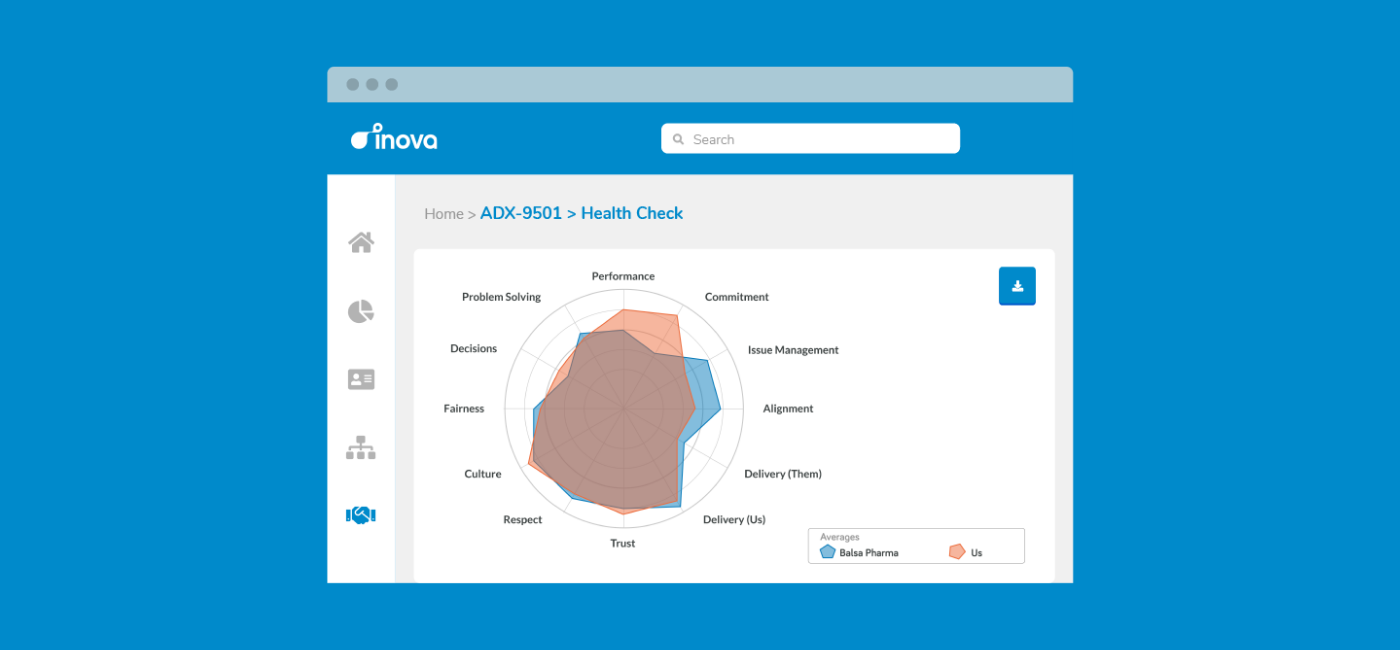 Maximize your alliance's chance of success by closely monitoring its health and any on-going issues. Use our review feature to get feedback from your partners and your colleagues on how the alliance is going. Then, compare the results to identify discrepancies and mitigate problems. Inova helps you effectively manage risk by analyzing the impact and likelihood matrix of identified issues.
Create a living record for each alliance by documenting the issues that come up and their outcome. Having clear, accurate insight into the state of your alliances helps you react faster when a problem occurs and continue driving them towards success.
To learn more about alliance management in Inova or to get started today, contact your Customer Success Manager.
Further reading
BIO-Europe: it's the most important European biopharma event of the fall, and it's only a month ...
Read more