Biotechs leading the way: first in inclusion, first in diversity
Published on Feb 13, 2020
Echo Zhang, Inova Head of Customer Success Biotech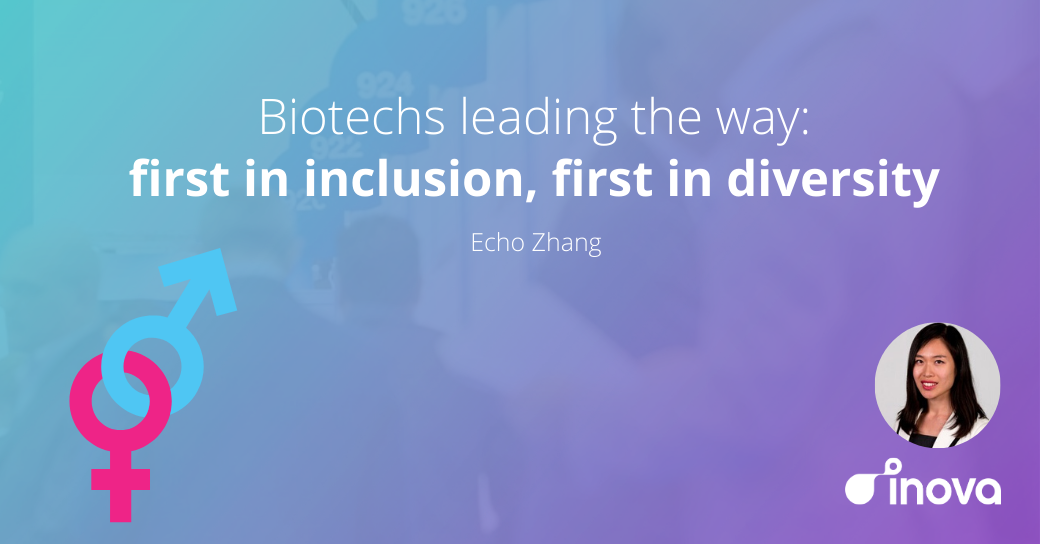 In a report released in January, industry group BIO explored how diverse the biopharma sector actually is.
Based on a survey of 100 small and large companies, the data pointed to an interesting but challenging truth: the biopharma industry has made some first steps towards greater diversity but still has an awful long way to go.
Among the headline figures in the report are the following worrying facts:
Women make up only 30% of industry executive teams, and people of color just 15%
Women are only 18% of biotech board members, and people of color just 14%
While such figures are disappointing, the BIO survey does suggest that there is progress being made. More than half of the firms surveyed have already put in place formal and official diversity and inclusion programs, and more than 8 in 10 had put in place accountability programs that encourage the reporting of harassment or bias.
Mixed Feelings
As a woman of color in the biopharma industry, I read this report with mixed feelings.
For sure there was a feeling of resignation, a feeling that for all the progress that has been made in this industry and others there is still so much left to do. The era of executive teams and corporate boards composed solely of white men is coming to an end but the pace of this reformation can sometimes seem slow, and the finish line still far away.
But I also saw the brighter side, particularly when it came to the biotechs responding to the survey. In my daily work at Inova, my focus is on these biotechs and I speak daily to founders and leaders in this space about their pain points and challenges.
And as the survey reveals, when it comes to diversity and inclusion the smaller biotechs in the larger industry are leading the way.
Biotechs Leading the Way
One of the major trends in the biopharma industry over the last twenty years has been open innovation.
The world's largest pharma companies have begun to look outside of their own R&D labs to find their innovation in biotechs, and these biotechs tend to be smaller, more agile, and doing some of the most incredible and world-changing work in the life sciences. Today more than half of the drugs generating the most revenue for big pharma are the result of partnerships, alliances, or collaborations between biotechs and pharma companies, and there's little evidence that this trend is going to slow.
The embrace of biotech innovation by big pharma, though, is only one way in which some of the smallest players in the life science space are influencing their larger, more imposing partners.
Another way – and it's no less important – is with regards to diversity.
The BIO survey reveals that small organizations are far more likely to rally behind a female CEO than in a large organization. For these small organizations, 20% of CEOs are women whereas for large organizations and established pharma companies the figure is just 9%.
Similarly, while only 6% of large, public pharma companies are led by a person of color, at smaller and privately held companies the figure is 19%.
Further, as the report notes:
Pre-revenue organizations are more likely than profitable organizations to have executive levels that are at least 25% people of color (29% of pre-revenue organizations vs. 12% of profitable organizations) and are also more likely to have a female CEO (22% for pre-revenue vs. 9% for profitable)… Privately-held organizations are more likely to have a person of color as CEO (19% of privately-held organizations vs. 6% of publicly-held organizations).
In short, the smaller the biotech and the earlier its development stage, the more diverse and inclusive it is likely to be.
Hope for the Future
It would probably be easy to give in to the disappointment that comes from reflecting yet again on the under-representation of women and people of color in the industry that I love.
Yet, I see more hope than heartbreak in these figures.
Because just as biotechs have been helping drive innovation in the sector I believe they will also help drive diversity and inclusivity, too. Biotechs hire the best people they can find, usually in spite of their gender or race instead of because of it.
They choose female CEOs twice as often as their big pharma confreres because they want the best person to lead them forward in a challenging and competitive domain.
They embrace diversity and inclusivity on their boards far more often than their colleagues in big pharma, and big pharma turns to them for innovation.
And I maintain hope that their example will encourage the world's biggest and most powerful players in the biopharma space to evolve, too.
Diversity and inclusivity is the future and biotechs are leading the way.

---
This article was originally published on LinkedIn on February 13th, 2020 by Echo Zhang, Head of Customer Success Biotech at Inova.
Further reading
The world needs to reduce its greenhouse gas emissions by at least 50%. While we all have ideas abou...
Read more